Patrias, Paco Peña Flamenco Company, Edinburgh Playhouse |

reviews, news & interviews
Patrias, Paco Peña Flamenco Company, Edinburgh Playhouse
Patrias, Paco Peña Flamenco Company, Edinburgh Playhouse
Rich, thoughtful show from flamenco legend
Mayte Bajo and Angel Muñoz, (left and far left): the two extraordinarily refined dancers in Paco Peña's new show, 'Patrias'
Dance as an art form doesn't have a great track record in social and historical commentary. The endless grey areas, not to mention the complicated details, of history really require words to do them justice. Flamenco, of course, has words, but it's still a highly emotive art form, one you might think unlikely to produce a subtle take on the theme of homeland.
But 72-year old Paco Peña is not only one of the greatest living flamenco guitarists, he's also a great producer, putting on thoughtful shows with wonderful performers from other traditions, seemingly revelling in the artistic richness brought by difference. In
Patrias
,
Peña's new show which received its world première at the Edinburgh Festival last night,
the plural in the title, and its fascination with Federico García Lorca, the Spanish poet murdered by fascists in 1936, alert us to the fact that this not going to be a set of frilled and castanet-ed clichés about Spain.
Patrias deserves huge credit for trying to tackle the translation problem which dogs flamenco performances in the UK. The words of the singers are as integral to the art form as the dancing or guitar playing, but usually we have no idea what's going on. Patrias tries a number of strategies to get round this, including printing the words in the programme (read them in the interval and hope you remember, because it's far too dark in the auditorium to follow along), having translations projected on the backcloth, having an English voice translate the spoken word of Rio Muten Mariscal, and having Mariscal himself deliver part of his narration in English. None of these works perfectly, but they're a damn sight better than nothing, and the effort is hugely appreciated. Mariscal's performance in English was the most successful for me: he recites Antonio Machado's poem about Lorca's death with lean, taut dignity, his heavy Spanish accent giving it a kind of accusatory hiss even in translation.
You really need a programme for this, but it's still only a rough guide to what's actually happening: a series of impressionistic vignettes about the Spanish Civil War, which aim to evoke emotions rather than tell straightforward stories. The two sides are both given their space, with Nationalist and Republican popular songs played (it's chilling to be reminded how jolly and stirring these kinds of propaganda songs can be), and "stories of heroism" from each side. The suggestion of a preference for the Republican side is gentle, and focuses on dignity and compassion rather than ideology: the dancers act more like thoughtful individuals during the Republican songs, rather than swaying, trance-like as they do during the Fascist songs, which directly follow a recording of General Franco condoning, in fact celebrating, the rape of Republican women. The Republican story of heroism has a university professor speaking up for intelligence and against death, while the Nationalist one has a father allowing his son to be shot. And the Lorca story has its effect: when we are told of the poet as his friends saw him, one of life's extraordinary, blessed, souls – a "wizard of happiness" and "multiplier of beautifulness" - of course we are going to feel anger at the side that murdered him.
But Patrias works in the end because it is neither bombastic, nor straightforward. Paco Peña's flamenco is not the blistering, fiery stuff of Cádiz, where the rapid fire percussion of the dancers' feet might singe off a few layers of epidermis just by sound, and there's no quiet space into which ambiguity can creep. Angel Muñoz (pictured above right) and Mayte Bajo, the two dancers here, are stunning and magnetic, but through their refinement, rather than their noise. The choreography Fernando Romero gives them is often gentle, highlighting fluidity rather than tension – indeed Bajo's dancing often verges on the balletic - and their costumes are simple, no frills or bright colours in evidence.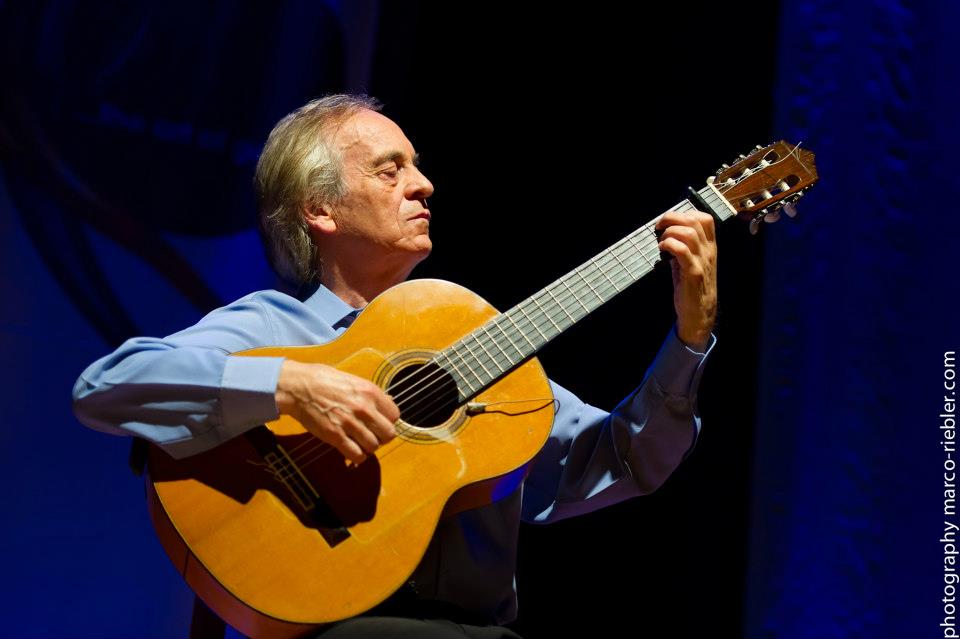 Peña himself (pictured left) can play with accusatory mournfulness (during his opening solo I developed a macabre fascination with the sharpness of the sound you can make with flesh on steel wire) but in Patrias his guitar more often sounds warm, mellow, sometimes even a little bit flirty and coy. Bone-shaking grief and emotion comes through more in the singing of José Angel Carmona and the extraordinary Gema Jiménez, who has an almost mythical air to her, like some kind of witnessing sybil.
Like Sweet Mambo the other night, this is theatre made and performed by grown-up, complex people, not afraid of their age – in fact, mining it for the power to fill the enormous Playhouse auditorium. It's this seriousness and the acceptance of complexity that helps Patrias avoid just being pat. It ends with the phrase "mi país es el corazón" (my country is the heart) or possibly (it flickers) "mi país en el corazón" (my country [is] in the heart) projected on the backcloth – the difference between these two phrases emblematic of the production's take on homelands. I love my country (but only if) my country is love. This is one of the oldest ideas about patriotism, but still one of the best, and an artist like Paco Peña is well equipped to teach it. After all, what could be more Spanish than García Lorca and classical Cordoban flamenco? And what more universal than dignity, toleration and beauty? (Good) art is everyone's homeland.