Dancer Nigel Charnock 1960-2012 |

reviews, news & interviews
Dancer Nigel Charnock 1960-2012
Dancer Nigel Charnock 1960-2012
Untimely death of maverick performer of unique physicality and dextrous verbal wit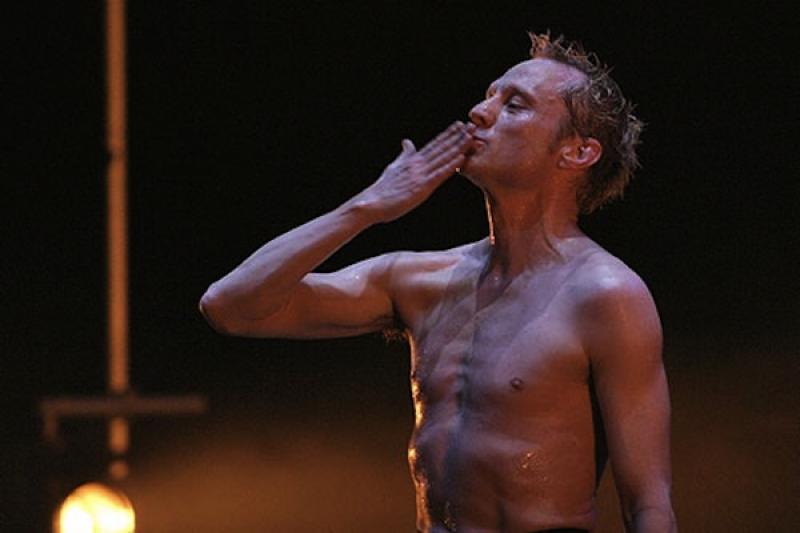 Extremely individual: Nigel Charnock never held back
True originals are those who keep contemporary arts bright, and one of the handful of dance performers who set the 1980s and 90s on fire was a bony, white-skinned, bleakly witty and garrulous physical clown with a taste for the extreme called Nigel Charnock. The news of his death last night from cancer at the age of only 52 feels painful to anyone who suffered and laughed so much at some of his merciless works.
Charnock was a scary performer, quite often naked and doing unmentionable things with crucifixes, dresses and pink plastic babies, and he'd thrash himself bruisingly over the floor (or sometimes actually over members of the audience), talking 19-to-the-dozen about the hell of being lonely, manic and innately the guilty sort.
I wrote in a 1998 review for the Daily Telegraph: "Is his art less true for being his real-life pain? Gay, lonely, ferociously tongued, with a taste for drag and God, Charnock blurs the line between entertainment and personal therapy. He dances, sings and makes often sophisticated jokes about the grossness of himself and Man, providing enough offensive matter to sink an army of Lord Chancellors."
British contemporary dance in the 80s and 90s threw up a variety of outstanding talents brilliantly exploiting gay identity in theatrical dance. They famously included Lloyd Newson, Michael Clark and Javier de Frutos, but Charnock - even if lesser known than the others - was an equally vivid and distinct personality.
He and Newson together founded DV8 in 1986 with a provocative duet, My Sex Our Dance, an aggressive exploration of male relationships; two years later, DV8 established its breakthrough with the astonishing Dead Dreams of Monochrome Men, a gruelling and yet graceful all-male work about the necrophiliac serial killer Dennis Nilsen (in which another performer was the young Russell Maliphant). Charnock's jittery, disquieting persona featured powerfully in the film (in the still, right, his face is under the boot) and also in the subsequent acclaimed production Strange Fish, on stage and film.
Going solo, Charnock went on to fashion a string of thoroughly personal pieces, almost stand-up comedy - Hell Bent, Original Sin, Resurrection, Human Being, Frank. These were usually found in small London theatres such as the Drill Hall or Jackson's Lane, halls where an appreciative following would pack in for his lacerating, unforgiving style and a verbal taste that was almost baroque in its relish.
With his unnerving sense of human isolation - I would have loved to hear him arguing with John Donne about man's condition - he was a shrewd choice for a commission for the disabled dance company Candoco, and his defiance of categories led to lean times in the strict box-ticking world of Arts Council grants for a while. Fortunately, his linguistic dexterity was little barrier to his attractiveness to international festivals and commissions, and he worked with Canada's star maverick Louise Lecavalier and became artistic director of the Helsinki Dance company for three years.
He was, though, crucially an English wit of the physical world, and as he got older and less physical, he toured again with his old DV8 colleague Wendy Houstoun, a performer of equal quick-wittedness, in the mid-2000s. He formed a new troupe, Stupid Men, in 2006, and was this year partway through a new piece for the Nigel Charnock Company, called Ten Men, which previewed at this year's British Dance Edition (the international trade fair for British contemporary dance). His most recent work as movement director is currently on view in National Theatre Wales's In Water I'm Weightless, reviewed this week on theartsdesk.
I was among many watchers who felt strong affection for Nigel Charnock as a performer - at their best-expressed, his opinions and physical ideas had daring honesty and also a timeless theatricality that stuck to your mind like burrs. As a solo performer he was one of a kind - it could be disappointing if he sheathed his razor edge. A talent so sharp and unusual deserved a much wider fame, and yet that might have blunted its defiance. British dance is dimmer without him, but the hearty gratitude and inspiration felt by many young dancers, male in particular, is clear from the tributes on his website.
Watch an excerpt from DV8's Dead Dreams of Monochrome Men (Charnock is first seen fidgeting at the wall in the opening sequence)
Charnock was a scary performer, quite often naked and doing unmentionable things with crucifixes
Share this article