3D Dance looks Skywards with Matthew Bourne's Swan Lake |

reviews, news & interviews
3D Dance looks Skywards with Matthew Bourne's Swan Lake
3D Dance looks Skywards with Matthew Bourne's Swan Lake
The next adventure with motion pictures puts the iconic boy swans on 3D TV

Film has always been a medium that dance struggles with - will 3D change that?
Last March's Japanese earthquakes and tsunami, as we know, brought devastation to hundreds of thousands of Japanese. But it also caused a crisis in the 3D film industry, just as it is attempting to be born. The most important 3D tape stock finishing factory in the world was swept away by the waters.
In the burgeoning 3D film world this caused consternation, and for no one more than the producers of the 3D version of Matthew Bourne's Swan Lake that was just about to be shot at Sadler's Wells by Leopard Films. It caused a terrifying lurch in price for the making of what has to be seen as a gamble in the fascinating but very risky world of 3D, where as with pioneers of colour and sound pictures an entirely new technology is getting under way with a bumpy discovery curve.
The new Swan Lake 3D film will be aired for the first time this Sunday on Sky Arts, and released for cinema screening in the autumn. If you have the specs and the 3D capability, you can have the full dimensional miracle immediately on your sitting room set; if you don't, you can still watch it in the normal way. But be prepared - 3D television sets are just around the corner.
For the millions of fans of Bourne's iconoclastic 1995 ballet, with its House of Windsor royal family jokes, its gorgeous feathered male swans, and its breathtakingly emotional finale, this will be a must-see. The 2010 lead swan, Richard Winsor, has as much magnificent charisma as the original, Adam Cooper, Nina Goldman is a languidly chilly Queen, and the 3D treatment of the space created within Lez Brotherston's smartly theatrical designs brings an immediacy in experiencing dance in theatre that will reach countless numbers who can never see it on stage.
The director - the experienced dance film-maker Ross MacGibbon - has seized the opportunities to exploit a much more atmospheric potential for character interaction than in the conventionally flat dance film, but has resisted too much insistent choosing of what you see. This is an expertise I'd guess he's learned from filming the multi-character ballets of Kenneth MacMillan (the Royal Ballet's 2009 DVD Romeo and Juliet among them), whose narrative influence one can see in Bourne's own works.
It must have been a fine call to judge how much to show off in 3D. The Swans' dances (a little samey on stage, whisper it) are actually improved by the long diagonal shots or changes from below to above view. However, Bourne's choreography brilliantly unpacked the tortured ambivalencies of the relationship between Swan/Stranger and the Prince on stage in the performances by Cooper and Scott Ambler, and live audiences responded powerfully to it partly because they bought that sense of something unreal behind you - the Swan, the Stranger, an alien from a parallel world. Translated into the conventional film this sense of anticipation and imminence isn't reproducible, but in the new 3D film the watcher's drawn into that tension of space. This benefits Dominic North's Prince performance in particular - he is more of a fledgling Prince than Ambler was, young, unformed, with less to lose, but the new dimensional depths in the film isolate his slender figure in a way that makes the most of that poignant lost-boy quality.
This variation of achievement shows the huge learning curve right now in putting dance into 3D
After the preview showing this week in London, Matthew Bourne said it was the first time he'd seen his signature creation in full in 3D. What he hadn't been prepared for was how much more the immediate involvement that the spectator felt in the show enhanced the reality of the characters and engagement with the storytelling.
He added that the shooting had been fast and pressurised - the cast had been reassembled some months after disbanding, the Sadler's Wells stage had been booked for two days' shooting, and for the filmed performance everyone "had to be brilliant" immediately with minimal rehearsal.
The list of 3D cinema dance films so far is short, and so improbably varied you'd hardly believe they were all trying out the same technique. StreetDance 3D is frantic and video-style, the Mariinsky's Giselle 3D is a cardboard cartoon, while Wim Wenders' Pina 3D made wonders of shooting some of Pina Bausch's danceworks on stage, breathing depth and dimension into them, richly intensifying the power of the movements. This variation of achievement shows the fast learning curve right now in putting dance into 3D - as I discovered in an illuminating interview with the executive producer for the Bourne Swan Lake film, Fiona Morris.
Morris produced the first Swan Lake film, shot at the end of the 1996 tour to capture a flame that no one knew would last so long. A longtime producer of dance television, she has produced ballet films with the Royal Ballet, Birmingham Royal Ballet, the Mariinsky Ballet and leading US modern dance companies. She tried a new departure with Sky last year on a Bohème opera film that used two channels simultaneously, front view and backstage together. Earlier this year she worked with Sky again on the 3D filming and simultaneous live 2D transmission of English National Opera's Lucrezia Borgia, directed by film-maker Mike Figgis. It's all new, the techniques are being invented on the hoof, she says. "I was amazed by how much extra detail was given to the TV audience in 3D."
The moment everyone realised most of the world's 3D tape stock had been washed away, the price of it went through the roof
ISMENE BROWN: Let's start by asking how you watch 3D on television.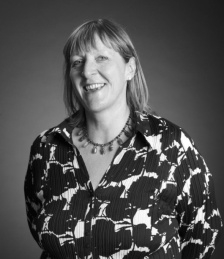 FIONA MORRIS: You can watch on special 3D screens that don't need glasses, but basically on home screens you do need 3D glasses. In terms of TV sets people are already talking about new HD sets being 3D-compatible within a year. These sets will recognise the 3D signal coming in.
How did your past experience lead you to 3D for dance?
I've produced several Dance for Camera films, I have also done several David Bintley/BRB films, Twyla Tharp's In the Upper Room and some Martha Graham...
...In the Upper Room! There's a film to do in 3D!
I'd love to do that one. The Royal Opera House were the first to 3D, they filmed Carmen last year live, but the film didn't get released till March this year, so we were unintentionally ahead with the Figgis Lucrezia Borgia. Having seen what I had of the way 3D worked with opera, I thought, we really must try this new technology in dance. So I went to Matt Bourne to talk about doing Swan Lake again.
Watch a clip of the 1996 film of Swan Lake with Adam Cooper and Scott Ambler
Why have people been so slow to get 3D going on this? Was it because people didn't know how to deliver it visually?
There's a big difference between shooting single-camera and multi-camera. When the feature film new renaissance came out that's been single-camera, and that means effectively everything in the screen image has been passed through the frame of that single camera. There have been the odd dance projects in single-camera, but the multi-camera technology wasn't available to shoot live performance, and obviously you can't do live dance performance on single camera. For Swan Lake there are seven cameras, five 3D and two 2D.
Are the 3D cameras vastly more expensive?
Well, not vastly, but definitely more expensive. And you need twice the tape stock for the two images for every frame. So double the tape stock, and the cameras themselves are relatively still in prototype state.
What are the stock cost differences between 2D and 3D?
A very hard question for me to answer about this one - as this shoot took place four weeks after the Japanese tsunami. And one of the many buildings swept away in the Japanese tsunami was the tape stock finishing factory for 3D tape stock. So what we spent on tape stock for this one is quite terrifying, because the moment everyone realised most of the world's 3D tape stock had been washed away, the price of it went through the roof. But it's the same tape stock you use for HD, it's just you have twice as much, because of the two images per frame.
What happens to the tape - it's edited in the old way, cut and spliced?
No, the minute you've shot it, you digitise it and then edit from there. You could recycle the tape - it's the same as we use for HD.
What are the technical differences in shooting 2D and 3D?
Lots of things. The simplest obviously is that there's a great deal more monitoring. The cameraman is in charge of ensuring that the shot is in focus and framed correctly, but with this you have to add in a whole lot more factors. For one thing, he can't be wearing glasses while he's filming. And also because of the way 3D works, two images have to be combined and the way they're created is through a mathematical convergence field, there's an area in that field that creates the trick of the eye - and so you have to have a new layer of people watching and monitoring all the 3D cameras. You'll see ranks of people staring at monitors - one person for every single camera. So it's a lot more labour-intensive. I guess they'll probably technically come up with mechanical monitoring in time, but for the moment that's how it is.
Secondly, the lighting levels need to be very carefully monitored. You lose quite a bit of lighting level when shooting in 3D.
The third thing, if you imagine it's in three dimensions, there's a whole new job in television now for someone to choose how that frame should be, because the frame isn't of fixed depth - you're manipulating two fields of depth to create the image.
You use normal zoom and wide focus?
The lenses are different. They are dealing with the convergence frame and that depth, which is not normally required. That third dimension adds a whole extra layer of complexity for every single image you're shooting. Some of it requires new technology, some of it requires existing technology but with more people to manage it. With a single camera, which is what you get in movies, someone is choosing within any frame how deep that looks, how far back - every plane is like a third wall. And the distance between those planes, somebody is choosing to set.
The complexity in 3D is, if you have multi-cameras, and you chop and change a lot, you can make the audience feel quite sick
Are you choosing that after or while you shoot?
Certain choices have to be made before you shoot in order to give you the range of stuff to play with in the edit afterwards. Then in the edit you can play a fair amount. There's the depth grade, as well, which is a whole new thing - you have to choose how much depth there is in each frame, but also - and this is where the complexity is - if you have multi-cameras, you have to choose the depth range that all those cameras are working with, because if you chop and change a lot, you can make the audience feel quite sick! Even if one camera's doing close-up, one wide, one at the back - there needs to be a consistency. It's the stereographer's job to set that mean for all the cameras, it's a brand-new job.
I was watching the Mariinsky Giselle 3D - it was like a cartoon, dancers at the front wholly disconnected from the scenery. Totally separate planes. And I thought, there's more to this film-making than meets the eye!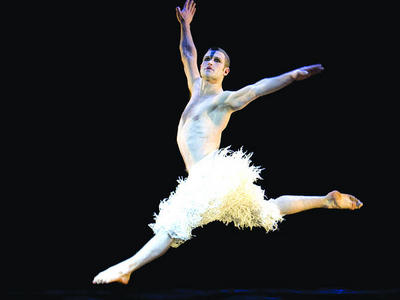 Yes, you're right, but everybody's learning right now. With this we have a lot of conversations with our stereographer about how much "pop-out" there should be. There's a bit in Swan Lake, particularly in the opening swans scene, where you feel them coming out at you, but that was deliberate, to try to make more space behind the proscenium, and give the choreography more freedom of space to move in, and less of that feeling of the people at the front of the stage hitting you in the face. That's the real choice. With the single camera I think some people choose to go for pop-out, but I think they're wrong - I think what you want to do is go behind, it's the depth behind that 3D shooting should create. (Richard Winsor as the swan, pictured left.)
What 3D dance movies had come out when you shot this? Had you see any others?
You know, I had not. I went straight from the Lucrezia Borgia, in which I'd been amazed to find so much 3D potential. Pina hadn't come out. I think there's only been StreetDance, which I hadn't seen, and I hadn't seen the Russian ones.
I didn't like StreetDance, as they were always shooting over shoulders and through obstructions, and fast jumpcutting. You had no sense of the dance changing space.
I think everyone is learning.
What did you think of Wim Wenders' shooting of the dance in Pina now you've seen it?
Yes, I think it's beautiful. But it's shot single-camera. Having done this Swan Lake I'd love to do single-camera now, because I can see how I'd do it differently. And I can now see what Matthew was talking about. He said film has always been a medium that dance struggles with. Choreographers deal in depth, spatial relationships, so film doesn't do the one thing that is to understand the way they see the world. If I were doing it single-camera, I'd want to choreograph the frame, so you see exactly what the choreographer is putting in the space.
The trouble is that single-camera is just one vision on the scene.
Yes, in single-camera the action comes to your camera, the camera framing dictates what you see. With multi-camera this is more like sport, the camera follows the action. But I'm still amazed how much more spatial depth you get. I knew we'd get more spatial depth in shooting Swan Lake but had no idea how much extra narrative the 3D would underpin. It hadn't occurred to me how much more in touch this technique would put the audience with the story.
This is a huge new chance to reach the mass audience with a genuine sense of these theatrical arts so long thought exclusive to ticket-buyers only
Morris went on to point out that the sheer expenses of multi-camera, the labour-intensiveness of the technology at the moment, makes it unlikely that there will be many dance 3D films made until the cost of techniques come down, or until directors develop their expertise and eye to shoot dance single-camera.
But distribution of 3D is being made easier all the time as technology advances. With Sky actively seeking opera and dance as part of its mix for its 3D channel - it will be screening the Wenders Pina this August - this is a huge new chance to reach the mass audience with a genuine sense of these theatrical arts so long thought exclusive to ticket-buyers only. With mainstream cinema chains such as IMAX, Cineworld, Odeon and Empire now tooled up for 3D screening and carrying live 3D broadcasts of grand opera and live theatre too, dance 3D films won't be technically shut out.
The question is more about market economics: if the Bourne 3D Swan Lake proves commercially popular this autumn in cinema release, and once the 3D HD television sets become competitively priced for the mass market, watch that 3D space. With 3D the magic of space in dance is released from the bottle. The revolution that finally broadcasts the sense of being there to people far away from the action is so close you can feel it.
But don't hold your breath. One thing is clear from the films released so far: dance is incredibly demanding of skilled filming and budgets, perhaps too demanding. The new 3D world is not just more challenging to technicians - it's setting questions for film-makers that very few of them will answer successfully.
Watch the New Adventures 2010 showreel for Swan Lake featuring interviews with Richard Winsor, Dominic North and Nina Goldman
Be prepared - 3D television sets are just around the corner
Share this article