Dance (1979), Lyon Opera Ballet, Sadler's Wells review - luminous minimalism |

reviews, news & interviews
Dance (1979), Lyon Opera Ballet, Sadler's Wells review - luminous minimalism
Dance (1979), Lyon Opera Ballet, Sadler's Wells review - luminous minimalism
A smart new contemporary dance festival kicks off superbly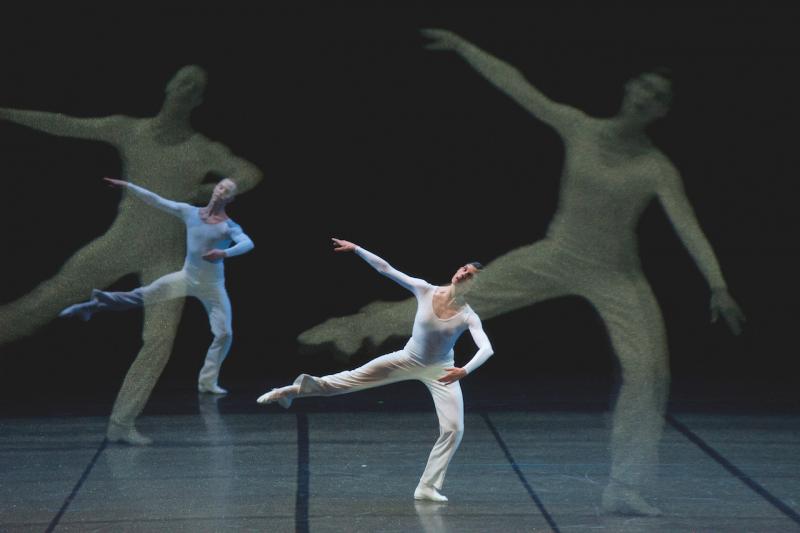 Seeing double: Members of Lyon Opera Ballet in their recreation of Lucinda Childs' post-modern Seventies classic, Dance
Dance has long had an association with jewels and jewellery, which is something of an irony given that so few of today's dancers earn the kind of money needed to buy any. Historically, male ballet fanciers would offer expensive trinkets post-performance to their favourite ballerina, and until well into the 20th century it was not uncommon for star dancers to wear their diamonds on stage, heedless of safety or practicality.
The glittery little ear-studs worn as standard by the female corps in
George Balanchine
's New York ballets are a remnant of that tradition. And it was Balanchine who gave the Parisian jeweller Van Cleef & Arpels priceless publicity when in 1966 he sauntered into its Fifth Avenue branch to select some expensive sparklers for his own favourite dancer, on whom he was creating his new ballet
Diamonds
, part of a triptych that would collectively become known as
Jewels
.
Van Cleef & Arpels has traded on that association for the past half-century, but it has taken until now for its patronage of dance to extend to curating its own London season. Dance Reflections is a packed fortnight of European contemporary and American post-modern dance presented across three venues – Sadler's Wells, the Linbury Theatre at the Royal Opera House and Tate Modern. It promises to become an annual event, a thing to be welcomed if subsequent seasons prove to be half as interesting as this one. The jewellery house might still be best known for its 1940s-era ballerina brooches, but its festival programming is studiedly cool.
Opening night featured two shows, both at Sadler's. The first was a dance-off between b-boy Rauf "Rubberlegz" Yasit and contemporary dancer Brigel Gjoka "drawing on their Kurdish and Albanian roots as well as their shared experience of working with the ballet choreographer William Forsythe". Ouf! That's a lot of influences. Too bad the show sold out before your correspondent managed to snag a ticket. I was luckier with the evening's second show, a recreation of Dance (1979), an American minimalist classic in which 17 dancers, identically clad in white on a grid-marked floor, present a visual equivalent of the hypnotically repetitive music of Philip Glass. Lyon Opera Ballet's reconstruction of this pinnacle of post-modern chic – supervised by the work's choreographer, Lucinda Childs, now 81 – was billed as a must-see for anyone with an interest in contemporary dance. And so it proved.
To describe what happens in Dance gives little idea of its cumulative effect which, in its relentless repetition over 60 minutes, is entrancing and maddening in equal measure. The first part sees the dancers – luminous in their white jeans, white T-shirts and white plimsolls (pictured top and above) – travel across the stage in pairs repeating the same stripped-down balletic movements for a full 20 minutes. Moving at speed in a low, travelling bounce that gives the sustained impression of rebounding off a cushion of air, their arms are held either high, low, or at medium height, but always just so. The speed at which they travel, from left to right, right to left, forward or reverse, remains constant and appears effortless – though of course it is anything but: Lyon's dancers are remarkable for their impeccable poise and stamina. The sequence then shifts to a soloist who repeats the same combination of movements for 17 minutes, before returning to the group activity. A filmed version of the steps, the dancers' avatars a ghostly monochrome, is projected behind, above, below, or overlaying the live dancers, allowing us to view the choreography from different angles. Mixing live and recorded dance is now almost a commonplace of contemporary dance, but Sol LeWitt's 1979 collaboration with Childs may well have set the ball rolling.
The processes of Philip Glass's music are well known, its rippling arpeggios seeming to be on a never-ending, ennui-defying loop. You have to attend closely to spot the changes that creep in at what are probably regular intervals (every eight bars?), changes often minor in themselves but leading by increments to significant shifts of texture or harmony. The genius of Childs' choreography is the way it finds an exact visual equivalent, although the changes in the steps don't necessarily coincide with those in the music. What's remarkable in both is the absolute clarity, and absolute absence of emotion. At one point in the build-up of synthesised sound, a synthesised voice utters words that could be "Fix it! Fix it! Fix it!" and later a single repeated "Happy!". This is, despite its Chinese water-torture potential, a work that leaves you happy. Happy to be liberated from ceaseless repetition maybe, but happy and liberated nonetheless.
An annual festival is to be welcomed if future programming proves to be half as interesting as this
rating
Explore topics
Share this article