Classical CDs Weekly: Christian Lindberg, John Williams, Alexandra Dariescu |

reviews, news & interviews
Classical CDs Weekly: Christian Lindberg, John Williams, Alexandra Dariescu
Classical CDs Weekly: Christian Lindberg, John Williams, Alexandra Dariescu
Swedish orchestral music, Hollywood soundtracks and French piano preludes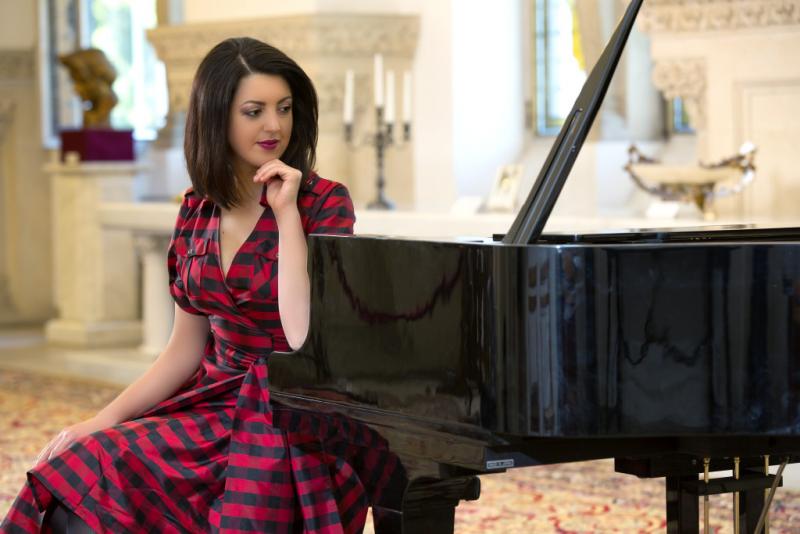 Parisian discoveries from Alexandra Dariescu
Christian Lindberg: Steppenwolf – Viola Concerto, Tales of Galamanta, Peking Twilight Rafael Altino (viola), Odense Symphony Orchestra/Christian Lindberg (BIS)
"I do not write in any style whatsoever! I just listen to what my brain and my soul tell me, and what I hear I simply put down on paper. To say anything more about my work would be pretentious nonsense." So says Christian Lindberg in this disc's booklet, so I'll restrict myself to saying just that the music on this disc is witty, engaging and accessible. Lindberg, best known as a virtuoso trombonist and voted the greatest brass player in history in a recent Classic FM poll, seems to have stumbled into composition by accident. As midlife adventures go, it's better than wearing tight leather trousers or walking on hot coals. Lindberg's description of his disciplined compositional process is interesting, as is his confession that having a deadline never stifles his creativity. Steppenwolf is a three-movement viola concerto, the Hermann Hesse-inspired subtitle only added after the music was written. Lindberg suggests that it's "all about loneliness, compassion and the fight for life." It's a marvellously affirmative piece, full of earworms. I was floored by the blaze of brassy warmth which opens the last movement, the viola melody accompanied by jaunty percussion. If this is what Lindberg's brain and soul are telling him, he's a lucky man. Rafael Altino, the concerto's dedicatee, is superb.
Tales of Galamanta was written to accompany a teenage dance troupe, and first performed in Stockholm Central Station. A pithy tale of love, jealousy and revenge, there's a brilliantly visceral moment of violence before a redemptive coda. Its sole flaw is its lasting just 15 minutes; this feels like an extract from a longer score. Peking Twilight is actually about the Swedish industrial city of Norrköping, an expansive Sibelian tone poem alluding to various landmarks and bound together by variations on the city's football club chant. I've listened to it about seven times in two days and its charms haven't yet dimmed. A joyous anthology, superbly engineered, Lindberg coaxing razor-sharp playing from his Odense orchestra.
Celebrating John Williams Los Angeles Philharmonic/Gustavo Dudamel (DG)
John Williams learned his craft under the likes of Franz Waxman, Bernard Herrmann and Henry Mancini, and it's him pounding out the iconic piano riff at the start of Mancini's Peter Gunn theme. Glance at his filmography and marvel at just how many directors he's worked with (Altman and Hitchcock both employed him in the 1970s), though to most listeners he's associated with Spielberg and Lucas. Williams's best score, to Spielberg's Catch Me If You Can, isn't represented here, but that shouldn't dissuade anyone from getting this live DG anthology. He's the real thing, a properly-trained composer who can rustle up a fugue if needed and who orchestrates his own music. The influences are openly displayed (there's plenty of Korngold, Walton and Prokofiev here), the results smartly scored and packed with killer tunes. This stuff isn't easy to play well, but we're spoilt here by having Gustavo Dudamel's Los Angeles Philharmonic on duty. Brass and strings are indecently impressive: swoon at their projection of the Star Wars throne room's pomp and circumstance.
We're used to hearing this music in the background, so it's thrilling to be able to inspect it close up. I'd not previously noticed the offbeat drum thwack on the third beat of the Indiana Jones march, or heard the fiendish triple tonguing in the Imperial March hit home with such force. The opening minutes of an excerpt from Close Encounters suggest both Ligeti and a famous Beatles track. Extracts from Jaws, Harry Potter, Hook and E.T. get a hearing alongside a few rarities. Intoxicatingly enioyable, and the most exuberant, authoritative Williams compilation available.
Complete Preludes, Volume 3 Alexandra Dariescu (piano) (Champs Hill Records)
Earlier releases on pianist Alexandra Dariescu's enterprising Complete Preludes series have included Chopin, Dutilleux, Shostakovich and Szymanowski; this third volume focuses on three very different French composers. Lili Boulanger's tiny Prelude in D Flat Major is a bold, atmospheric sequence of chords and bell-like pedal notes. Boulanger was a child prodigy who began taking classes at the Paris Conservatoire aged just five, becoming the first female winner of the Prix de Rome in 1913. She's one of music's great might-have-beens, her life snuffed out by intestinal tuberculosis when she was 24. Boulanger's perfect pitch was recognised by Fauré, so it makes sense for Dariescu to follow Boulanger's prelude with Fauré's underrated set of nine. Listen to them blind and you'd have a hard job identifying the composer, Fauré producing some disquietingly modern-sounding music in his last years. Take the first prelude, also in D flat, where the two hands sound as if they're in different keys. No 6's archaic counterpoint feels similarly odd, along with the obsessive repeated notes of the eighth prelude.
Fauré became director of the conservatoire, where, shortly before his retirement in 1920, the 11-year-old Olivier Messiaen enrolled, staying for over a decade and penning a sequence of eight Preludes in 1928-9. They're remarkable, full of hints of Messiaen's mature style. Squelchy chords should induce frissons of delight in "La colombe", the prelude followed by an unbearably slow, spare number. No 5's left-hand chords are pitted against ear-tickling flurries of high notes. There's a crowd-pleasing finale. Dariescu is excellent throughout, her bold, physically exciting playing making the best possible case for music which really should be heard more often. Good notes and attractive design too, as is usual from this label.
Read more of Graham Rickson's Classical CDs Weekly on theartsdesk
I'd not previously noticed the offbeat drum thwack on the third beat of the Indiana Jones march
Explore topics
Share this article