Believe, Watch / Person of Interest, Series 2, Channel 5 |

reviews, news & interviews
Believe, Watch / Person of Interest, Series 2, Channel 5
Believe, Watch / Person of Interest, Series 2, Channel 5
JJ Abrams and Alfonso Cuarón has to be a marriage made in heaven, right?
Keep on running: Bo (Johnny Sequoyah) and Tate (Jake McLaughlin) try to remain incognito in 'Believe'
As pedigrees go, beat this - Believe [***] is the brainchild of Alfonso Cuarón, director of the Oscar-plundering Gravity, and JJ Abrams, mastermind of Lost, Fringe and the made-over Star Trek. This debut episode didn't live up to expectations, but it would be rash to write it off too soon.
At least it got off to a hair-raising start, as the car carrying 10-year-old Bo Adams and her adoptive parents was barged off the road by a black SUV. Then mom and pop were brutally terminated by a hitwoman called Moore (Sienna Guillory), who has a macabre fondness for snapping necks, but Bo was rescued in the nick of time by the emergency services (JJ Abrams, pictured below).
Bo's fate is going to drive Believe, and we were soon being fed clues that there's a huge jigsaw of back story to come. Bo - played with both knowingness and innocence by Johnny Sequoyah - possesses exotic telekinetic and telepathic powers, the full potential of which she's still coming to terms with. However, certain parties, led by slimy, smirking Roman Skouras (an aptly-cast Kyle MacLachlan), understand that her capabilities will prove world-altering, so they're out to capture her for their own ends.
In the Good corner we have a team led by Milton Winter (Deroy Lindo), Bo's long-standing guardian. He'd decided a guy called Tate (Jake McLaughlin) should be assigned as her protector, despite the fact that he was a condemned prisoner on Death Row. Winter nonchalantly organised a prison break, and his masterplan was soon in motion.
American critics have already pointed out similarities between Believe and some of Stephen King's novels (eg Firestarter and Carrie), though in this opener we only got a meagre glimpse of Bo's powers, when she organised a Hitchcockian massed-pigeon attack on the persistent Moore (the Bad team seem to be a bit light on human resources). It also looks as if we're in for a lot of Fugitive-style ducking and diving as Bo and Tate flee their pursuers, and, judging by the sentimental subplot about a very nice doctor, there may be a weekly storyline to counterpoint the proverbial "long arc" in the background. It'll improve... won't it?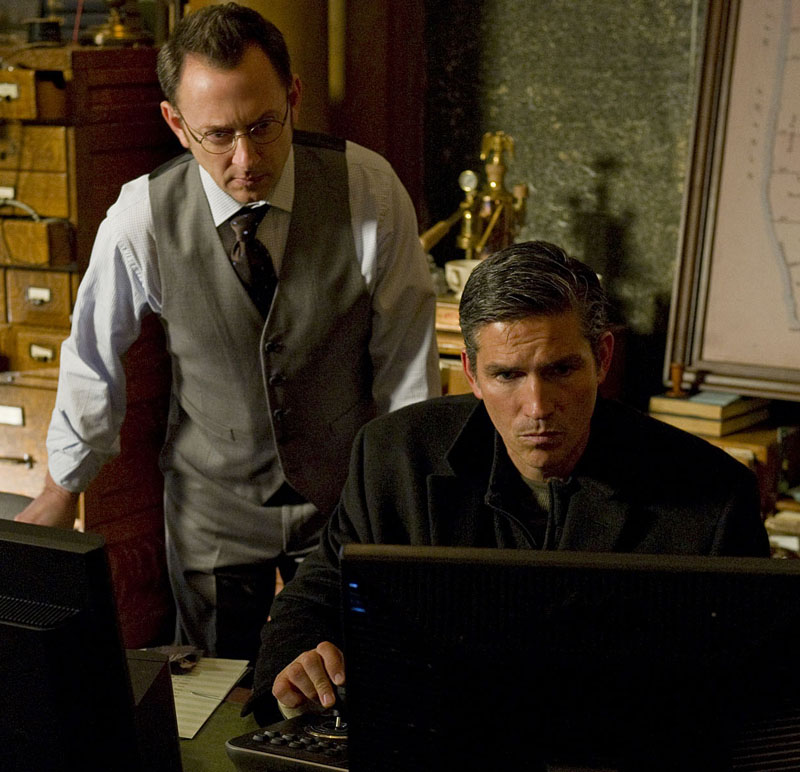 Back on Channel 5 after one of those "mid-season break"s came Person of Interest [****], another Abrams project which has blossomed into a perfectly-formed televisual treat. At its core is the relationship between billionaire Harold Finch (Michael Emerson), inventor of a super-surveillance system which identifies the obligatory persons of interest, and John Reese (Jim Caviezel), the taciturn Special Forces veteran who acts as Finch's enforcer (Emerson and Caviezel pictured above).
Originally desperate and existential, Person... has developed into a nimble double act between the leads, elastic enough to let this comeback episode open with the pair of them messily shampooing their dog. Emerson is a delightful comic performer who has created a bubble of unworldly geekiness, amplified by a masterly stage-limp, around Finch, only to puncture it at precisely-gauged moments with displays of suave sang-froid (this week, he confessed to feeling exhilarated by a wild and bullet-spattered motorbike chase). Caviezel has opted to go minimal, sustaining a facade of merciless competence down which he permits the occasional glimmer of barely-perceptible mirth to trickle like dust down a rock face.
There's still room for some crisp plotting, though. This one was a neat little story about the defrauding of military veterans by the man running a loan agency for servicemen, who had a profit-splitting racket going with a Wall Street bank. In its way, it said far more about war profiteering and financial ethics than David Hare's didactic snore-fest Turks & Caicos. Never underestimate the potency of "mere" entertainment.
Subscribe to theartsdesk.com
Thank you for continuing to read our work on theartsdesk.com. For unlimited access to every article in its entirety, including our archive of more than 10,000 pieces, we're asking for £3.95 per month or £30 per year. We feel it's a very good deal, and hope you do too.
To take an annual subscription now simply click here.
And if you're looking for that extra gift for a friend or family member, why not treat them to a theartsdesk.com gift subscription?