The Syndicate, Chichester Festival Theatre |

reviews, news & interviews
The Syndicate, Chichester Festival Theatre
The Syndicate, Chichester Festival Theatre
Ian McKellen stars in Eduardo de Filippo's gripping tale of mafioso folk
Wednesday, 03 August 2011
Ian McKellen in 'The Syndicate': 'a nice old gent setting out for an afternoon stroll'
Halfway through Sean Mathias's gripping new production of The Syndicate, Ian McKellen's Don Antonio Barracano reaches for his hat, stick and gloves and heads out through the olive groves to "make [a man] an offer". He looks and sounds like a nice old gent setting out for an afternoon stroll. Unless, of course, you're passingly acquainted with The Godfather.
Set in the criminal underworld of Sixties Naples, Eduardo de Filippo's dark-cornered comedy is a far, far better play than its performance history here in the UK (just one radio production with Paul Scofield) might have you believe. A heavyweight tale of casual brutality and moral brimstone wrought with all the playful delicacy of a box of cannoli, it has a central character who – no mean feat – is multifaceted enough for McKellen. Returning to CFT for the first time since 1965, during a filming break from Peter Jackson's The Hobbit, on the intimate Minerva stage he variously twinkles and terrifies, flares with fierce energy and sags with fatigue, play-boxes in his sock suspenders and magnetises respect as a measured man who's not beyond putting a bullet in his own finely plastered wall to make a point.
Having bade his own farewell to the law when he stabbed a brutal night-watchman as a youth, the now wealthy Don Antonio has devoted his life to bringing rough justice to the criminals of Naples. In this unusual vocation he has been helped by his faithful companion, Doctor Fabio Della Ragione - the excellent Michael Pennington (pictured below) again following his lead in The Master Builder last year. As the play opens, both are resting up in Don Antonio's country estate, through whose tall double doors filter the rustic sun, the distant yapping of the Don's guard dogs and – no sooner than the day's suit, tie and cufflinks have been selected and administered by his devoted adult son and daughter – a stream of ruffians petitioning him for advice.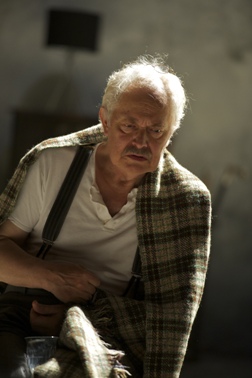 While they embrace the very English slang (adversaries are "arseholes" and "shits") of Mike Poulton's new version and they by and large stick with their own accents, there's an Italianate quality to the cast's speech-patterns and gestures. Apparently Mathias had them rehearse in Neapolitan accents to unlock that heated musicality of exchange.
McKellen comes in to full song as Don Antonio adjudicates, quite brilliantly, with a mixture of inscrutable gravitas, grandfatherly wisdom and an audacious wit that recalls Portia's Balthazar in The Merchant of Venice. His authority is confirmed for us as a greedy shark submits to counting out the repayment of his loan in imaginary bank notes. And his instinct for justice extends even to the management of his dogs, one of whom he acquits of biting his wife (an elegantly suited but only slightly characterised Cherie Lunghi) on the grounds that it "has a highly developed sense of fair play".
But when a poor young man (a feverish Gavin Fowler) resolved on murdering his father comes knocking with his pregnant girlfriend (a stout performance by Annie Hemmingway, who muscles her way through her scene with McKellen), Don Antonio has a tougher case on his hands. It stirs memories of the hot-headed crime of his own youth, still haunting him 57 years on, and pains his keen sense of kinship to the core.
For, in the great tradition of mafioso narratives, The Syndicate is all about family. Don Antonio is "a father to every poor man in Naples" and "the man with the answers", in whose absence "half of Naples grinds to a halt". And he is also a real parent, whose approach towards the corrupting force of inheritance (give it all away now, so you can be sure thereafter that the love your children profess is real) makes him a sort of reverse Lear. The interconnectedness of his domestic and "professional" life is made clear in the brilliant opening scene, in which his children and housekeeper bustle about Angela Davies's spacious set with table cloths and water jugs: a familiar, bleary-eyed routine that turns out to be preparation, not for family breakfast, but for a back-street operation on a gun-shot victim.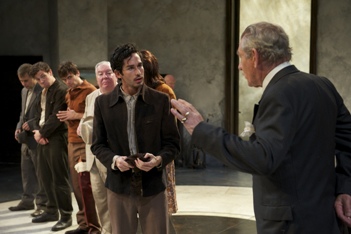 As the bridge between the two worlds – a bosom brother of 35 years and an indispensable colleague – it is Pennington's Doctor Fabio who bears the brunt of Don Antonio's unconventional calling. And it's clear from the off, as he removes a bullet in his pajamas with a wonderfully crumpled expression, that his patience is wearing thin. The resulting exchanges between Pennington and McKellen are to provide some of the most complex moments of the production, hinting at a selfish aspect to Antonio's character and setting up two opposing philosophies. For Don Antonio it is appropriate to lie through one's teeth in a just cause. For the doctor the truth cleanses. And yet it is the former who is motivated to the end by the desire to secure a safe life, while the doctor resolves rather to "fan the flames".
As a recent BBC Two documentary showed, Naples today is in the grip of the increasingly powerful and corrupt Camorra syndicate, while Italian crime fiction continues to ride high on the UK bestsellers lists. But, star name and the odd bit of nifty tailoring aside, The Syndicate is not selling gritty glamour. "When the madness dies and the rage leaves you," Don Antonio warns the desperate young man, "you'll have killed the man who once loved you more than his own life."
Act III may close upon a victory of sorts, but it's one in which big-hearted goodness is sacrificed to petty greed, and bloodstained silk competes for your distaste with the cloying smell of roast chicken.
A heavyweight tale of casual brutality and moral brimstone wrought with all the playful delicacy of a box of cannoli
Share this article