Awake, Sky Atlantic |

TV reviews, news & interviews
Awake, Sky Atlantic
Inception-lite US drama packs a compelling emotional punch
Jason Isaacs as Michael Britten
Try this for high concept. Following a fatal car accident involving his family, LA cop Michael Britten (Jason Isaacs) gains access to two parallel realities. Every time he goes to sleep, he crosses between the two – in one, his wife survived the crash while his son died; in the other, he's a widower but his son lived. The two realities parallel one another in every respect: in each he has a different therapist, a different stereotypical sidekick, and a different murder to solve.
The procedural element is the least successful aspect of what's otherwise a compelling pilot with a unique emotional hook. The notion of intermittently grieving and regaining lost loved ones crackles with the sort of strange, uncanny poignancy that only sci-fi can achieve, and Isaacs' nuanced, muscular turn speaks anguished volumes with minimal spectacle.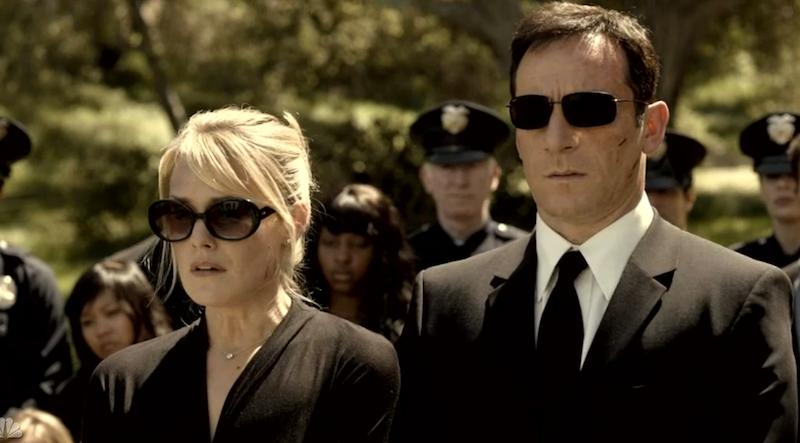 Episode director David Slade (most notably of Twilight: Eclipse fame, more respectably of Hard Candy fame) seems to have been hired, as is frequently the case with pilots, to make a distinctive visual mark. The device of using two different colour schemes to differentiate Britten's realities – the world in which his wife survives is filmed in warmer hues, while his son is relegated to a cooler palette of greens and greys – is perhaps not the least predictable choice, but there's a flinty, shadowed quality to Slade's visuals that makes for a more haunting 45 minutes than might otherwise be the case.
Moreover, there is intent to the warm/cool divide – in their scenes together Britten and his wife are close, connected, the loss of their son seemingly having brought them together rather than isolated them, whereas he and his son (Dylan Minnette) are rather emotionally estranged. Given that these dynamics are bound to shift in the upcoming weeks, it's promising to have them so confidently drawn from the outset.
Awake crackles with the sort of strange, uncanny poignancy that only sci-fi can achieve
More TV
Share this article
We at The Arts Desk hope that you have been enjoying our coverage of the arts. If you like what you're reading, do please consider making a donation. A contribution from you will help us to continue providing the high-quality arts writing that won us the Best Specialist Journalism Website award at the 2012 Online Media Awards. To make a one-off contribution click Donate or to set up a regular standing order click Subscribe.
With thanks and best wishes from all at The Arts Desk