theartsdesk in Bilbao: The School of Paris at the Guggenheim Museum |

reviews, news & interviews
theartsdesk in Bilbao: The School of Paris at the Guggenheim Museum
theartsdesk in Bilbao: The School of Paris at the Guggenheim Museum
Exceptional loans from New York make a familiar story sparkle with life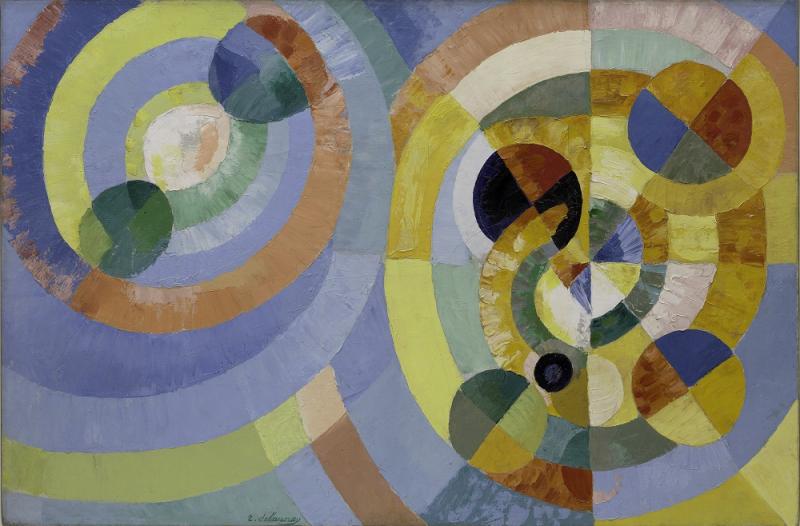 Robert Delaunay, 'Circular Forms', 1930
Painted during his first trip to Paris in 1900, Picasso's Le Moulin de la Galette is an outsider's view of an exotic and intimidating new world. Men and women are seen as if through some strange distorting lens, their blurred, mask-like faces indistinct but for red-slit mouths and coal-black eyes. We seem to be in the room with them, and yet we are isolated.
Even a woman looking out from the edge of the canvas gazes straight past us: if not invisible, we are certainly inconsequential.
The painting is a heavily symbolic start to this exhibition, which tells the well-worn but, to all but the hardest of hearts, still exhilarating story of modernism in Paris, by way of a hefty stack of loans from the Guggenheim Museum in New York. In it, Picasso recalls earlier generations of artists like Toulouse-Lautrec and Renoir, whose paintings of Parisian nightlife – and specifically this favourite haunt – rejected elevated academic subject matter, and explored instead the pleasures and anxieties of modern, urban life.
Painted at the dawn of the new century, Le Moulin de la Galette (pictured below) is freighted with our knowledge of what was to come. Only a few years later Picasso and Braque would embark on their joint project of analytical cubism, the spatial distortions of Le Moulin de La Galette prefiguring these explorations of visual experience.
Infused as it is with the thrill of the modern, heightened by the still arrestingly contemporary setting of Frank Gehry's architecture, Picasso's youthful painting speaks also of something timeless: the age-old impulse for artists to travel. Just as in the 16th century Dürer's journeyman years took him to Florence where he encountered Titian, Bellini and other great names of the age, in the 20th century Brancusi arrived in Paris on foot, along with artists from the world over.
It's easy to imagine such intrepid individuals as urbane and self-assured, but the reality must often have been less glamorous. Far from home, often poverty-stricken and unaccustomed to life in a big city, for many of the artists who came to Paris to seek their fortunes, it would have been as painful as it was exhilarating.
The emphasis on the Parisian avant-garde as a loosely affiliated community of outsiders, pursuing separate and often conflicting lines of endeavour, serves to reframe the close working relationships that formed, famously between Picasso and Braque, but also between Robert Delaunay and Jean Arp. In this light, their relationships seem as much to do with companionship as a shared artistic project.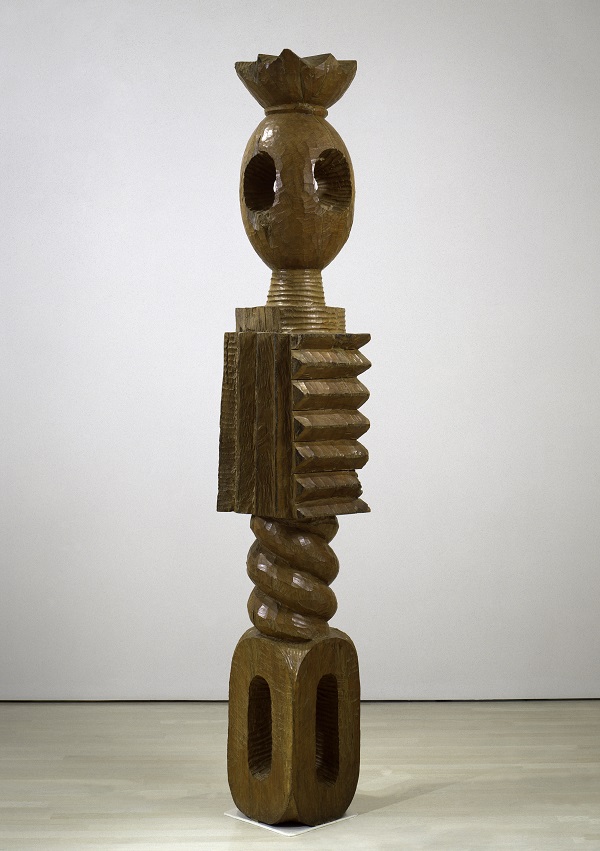 Even so, it was because of its transient nature that the ideas and innovations of the School of Paris – one of the more tenuous labels to be slapped on a group of artists – were easily disseminated in Europe and beyond. Alexander Calder's wire sculpture Romulus and Remus, 1928, is inextricably linked to the artist's status as an American in Paris. Balled up and shoved in a suitcase when Calder returned to New York in 1929, the mass of wire was only rediscovered – and the sculpture resurrected – during preparations for Calder's Guggenheim retrospective in 1964.
The diverse roots of some of the most important artists in Paris in the early 20th century are richly evoked by the art, Brancusi's massive, enigmatic wooden sculptures owing as much to Romanian folktales as to the well-documented influence of African carvings (pictured above right: Brancusi, King of Kings, c.1938). Similarly, the samovar in Marc Chagall's The Soldier Drinks, 1911-12 (pictured below left), and the little dancing folk figures, populate a nostalgic dreamworld conjured from memories of the artist's homeland. Chagall's Green Violinist, 1923-4, one of the highlights of this exhibition, has been the subject of endless complex interpretations, but to Chagall it was simply a proud and joyful homage to Russia.
Treasured by Chagall, who parted with it reluctantly after years of persistent coaxing by Solomon R Guggenheim, The Green Violinist is especially poignant, because it offers a glimpse of the relationship between artist and collector. It is only a glimpse though, and the exhibition generally frustrates any attempt to build a picture of the man behind this huge and comprehensive collection of modern art.
Guggenheim had begun by collecting Old Masters, but in 1929 shifted his focus to Europe's most influential pioneers of modernism. For someone who changed tack relatively late in life, Guggenheim was remarkably astute: his core collection of more than 150 works by Kandinsky was begun at the start of this new phase of his collecting career, in 1929 following a visit to the artist's studio.
For all its range, the gaps in Guggenheim's collecting are as revealing as the highlights, and not a single female artist is represented in this exhibition. This is not entirely surprising, of course, and yet Guggenheim's keen interest in Robert Delaunay makes his complete disregard for Sonia Delaunay seem shocking and rather willful (main picture: Robert Delaunay, Circular Forms, 1930). Robert Delaunay's explorations of colour relationships appealed directly to Guggenheim's interest in non-objective art, and his work forms such a fundamental part of the collection that the exhibition's title borrows from his painting Window on the City No. 3, 1911-12. Until recently Sonia Delaunay has been sidelined as her husband's assistant, but it is hard to believe that Guggenheim would not have been fully aware of her merits as an artist in her own right.
Was Guggenheim a misogynist? Probably, but no more than was usual in the 1930s. In fact, Guggenheim's interest in modernism, and specifically non-objective art, was inspired and driven by a woman: the German artist Hilla Rebay, who negotiated many of Guggenheim's acquisitions and became the founding director of the Guggenheim Museum when it opened in New York in 1939.
Both Rebay and Guggenheim occupy the shadows of this exhibition, and whatever we learn about them is by implication alone. Under normal circumstances this would be a fatal weakness, in the same way that presenting the School of Paris without the supporting structure of a critical narrative – something that is now a prerequisite for any exhibition – seems daring and problematic. It is testament to the quality of the collection that the usual rules simply do not apply.
Marking the beginning of a new phase of programming at Bilbao, this exhibition is the first chapter in a drive to strengthen links with the New York museum, with new exhibitions showcasing highlights from the Solomon R Guggenheim Museum planned every two years. In light of this, the exhibition's lack of emphasis on Guggenheim himself, not to mention Hilla Rebay, suggests a fertile topic for a future exhibition, but otherwise only demonstrates the curator's confidence in the unique interest of the collection, which we can look forward to seeing more of in the coming years.
Little dancing folk figures populate a nostalgic dreamworld conjured from memories of the artist's homeland
rating
Explore topics
Share this article