Imagine The Art That Hitler Hated, BBC One |

reviews, news & interviews
Imagine... The Art That Hitler Hated, BBC One
Imagine... The Art That Hitler Hated, BBC One
What happened to the 'degenerate' art that vanished during the Nazi era?
Wednesday, 29 October 2014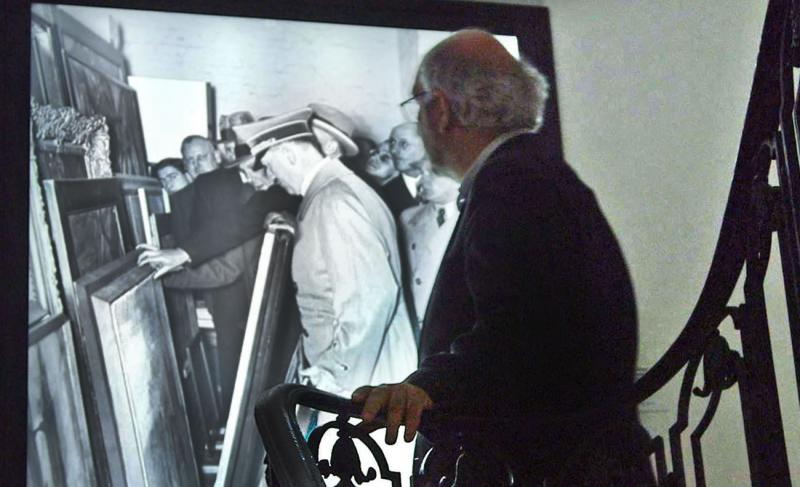 Art drenched in blood - Alan Yentob looks back on the 'entartete kunst' years
Alan Yentob's culture programme, Imagine, returned for its autumn season with a two-part examination of one of the most potently disturbing episodes in the history of art, let alone culture. Even before the programme's title, masterpieces by such as Kirchner, Beckmann and Klimt flashed before our eyes.
Thus began an exploration into how Hitler – a failed art student -– acted out his hatred of the great art of the 20
th
-century avant garde, which he thought to be as sickly and degenerate as the Jews he was also determined to destroy.
Yet it was German Jews who in the main collected and supported such art, and who were also the prominent art dealers of the time. Henrich Hanstein, director of the German auctioneers Lempertz, gave a wonderfully shifty interview in which he refused even to acknowledge the possibility of forced sales in the 1930s; the sales were legal, although the owners might have been under stress, a masterly understatement. Another commentator pointed out that there might be profound differences between legality and morality. Yentob's dispassionate narrative ended by telling us that even now there is complicity, cover-up and deceit as to the true extent of the destruction and misappropriation.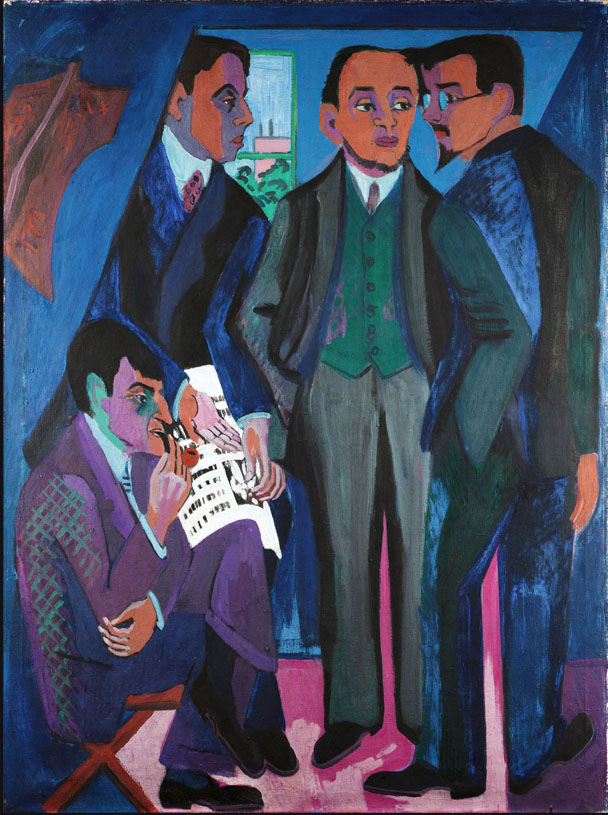 The eloquent Anne Webber, of the Commission for Looted Art in Europe, referred to many of the avant-garde masterpieces of 20th-century art which once held pride of place in private – and Jewish – collections and the public galleries of Germany as being drenched in blood. In Webber's telling phrase, these unliberated artworks remain the last prisoners of World War Two. (Pictured left: Ernst Ludwig Kirchner's portrait of expressionist artists from Dresden's Die Brücke group).
Yentob's narrative used as its springboard the staggering discovery in a Munich apartment of some 1500 works of art, described as priceless (although estimates have reached €1bn) and bought by one of the Nazis' four official art dealers, the Dresden-based Hildebrand Gurlitt. Hildebrand's father Cornelius was the Rector of Dresden University, a liberal art historian, and regarded as the patriarch of Dresden. Hildebrand Gurlitt in his early career was actually dismissed from two museum posts because of his interest in the avant-garde, and he was compromised because his grandmother was Jewish. The hoard, evidently an open secret in the art world, came to official notice when in 2010 Gurlitt's son, Cornelius, then in his late 70s, was investigated when returning to Munich from Switzerland, with €9000 in unexplained cash. The official police investigation itself was secret for several years until revealed via a leak last year, when the "discovery" of the hoard made huge public news.
Yentob provided a series of episodes clustered round the appropriation of "degenerate" art. We saw newsreel and photographs of the crowds visiting the 1937 exhibition of Degenerate Art which was shown in Munich, Hamburg and Berlin (pictured below). We visited Erfürt, once home to the Jewish shoe manufacturer Alfred Hess, philanthropist and collector, whose magnificent collection was forcibly dispersed. There was one ray of light, though: Erfürt's heroic curator saved an entire room of murals by Heckel, simply by boarding it up when the Nazis came to inspect, and placing a medieval sculpture of an angel in front of the now hidden entrance.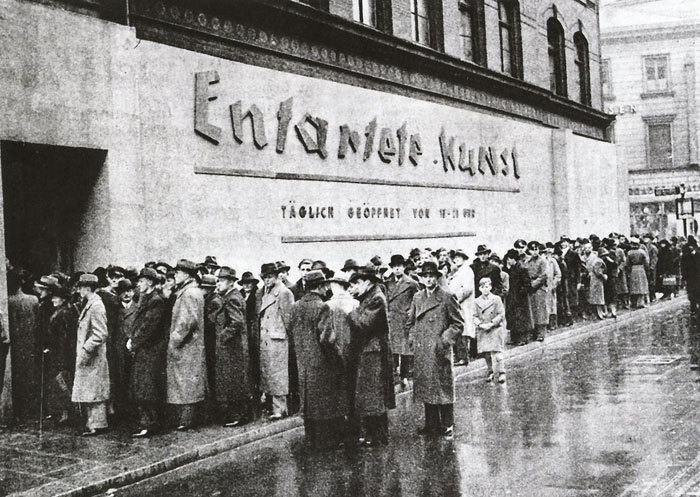 The German Impressionist, Max Liebermann, President of the Prussian Academy, was the most famous artist of his time, but Jewish. His 17 Manets were taken, he was stripped of his honours, but died before he was sent to a camp; his wife committed suicide several years later. Frits Glaser, a Dresden neighbour of the Gurlitts, was a lawyer who was stripped of his right to practise in 1933; 600 works by Otto Dix were appropriated from the Glaser collection. Where are they now?
There were too many stories to take in, although they indicated the incredible scale of how much was looted, stolen and destroyed. We reeled from the saga of Sophie Lissitzky-Cüppers, the dealer and collector who bought art directly from Paul Klee, and followed the avant-garde artist El Lissitzky to Russia and death in exile in Siberia. There were interviews with Ronald Lauder, billionaire co-founder and president of the Neue Galerie, the expressionist art museum in New York, who was passionately interested in looted art. And Yentob recalled the dispersed (and legendary) collections of the Jewish dealer Alfred Flechtheim, immortalised himself in a portrait by Otto Dix, who once had five galleries in the German-speaking world. Next week's concluding part, The Sins of the Fathers, examines the situation today.
Erfürt's heroic curator saved an entire room of murals by Heckel, simply by boarding it up when the Nazis came to inspect
rating
Share this article