Imago, Glyndebourne Opera |

reviews, news & interviews
Imago, Glyndebourne Opera
Imago, Glyndebourne Opera
A densely dramatic new community opera from Orlando Gough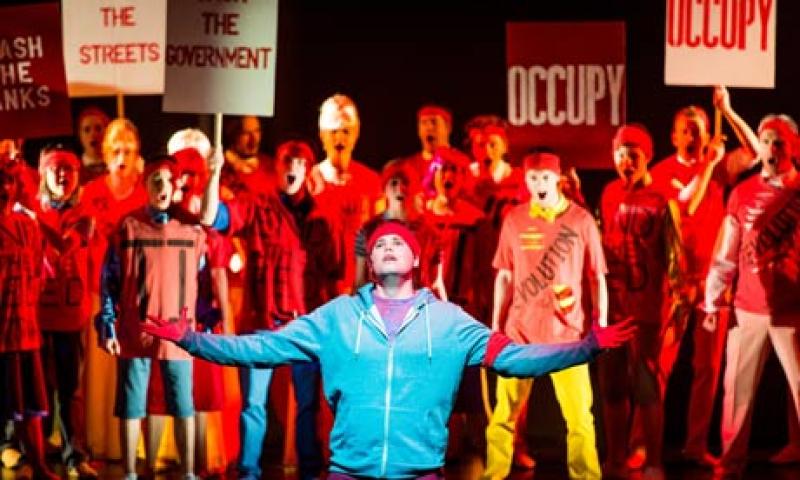 Imago: 'a visual masterpiece'
Imago, Glyndebourne's latest Community Opera exercise, putting the cap on 25 years of pioneering educational outreach, is one of those operas where you need to read the programme synopsis first.
Or maybe not. Its complications are outweighed by the fabulous impact it makes. The triple-level-set (shades of Birtwistle's The Last Supper and other bumper enterprises at Glyndebourne) is arresting, and brilliantly capitalised on; the projection visuals - cyberspace gone crazy - are stunning; the choreography is refined, and astonishing for a community effort. You may come out with your head reeling, or banging, for a number of reasons, but the overall impact is undeniably superb.
Composer Orlando Gough, a minimalist (at least here) who understands that the genre means variation and diversity, not repetition, has been paired by Glyndebourne (whose last Community Opera was Julian Philips's and Nicky Singer's considerable hit Knight Crew, in 2010) with a team that delivers pure magic.
This is a very busy, and buzzy, opera
Librettist Stephen Plaice (a Birtwistle collaborator, as it happens), designers Ed Devlin and Bronia Housman, director (and former Cherubino) Susannah Waters, who make their designs mean something and the story add up to a lot (she even helped Richard Jones to make Weber's Euryanthe take off at Glyndebourne) are the other brains behind this show. And video designer Finn Ross, whose credits for dazzling theatre projects are a mile long (ENO's The Death of Klinghoffer; the RNT's just-launched Curious Incident of the Dog in the Night Time, Théâtre de Complicité's The Master and Margarita at the Barbican), gives the show such explosive thrust that, if you can't make head or tail of what happens in Part I, or feel like blocking your ears from the shattering saxophonic onslaught, what the hell.
The truth is that Imago is fascinating whether you can catch the words or not. Like Glyndebourne's hip-hop opera, it's a bit eager to trade on what's in and cool. Gizmos are all the rage, and a thoughtful medic (occupational therapist actually, the wonderful Daniel Norman, who couldn't give a bad performance in anything if he tried), comes up with the idea of technology making it possible for old and ill people to reconnect with their own actual, or imagined, past.
In short, they can become as if young again. Cue miraculous neon facemasks, tendril cyber connections that look like a fervid human brain, eye-dazzling backdrop effects not recommended for those unkeen on flash photography, and a sort of electrification of the entire cast. This is a very busy, and buzzy, opera.
The delight, rather than the surprise, is that it comes off so well. It's true that Gough scores when he's a bit less frenetic. One wedding scene with a restrainedly wacky black preacher (George Ikediashi - terrific) and a yearning acappella chorus confirms how notably and memorably his mainly tonal patter impacts when it's not scampering (not to say that his scherzo passages aren't pretty knockout).
Two bolshy schoolboys, members of the therapist's family, who've somehow got in on the act by surreptitious surfing, are pure joy. The marvel is that they both have characterful voices, broken (James Brock's Rufus manages to create his own alter ego as a romantic hero) and unbroken (Flint Pascoe-Easterby's Rory whose doubtless spiffing alternate number was Raefn Webber). Brock's is impressive even for a young sixth former: a voice that has somewhere to go. And if someone isn't lining up little Rory (either) for Britten's Miles before it's too late, that someone needs his/her head examining. Steely young Flint would sure enliven the centenary.
The boys' bickering was so good because Susannah Waters' direction, here as everywhere, was so precise, so clever. How the Norman family (mum included) managed all the jabbing gestures and bitchy interweaving, both vocally and visually syncopated, seemed a marvel.
Gough could not have asked for better defined, or more evocatively coloured, playing
Christopher Tudor, the movement director, strikingly experienced in coordinating youth and community work, presumably had a commanding role in all that. He certainly achieved wonders with young and old alike in this straining-at-the-leash, passionate amateur choir. Even the roulette game that launched Part II ("on the red") – as nerve-racking as that in Tchaikovsky's The Queen of Spades, with vast roulette wheel looming above (courtesy of Ross) - was a meticulously controlled set-piece, soloists' voices emerging from the bunched chorus with amazing lucidity. There were many such visual near-masterpieces in this edge-of-seat, densely dramatic evening.
But if one applauds the community performers (the brilliantly positioned hospital patients not least), around whom this whole exercise centred, the principals must have their due. Norman, concerned, empathetic, principled, dedicated, brings quality and a wondrous tone, often but not always light, to everything he touches. Soprano Jean Rigby, who sung the old lady Elizabeth, whose young past is part replayed, part idealised as the main ingredient of the plot, brought an intensity to this give-it-a-go old timer that was quite staggering, and in a way, it made the show.
Her younger, or imagined younger incarnation is Lisette (Joanna Songi), a super young performer with a voice well on the way to being something special and somehow a presence to match. There was something very flesh and blood about this performance. Adam Gilbert, as the garish aspiring pop idol (Gulliver) whom she teams up with, and who is in some way an idealised or gooey-eyed self-projection of the wily boy Rufus, seems more of a cipher even when he marshals the crowd in a G8-type insurrection; but the ringing baritone voice is really something for a young singer only just out of studies at the Guildhall; he too is on his way.
Other principals - there were several additional leads in the supporting cast - helped keep the flames fanned; and Lee Reynolds' vocal training set every single chorus afire. But the real long-suffering heroes in this scorching performance were the strings, brass, woodwind, percussion and quite dominant imported saxophones - four or five of them - of the Aurora Orchestra, conducted by Nicholas Collon. What an impact they have made in the short time since he founded them.
Imago demands quite a large orchestra. Gough could not have asked for better defined, or more evocatively coloured, playing, or more intelligent conducting of his exhaustively twirling but exciting score, than from this young award-winner or his keyed up, fabulously rehearsed instrumental team.
Stagings come and go, but Glyndebourne Opera is first and foremost about the music. This magnetising collective soiree managed to do it proud.
The heroes in this scorching performance were the orchestra
rating
Explore topics
Share this article