Sylvie Guillem, 6000 Miles Away, Sadler's Wells Theatre |

reviews, news & interviews
Sylvie Guillem, 6000 Miles Away, Sadler's Wells Theatre
Sylvie Guillem, 6000 Miles Away, Sadler's Wells Theatre
Even dressing down in frumpy clothes, the dancer is still ravishing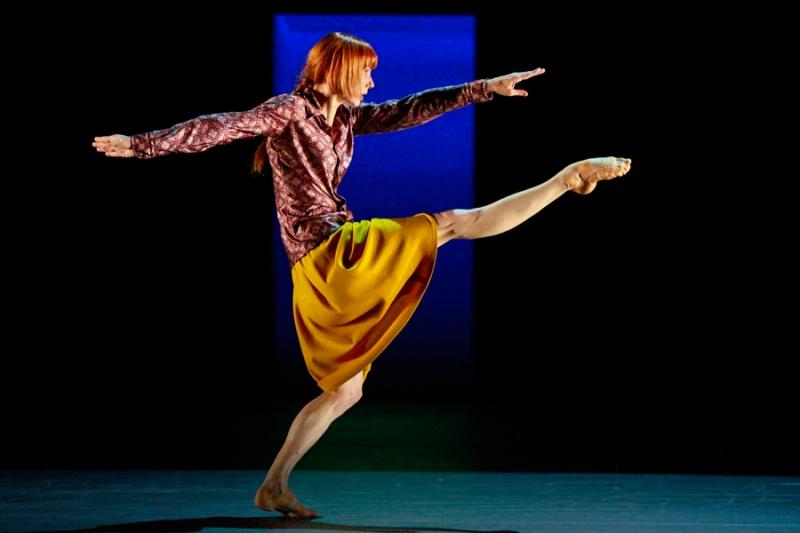 Mats Ek's 'Bye': 'The hokey moves (including headstands) done by Guillem with not a trace of false modesty'
Sylvie Guillem is back, chicken-skinny, middle-aged, dressed like a dowd. Did I just write that? And let's add: as swift as mercury, as exact as a feather, as light as the sun, and as eternal in intelligent beauty as Nefertiti. In contemporary dance, as I was saying at the weekend, it should be permissible to sit in the dark wondering at the inexplicable and the unbelievable. This great ballerina of our era is both inexplicable and unbelievable, in physique and in temperament.
Not least incredible is that a Parisienne of 46 would allow herself to appear in two outfits that compete effortlessly for Fright of the Year.
Gunmetal T-shirt and jeans in William Forsythe's new piece for her, Rearray; an ensemble that looks as if it was rummaged out of a binbag outside a charity shop in Mats Ek's dramatic solo, Bye. To think that the last outfit we saw her in on this stage was, in Eonnagata, an origami fantasy of creamy elegance by Alexander McQueen.
But then, this Sadler's Wells triple bill is entitled 6,000 Miles Away, and refers to Japan, a country she loves and which is now mired in catastrophe. Glamour would be out of true. But also, the worse the clothes she wears, the more mesmerisingly visible it makes her dancing, and her acting. And each of the works is an act of love by their choreographers to their reading of a ballerina they worship.
The Forsythe is a spellbinding, flittery, shimmery duet in dappled variations of darkness for Guillem and the hunky, magnificent Nicolas Le Riche, one of her favourite Paris Opera partners. Here is a golden triangle, a poet and his two muses. The choreography is some of Forsythe's sweetest and most delicately smithed ballet, uttered by each dancer in a distinctively individual way - Le Riche leading with his shoulders, a hint of jazz and boxing there, Guillem like a slender snake, motion flickering up and down her body.
So many contemporary ballet duets are about men and women in cosmic misunderstandings, tearing at each other in transports of faked misery - it's a rare joy to see a pas de deux so serene, intimate and heedless of external concerns, absorbed in the act of together dancing the convoluted scrolls and chases of a goldsmith of the art who for once has put the games aside. In this stunning tribute to Guillem, one's reminded yet again of Forsythe's genius for ballet writing, often cluttered up by his more rococo theatrical ideas.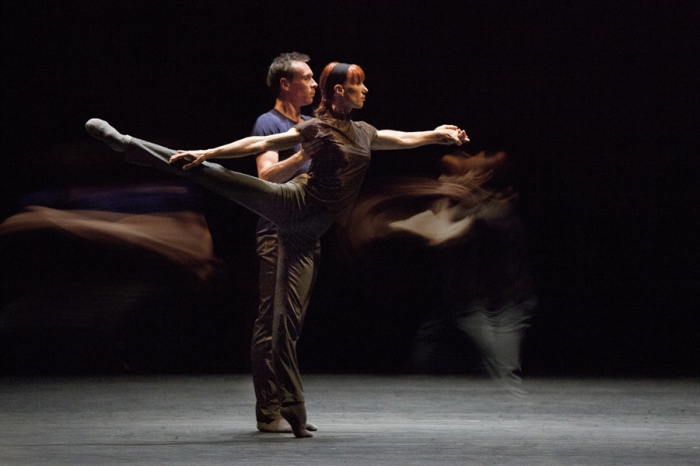 The music by David Morrow caresses the gloom plaintively, brushes it with feathery strings, soft horn calls, a lightness of being, which Guillem so embodies. Her attention to detail is beguilingly subtle: for example, in a parallel gesture of arm and leg outwards, she unfurls her arm like silk in air, while in her thigh and knee she traps an ounce or two of resistance, as if drawing the movement in water. They catch each other's phrases, Le Riche turning her trails of phosphorescence into earthier power surges.
Ek's Bye is a light tribute to the character actress that is Guillem, the girl who loves theatre and playing parts. Mats Ek's world is cartoon-like, folksy - Guillem was a sexy blast in his modern Carmen when she was with the Royal Ballet. In this, she plays an exceedingly frumpy stickwoman in murderous purple shirt and mustard skirt seeming to go backwards in her memories (and becoming increasingly fluent and youthful in her movement) with the help of a video window where a man, a dog, a family, her own self, appear.
There are suggestions of a lost love, a lost baby, a lonely life going slightly dotty - and a sentimental ending as she walks back into the video window to join her family. All this is set to the last movement of Beethoven's final piano sonata, opus 111, played on a recording by Ivo Pogorelich without affectation. It's a whole-fibre, feel-good confection, the hokey moves (including headstands) done by Guillem with not a trace of false modesty. It didn't thrill me on first viewing, but it does say something exceptionally good-hearted about her.
As indeed does the middle piece. Marlene Dietrich used to play up her less-than-amazing features by surrounding herself with plain women. Here Guillem contrasts her own unmade-up reality dance by inviting a younger, more classically beautiful woman, Aurélie Cayla, to dance one of Jiri Kylian's typically elegant, pained duets with no top on, displaying her full bare breasts and creamy torso in carefully sculpted lifts and holds by the heroically self-effacing Kenta Kojiri.
If Guillem had intended to highlight, by the juxtaposition, the richness of the Forsythe against the plastic posing of the Kylian, she couldn't have chosen better. As for Cayla's bare breasts against Guillem's wiry legs and horrible skirt - that's another typically farouche challenge that this ever fascinating artist and muse throws at us.
The worse the clothes she wears, the more mesmerisingly visible it makes her dancing and her acting
Share this article