The Four Temperaments/Untouchable/Song of the Earth, Royal Ballet |

reviews, news & interviews
The Four Temperaments/Untouchable/Song of the Earth, Royal Ballet
The Four Temperaments/Untouchable/Song of the Earth, Royal Ballet
Shechter première odd one out in triple bill with Balanchine and MacMillan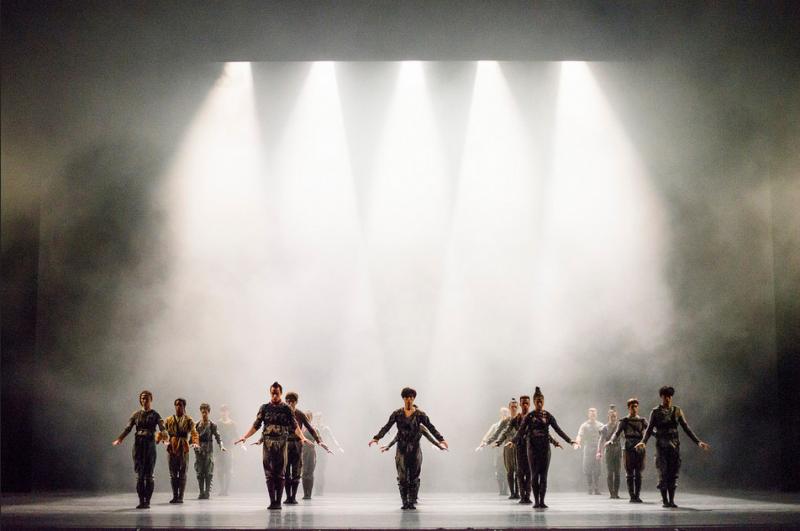 Artists of the Royal Ballet in Hofesh Shechter's Untouchable.
After the second piece of last night's triple bill, Hofesh Shechter's Untouchable in its world premiere, my friend asked me why it had been put on the programme with the first piece, George Balanchines 1946 Four Temperaments. He wondered if there was some structural or thematic connection that he had missed between the two wildly different pieces.
The Balanchine speaks obviously to the bill's last item, Kenneth MacMillan's 1966
Song of the Earth
; both pair a cool neoclassical choreographic idiom with deeply felt but vaguely expressed melancholy. But the best I reason I can imagine for the new Shechter's position between them was base covering on the Royal Ballet's part: let's squirrel the new and out-there away between the classic and classical and hope everyone in the audience enjoys at least some of the programme.
They might have managed that, but it's hardly a resounding ambition for a top international company in one of the world's most dance-literate cities, nor in some ways is it much of a vote of confidence for Shechter in his first commission for the company. He may be a big name with a cult following in the contemporary dance world, but the RB evidently think he's risky enough to need bracketing with two sure-fire box office hits from the back catalogue, however different from him they may be. Unsurprisingly, the resulting evening was, despite much excellent dancing, a mishmash.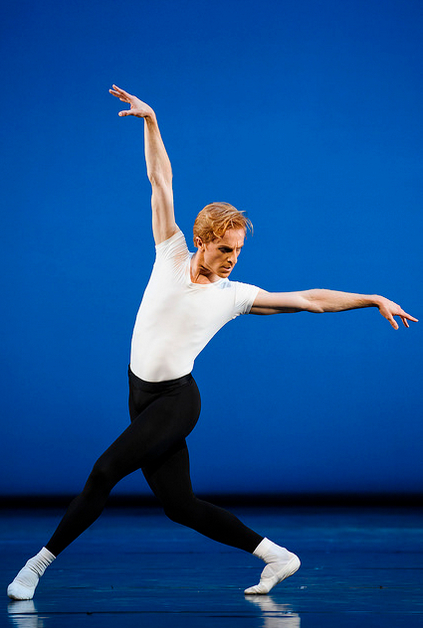 The Four Temperaments has that classic Balanchine practice clothes look, but unlike the crisply joyous Agon is infused with tortured emotion. Yes, there is a Sanguinic variation (Akane Takada and Federico Bonelli) but what sticks in your mind is the hopeless crumpling in on himself of Melancholic (Steven McRae), the sullenly twisted shoulders of Phlegmatic (Edward Watson), and the uncompromising gaze of Choleric (Zenaida Yanowksy). McRae (pictured right) and Watson in particular were on splendid form, the former precise but transmuting his usual buoyancy into a kind of despairing elasticity, the latter as dangerously elegant as a wounded panther.
It's odd after Balanchine to have the men more in your mind than the women, given how much Mr B identified ballet with ballerinas, but it's not just a reflection of the current state of the RB principals' roster, where interesting men outnumber interesting women: The Four Temperaments really does give the individual psychological stuff to the men, and has its women appearing mostly in phalanxes, spiky and threatening, slicing the stage up in those typical Balanchine diagonals. As usual when the Royal Ballet does Balanchine, I thought the corps de ballet were looking a bit tame, commendably technically secure, but not attacking enough to really pull them off balance and make it thrilling (honourable mention to Yasmini Naghdi for risking it more than most), but it was a fine performance nevertheless, its Hindemith score ably if not inspiringly played by Robert Clark and the Royal Ballet orchestra.

Hofesh Shechter may be an emigré like Balanchine, but otherwise they're about as different as possible. Something of a creative polymath who writes his own music as well as choreographing, Shechter creates dance of wonderful fluidity, a kind of elemental movement language, which he tends to pair with loud music, shock tactics of one sort or another (removing the seats at Sadler's Wells, confessing his adultery on stage), and a desire to get under the audience's skin. Given the resources of the Royal Ballet to play with, I was expecting him to come up with something really huge, maybe shaking the house with bass like Carbon Life did three years ago.
But whether the space swallowed the impact or whether he has deliberately gone for a muted effect, Untouchable was much quieter than his other pieces. Twenty young dancers in makeshift combat clothes pulse and move mostly as one, alternating between crisply upright marching and Shechter's trademark simian chaos, over a score of low strings and gently throbbing percussion (enlivened at one point by the words "Nigel Farage" sung like a Muslim call to prayer). It's hypnotic, beautiful and compelling - for the first ten minutes. Some of the remaining 20 minutes I spent trying to figure out the link with contemporary young radical paramilitary fighters that the costumes suggest, but it's an elusive one, something about youth and the desire to belong perhaps. By the end I was something I've never been in a Shechter piece before: bored.

Song of the Earth is one of MacMillan's greatest pieces, a meditation on life and death set to a Mahler song cycle and in my opinion always worth catching when it's on (as it is twice this season, in fact). Though 65 minutes is a long haul for the last piece on a triple bill, it was a treat to see in the hands of a splendid cast: Carlos Acosta as the Messenger of Death and Marianela Nuñez and Thiago Soares as the couple separated by him. Tender, characterful dancers all, Nuñez (pictured above right with Acosta) in particular was profoundly affecting as the Woman, gradually coming to realise the full magnitude of the emptiness left by death, and at the same time to find some peace in accepting it. Other notable performances came from mezzo-soprano Catherine Wyn-Rogers and First Soloist Yuhui Choe, who sparkled in the third song, light as a mayfly, but the ensemble as a whole was on very fine form indeed.

Those who will love all three pieces on this bill equally will be few in number, I'd wager. But there's plenty in it of interest, and plenty of excellent dancing from the Royal Ballet. Fans of Balanchine, Shechter or MacMillan will be definitely rewarded by their own piece - and who knows? - may also discover something new.
This triple bill is on at the Royal Opera House until 14 April. Song of the Earth returns in May on a bill with In the Night and Afternoon of a Faun.
Women appear in phalanxes, slicing the stage up in those typical Balanchine diagonals
rating
Explore topics
Share this article