Dan Cruickshank's Civilisation Under Attack, BBC Four |

reviews, news & interviews
Dan Cruickshank's Civilisation Under Attack, BBC Four
Dan Cruickshank's Civilisation Under Attack, BBC Four
After destroying the historic artefacts, Islamic State will destroy the people. Are we planning to stop them?
Dan Cruickshank sounds the alarm
This was one of the most disturbing, terrifying and informative programmes imaginable, made more so by Dan Cruickshank's calm demeanour as he interrogated everyone from scholars to fanatics about the actions and rationale of the Islamic State (IS) during the past two years in Iraq and Syria. These conversations were set against his own visits to the Middle East and terrifying videos of IS hammering to smithereens the contents of museums and bulldozing world-famous archaeological sites.
When Cruickshank visited Iraq's ancient sites in 2002, he feared the destruction Western bombs might bring; little did he foresee that the cataclysm would come from within Iraq itself. And he clearly blames both the history of the boundaries imposed by France and Britain after the First World War, and ultimately the chaos unleashed in the aftermath of the Iraq war, which did not formally end until 2010 (culture vultures: IS on the warpath, pictured below).
Cruickshank succinctly reminded us of the aims of IS, chiefly an ambition to create a worldwide Caliphate which pays no heed to national boundaries. No longer will Muslims be Syrians or Iraqis, but rather Sunni Muslims adhering to 7th-century Islam, a fundamentalist creed which can even extend to destroying Sunni sites such as Jonah's tomb in Mosul if they don't fit the framework imposed. There is a fearsome logic: the shared material culture, cultivated by Saddam Hussein as a way of reinforcing national identity, has to be obliterated, as any national identity must be subsumed to the IS version of Islam. As only Allah can be worshipped, anything that suggests another divinity must also be demolished.
In an interview set improbably in an East End café specialising in delicious cakes, the notoriously provocative Muslim activist Anjem Choudary defended IS's policy: God has no form, and anything from a non-Muslim past – or from the wrong kind of Islam – that does not adhere to IS's Islam must go. Should Egypt fall to the Islamic State, then so will the pyramids. A world-weary Libyan archaelogist explained that all the museums of Libya are shut because of threats, and the treasures of the national museum have been boxed up and sent away.
Mesopotamia, the crossroads of the world, set between two rivers, was the home of the first written language, of the invention of the wheel, and above all perhaps the creation of cities, the very meaning of civilisation. Cruickshank's own early 21st-century travels showed us some of Iraq's great sites, including Hatra, a great city now in ruins (IS art-assassin at work in Hatra, pictured below).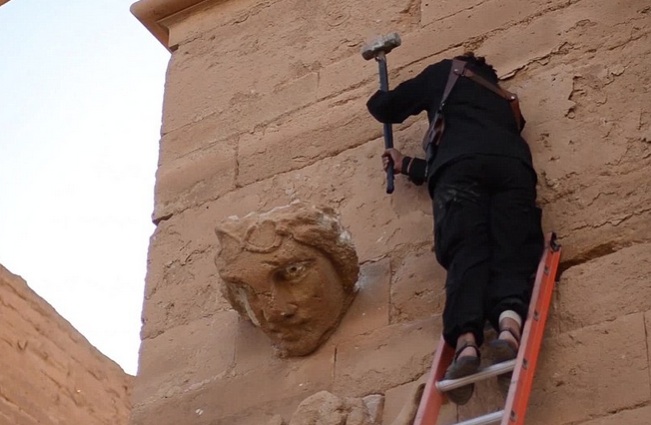 One of the most lucid commentators was Matthew Bogdanos, now an assistant attorney general in New York. He's also a classicist who, while a US Marine Colonel in Iraq, investigated the looting of Baghdad's National Museum, helped to recover thousands of objects and wrote a vivid history, Thieves of Baghdad. He put several aspects of the current situation under unrelenting focus; just as the Secretary General of UNESCO refered to debates and resolutions, Bogdanos reminded us that in this context words do not produce action. But are we prepared to use armed force to protect the cultural history of all humanity? Moreover, while first there are attacks aimed at destroying a cultural past, it's only as a preliminary to destroying actual people. That dilemma was put by an academic: how can we intervene to defend stones and statues, if we are not prepared to intervene to prevent the slaughter of innocent men, women and children?
This deeply compelling programme raised many more questions than it could possibly answer, and in showing us IS promotional videos, also showed us many contradictions. If displaying the human form is forbidden, how does IS reconcile the showing of its contemporary fighters? IS has mastered the latest technological media, a profound irony as the world hailed the positive power of twitter during the Arab Spring. Moreover IS controls 4,500 archaeological sites in Syria, and aerial views show us how they are already being looted in order to finance IS: the more IS bulldozes, the greater the monetary value of what remains. IS is exploiting the ultimate cash cow, presumably with the connivance of the art world – money always rules (ruins of Jonah's tomb, pictured below).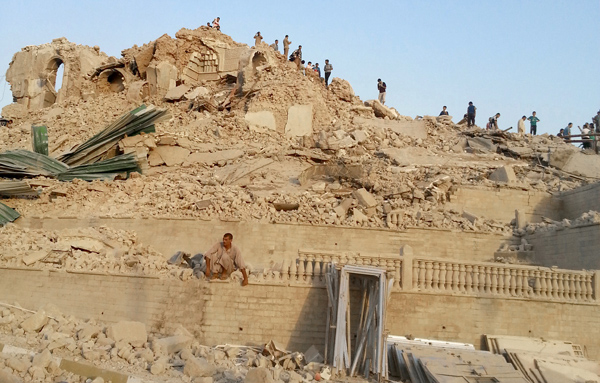 We were reminded too that Damascus is the oldest continually occupied city in the world; what will be the fate of its Great Mosque? Palmyra (pictured above) is on a knife edge, its superb amphitheatre now the site for IS executions of Assad supporters. Hatra, 2,000 years old, and Nimrud, a 3,000-year-old Assyrian site in Iraq, are gone. What the 19th- and 20th-century archaeologists brought back to the museums of Paris, London and Berlin may be all that remains: Cruickshank duly enquired of a Louvre curator what security measures are in place.
But what solutions may there be? No one could suggest anything, except a longing for some kind of action amid a sense that nothing will work to stop IS's destruction of people, and the art that embodies millennia of human history. The last comment, by the historian Tom Holland, was simply to say that all that's left is hope.