Reissue CDs Weekly: Shadow Morton, Motorama, Rob Jo Star Band, Souad Massi |

reviews, news & interviews
Reissue CDs Weekly: Shadow Morton, Motorama, Rob Jo Star Band, Souad Massi
Reissue CDs Weekly: Shadow Morton, Motorama, Rob Jo Star Band, Souad Massi
The sonic auteur who influenced Amy Winehouse, singular Russians, French Seventies oddity and a primer on Algeria's polyglot star
Coming out of the shadows: George 'Shadow' Morton, finally anthologised on 'Sophisticated Boom Boom!! – The Shadow Morton Story'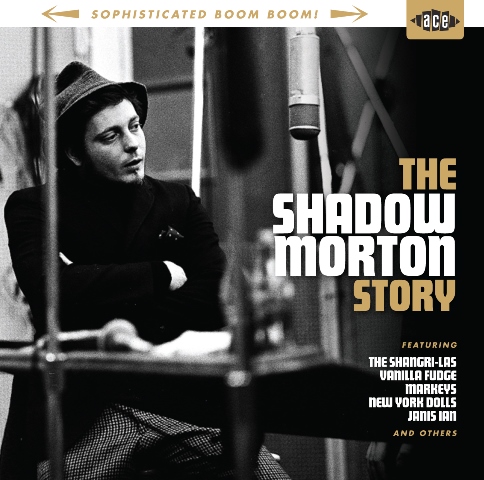 Various Artists: Sophisticated Boom Boom!! – The Shadow Morton Story
Without Shadow Morton, Amy Winehouse could not have made Back to Black. The songs the enigmatic sonic wizard wrote and produced for The Shangri-Las in the mid Sixties were integral to what made Back to Black tick. Amazingly, Sophisticated Boom Boom!! – The Shadow Morton Story is the first career-spanning collection of Morton's work. For that alone, it would be, at the least, exciting. But with its massive, well-illustrated booklet, the involvement of and interviews with Morton – who died in February this year, before he could see its release – and definitive, lengthy liner notes, this is one of the year's most important reissues.
George Morton, born in Virginia but brought up in Brooklyn, got his nickname due to his habit of vanishing. In the liner notes, Jerry Leiber says of this East Coast Phil Spector: "Shadow was never there when you looked for him. He packed a self-invented mythology that intrigued me. He had a genius for writing songs that were teenage soap operas. As a producer, he threw in everything but the kitchen sink."
The man himself may have been a slippery customer, but the music he wrote and produced quickly lodged itself in America's psyche: the aural cinema of the Shangri-Las's "Remember Walking in the Sand", their epic "Past, Present and Future", the social commentary of the then-15 Janis Ian's "Society's Child (Baby I've Been Thinking)" (watch her performing the song on the next page), the heavy grandeur of Vanilla Fudge and Iron Butterfly. He injected an overt poppiness into the New York Dolls. Classics from all of these are present alongside obscurities from Mott the Hoople, Morton himself and The Nu-Luvs. All killer and no filler, Sophisticated Boom Boom!! – The Shadow Morton Story has been a long time coming. For Morton, it's sadly too late. Everyone should be grateful it's finally here.
Rostov-on-Don's Motorama – named after the surreal 1991 road movie – have already had their uncanny connection with the sound of early Eighties Manchester flagged up on theartsdesk. The reissue of their debut album, 2010's Alps, makes even plainer how singular a proposition they are. Having little idea of the nuts and bolts of the alternative Russian music scene doesn't preclude reaching the conclusion that Motorama would be a non-sequitur wherever they're from. Which is probably why they are on a French label. Alps is slightly more sprightly than its successor Calendar, but even at this earlier stage Motorama were fully formed, sporting the influence of early New Order and fellow Factory band The Wake. The only contemporary band which comes to mind as a comparison is Sweden's The Radio Department. Moody, melodically rich and imbued with a romantic longing, Alps is another fantastic album from this fantastic band.
Rob Jo Star Band: Rob Jo Star Band
The extraordinary Rob Jo Star Band were an even more obtuse proposition than Motorama. From Montpelier in the south of France, they formed in 1973 and managed one album in 1974, the artefact reissued here. Although 1500 copies were pressed, it sank without a trace only to be later picked up as a touchstone of pre-punk wilfulness which could never have helped the band to success. In the liner notes, band members say they were influenced by Bowie, Lou Reed, The Velvet Underground, Pierre Henri, Roxy Music and the New York Dolls. Tellingly they also say "Can was essential". The album reveals this perverse quintet as an incredible, gibbering cross between Tago Mago-era Can and Space Ritual Hawkwind. Amazing stuff. Had they been on Germany's Brain or our own United Artists or Virgin, they would, by now, have become a name quoted as integral to the alternative mid Seventies. An essential reissue, reclaiming another lost piece of the jigsaw which says the past isn't quite what it has seemed.
Souad Massi: The Definitive Collection
Algeria's Souad Massi has never hidden her love of and debt to music from beyond the country she was born in. She lives in France – not, initially, through choice but as a result of being threatened in Algeria – often uses polyglot sources in the same song and has collaborated with unexpected partners. Her last album, Ô Houria, included "Let Me Be In Peace", recorded with Paul Weller. However, that song though isn't featured on this, a sparingly packaged collection drawn from her four studio albums to date: Raoui (2001), Deb (2003), Mesk Elil (2005) and Ô Houria (2010). Although a handy primer which shifts from Fado influences to intimate reflections with an acoustic guitar and flirtations with glossily produced Rai, no reason for the track selection is given, although there are English-language translations of the lyrics. Liner notes would have been useful too. Curiously, no pictures of the artist are included.
Watch Janis Ian perform the Shadow Morton-produced "Society's Child (Baby I've Been Thinking)"
'Sophisticated Boom Boom!! – The Shadow Morton Story' is one of the year's most important reissues
Share this article