William Klein + Daido Moriyama, Tate Modern |

reviews, news & interviews
William Klein + Daido Moriyama, Tate Modern
William Klein + Daido Moriyama, Tate Modern
New York and Tokyo seen in grainy black and white through the lenses of an American and a Japanese
Thursday, 11 October 2012
William Klein's exhibition opens with Broadway by Light (1958), a celluloid elegy to advertising made in the days before neon. Myriad bulbs flash the names of brands like Coca Cola, Camel, Budweiser and Pepsi across New York's night sky.
Silhouetted against vast hoardings, men perch on ladders to hang letters outside Broadway theatres or screw in brightly coloured bulbs that create gaudy, syncopated patterns which, when reflected in rainwater puddles, ripple and shimmer with the subtlety of abstract paintings.
Dubbed the first pop art film, it has a celebratory mood that is in stark contrast to the black and white photographs of the city for which Klein is justly famous. His wide-angle shots are crowded with people taking part in marches, political rallies, religious meetings and funerals or simply hanging out in Chinatown, Harlem, Brooklyn or Central Park. In response to his camera, adults grin, leer, menace or posture, while gun-toting kids pull threatening faces. Klein's love of signage is apparent in shots of hoardings and the lettering on street signs, shop fronts, vans, clothing, garbage and graffiti.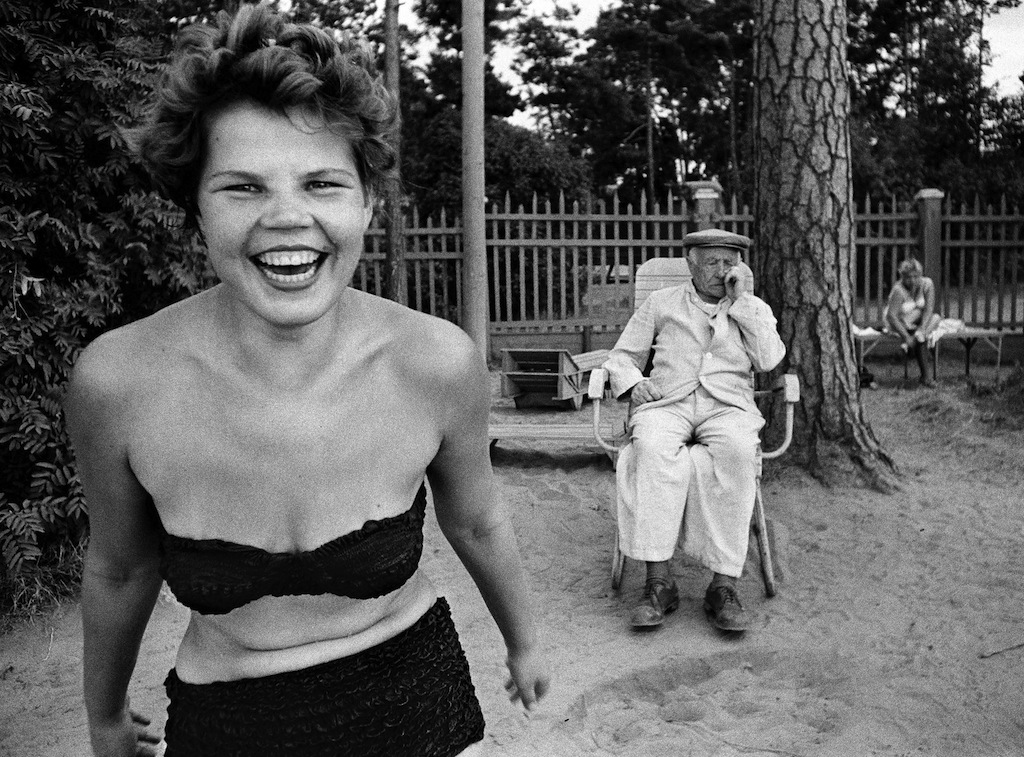 The pictures were intended for a book envisaged "as a tabloid gone berserk, gross, grainy, over-inked, with a brutal layout, bull-horn headlines. This is what New York deserved and would get." But his unflattering view of the city horrified American publishers, so the book had to be published in Paris, in 1956. Since recognised as one of the most iconic photo books of the postwar era, Life is Good & Good for You in New York: Trance Witness Revels (An Anagram of Chance Witness Reveals) had a huge impact on photographers such as Daido Moriyama, whose Tate Modern retrospective follows the rooms dedicated to Klein.
Klein later turned his unflinching eye on Rome, Moscow (above right: Bikini, Moscow, 1959) and Tokyo. Understandably, these photos feel like the response of an outsider to an alien culture, but the New York pictures could also have been taken by a stranger, which suggests that Klein felt ambivalent towards the city of his birth. Born in Manhattan in 1928, he grew up in a predominantly Irish neighbourhood on the edge of Harlem, a Jewish boy who never felt he belonged. He later studied sociology, became a radio operator during World War II and won his first camera in a poker game, then left New York for Paris.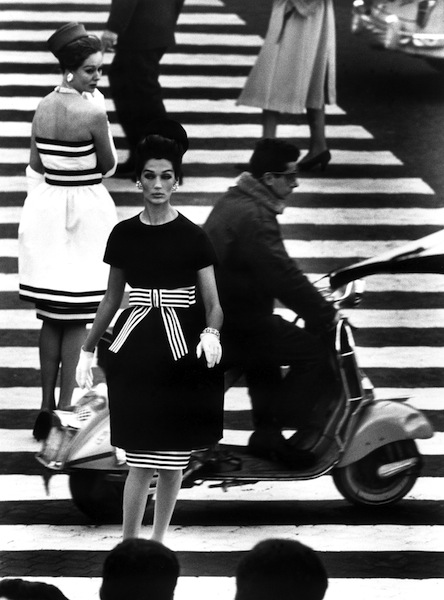 In Paris he studied with Fernand Léger who advised him "to get out of the galleries" and "think about the street". Klein's fascination with signage prompted him to make paintings based on letter forms, which led to a commission to make rotating room dividers for a Milan apartment. He photographed them in action, fell in love with the blurring effect of their movement and began experimenting in the darkroom. He produced photograms (abstract patterns made with paper stencils), which he exhibited alongside the kinetic panels. The editor of American Vogue saw the work and offered him a job as a photographer so, after eight years away, Klein returned to New York and the rest, as they say, is history.
In his fashion shots (pictured above left), Klein contrasted the supercool elegance of the models with the gritty realism of his street photography, often taking the models outside to mingle with the unsuspecting crowds. His film Who Are You Polly Maggoo? (1956), a satire on the fashion industry, reveals his contempt for the business that provided him with a living. Several documentaries followed – on Muhammad Ali, Little Richard and Black Panther, Eldridge Cleaver. (Clips are included in the exhibition and screenings are programmed for November and December).
Ironically more than 50 years on, the beauty of Klein's gross, grainy and brutal photographs is apparent. In many ways ahead of his time, he should be accorded the respect given to seminal figures such as Andy Warhol; but perhaps because he left America, perhaps because he has operated outside the art world for so much of his career, he hasn't received the same degree of adulation.
The last room feels like a bid for that kind of recognition. Enlarged sections from his contact sheets are attached to foam panels (pictured right: Dance Happening in Ginza, Tokyo, 1961). The wax crayon used to outline a chosen shot has been replaced by enamel paint freely splurged around the images to create elegantly arty panels. For the first time in his career, Klein seems to be following fashion rather than pioneering a look, trying to seduce rather than to shock his audience – understandable but sad.
Stepping from here straight into the retrospective of Japanese photographer, Daido Moriyama is a bit of a jolt. In 1971, Moriyama took a photo of a stray dog glancing warily over its shoulder to assess its surroundings (pictured overleaf: Misawa, 1971). Since then he has obsessively returned to the shot, as though this image of the wolf-like loner were some kind of self-portrait. He even tilted his autobiography Memories of a Dog, as though his profession had cast him in the role of a restless wanderer never able to settle or come in from the cold.
Whether photographing in Tokyo's crowded streets or in the isolated town of Tono in north-east Japan, Moriyama seems always to be on the outside, recording random sightings and chance encounters with strangers whose lives appear remote, alien or incomprehensible. In cities, the restlessness and sense of alienation seem endemic; commuters wait listlessly on platforms; a woman disappears down a rubbish-strewn alleyway; in the red-light district, a dancer spreads her legs; other performers take to the streets; and no one seems at ease or at home.
After reading Jack Kerouac's classic beat novel On The Road, Moriyama began photographing the roads leading into and out of Japanese towns. Instead of places people live in and feel comfortable with, he portrays cities primarily as destinations to be visited and left behind. The resulting book, Hunter (1972), is described as a "road map of images from all over Japan through a moving car window. Routes and roads are the hunting field for me as a photographer."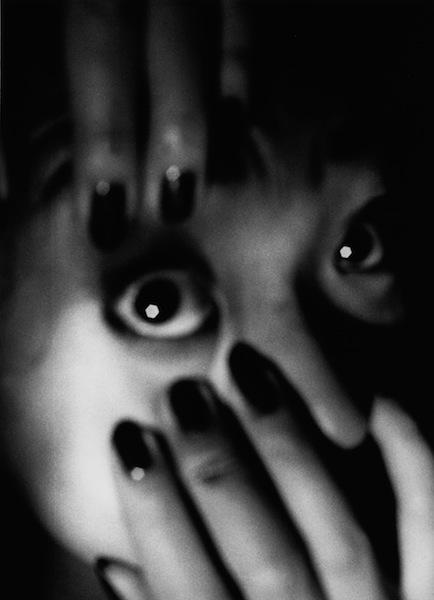 Occasionally he finds beauty – in snowflakes falling, a train speeding past, or the patterning of fishnet tights or perforated steel – but ramping up the contrast of his black and white prints, Moriyama more often portrays the world as a dangerous place engulfed in existential darkness.
In all this chaos, his studio appears like a beacon of calm and stability. Recorded in a grid of polaroid shots, the room is recreated as an installation that offers a rare glimpse of clarity and colour in what can otherwise feel like a miasma – the world as seen through a dark fog.
While Klein undoubtedly influenced Moriyama's love of grainy, out-of-focus shots taken from odd angles, to pair him with the American tells only half the story. Warhol was equally important as the inspiration behind his Accident series, which includes car crashes, shipping disasters, executions and a health scare linked to overcrowded beaches. Moriyama's use of found images (the car crashes come from posters), his fascination with serialisation (banks of tins on supermarket shelves) and with juxtaposing unrelated images on a page were also inspired by Warhol. So pairing him with Klein is interesting, but doesn't do him justice. Moriyama deserves to be seen as a law unto himself, rather than an acolyte of a more familiar western photographer.
Watch a clip of Who Are You Polly Magoo?
Explore topics
Share this article