Twombly and Poussin: Arcadian Painters, Dulwich Picture Gallery |

reviews, news & interviews
Twombly and Poussin: Arcadian Painters, Dulwich Picture Gallery
Twombly and Poussin: Arcadian Painters, Dulwich Picture Gallery
This odd pairing is not a marriage made in heaven
Some years ago the Dulwich Picture Gallery invited Howard Hodgkin to exhibit alongside the Old Masters in their collection. I am not a fan of this vastly overrated artist, but even a diehard enthusiast must have found the juxtaposition cruel. How could Hodgkin's crudely daubed, splishy-sploshy canvases (I exempt from the description a few works painted at the highpoint of his career in the mid-Seventies) bear scrutiny against works by Rubens or Rembrandt? They couldn't, and the exhibition was a car crash. So how will an artist whose works appear similarly unrestrained and unstructured fare in his "conversation" with just one formidable Old Master?
Though he is mostly known for his febrile pencil markings, Cy Twombly is, I would say unarguably, a far better painter than Hodgkin. He is a far better, more subtle colourist, too, that gift for which Hodgkin is particularly noted. What's more, his abiding and deep interest in classical mythology and Renaissance art naturally echoes the concerns of the artist Twombly most admires and indeed wishes he could have been in another life: Nicolas Poussin.
Twombly and Poussin, though separated by three centuries, share overlapping biographies. Both left their native countries, America and France respectively, to live in Rome, the eternal city, aged 30 – Twombly in 1957, Poussin in 1624. Both created canvases of the four seasons at the age of 64. Twombly, who was 83 when he died earlier this week, lived in Italy for most of his life, just as Poussin had.
So these are just a few of the superficial similarities; nobody could argue that their works actually look alike or have much to do with each other in any proper sense.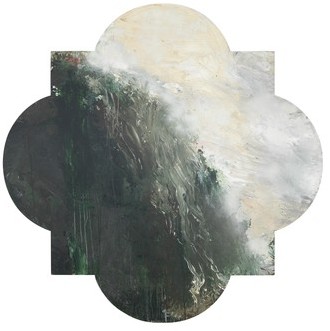 But enter the first gallery of this exhibition and you will find faint painterly echoes that are not apparent in the rest of the exhibition. Poussin's melancholy A Roman Road, 1648, featuring a dusky tree-lined road on which distant figures rest or amble, hangs opposite two elaborately shaped canvases whose forms exactly replicate the Venetian ceiling painting of Veronese's The Adoration of the Magi. The two canvases, both painted in 1985 and which are part of a yet unfinished series of four, are called Untitled (Bassano in Teverina) (pictured right) after the artist's house in Bassano. Though there are no deep vistas or resting figures here, their dark leafy greens and gold-tinged foamy layers of creamy white naturally evoke Poussin's pastoral paintings, as well as suggest the wooded landscape surrounding Twombly's rustic home.
In the next gallery, however, we encounter Twombly's first painting upon arriving in Rome. Arcadia, 1958 (pictured left), presents a waxy white canvas on which pencil scribbles, doodles and barely decipherable words have been etched. Across the top half, traces of the word "Arcadia" can be faintly made out. It's been said that Twombly's sgraffito works bring to mind the graffiti that can be found on the weathered marble walls of Rome's monuments. But this is hardly what springs to mind. Rather the white canvases of his friend and contemporary Robert Rauschenberg offer a far more meaningful connection.
But the work pales, in all senses, next to Poussin's The Arcadian Shepherds, c 1628-9, in which barely clad shepherds try to make out the writing – just as we have done with Twombly's canvas - on a sarcophagus. "Et in Arcadia ego", we read: "Even in Arcadia I [Death] exist". The laurelled river god Alpheus seems to illustrate this earthly inevitability with his vessel of spilling water, whilst the uncomprehending shepherds try to decipher the meaning of the words before them.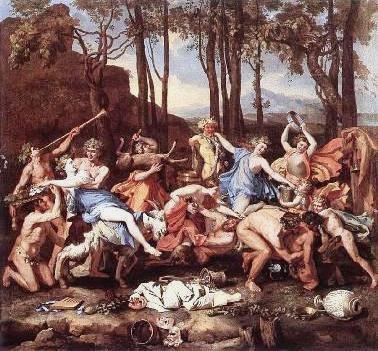 So do these two artists complement each other? Does the conversation bring a renewed appreciation and understanding of the other's work? Well, not really – Twombly might have been better paired with Monet, however obvious a pairing that may seem - though the exhibition does succeed in other ways which are not greatly to Twombly's advantage. If one didn't have it already, one comes away with a greater appreciation of Poussin. Behind the classical austerity, the French artist is a deeply sensuous, often erotic painter – witness the lustfully raucous scene of The Triumph of Pan, 1636 (pictured right), or the lovely and tender Venus and Mercury, c 1626-27. There is nothing staid or dull about this artist.
One also comes away, if one didn't feel it already, with an appreciation of Twombly as a painter. His Hero and Leandro (After Christopher Marlowe), 1985 (main picture), takes the classical legend of the doomed lovers (Leander in English) as its subject, and evokes the story of their drowning through an abstract sea of frothy, evanescent brushstrokes: foamy whites are layered onto smokey, misty greys and subtle greens, and the effect is of a violent, churning agitation. To this depthless surface, Twombly has added red – a great frenzy of feathery brushstrokes – suggesting the spilling of blood, Marlowe's own since he was murdered in a stabbing in a Deptford tavern, rather than that of the mythical lovers. (Twombly read Marlowe's poem Hero and Leander shortly before painting this canvas.)
I leave the exhibition wishing I could see rather more of Twombly's luscious, hearty paintings, rather than the incessant, crude scribbles for which he is ludicrously renowned.
Share this article