Turner Prize 2010, Tate Britain |

reviews, news & interviews
Turner Prize 2010, Tate Britain
Turner Prize 2010, Tate Britain
Interesting, engaging and intelligent. You wouldn't believe it's the Turner Prize
There may be some who feel this year's shortlist for the Turner Prize has done little to forge ahead with anything new, innovative and different. And then there may be others who will welcome the rather more established artists on this year's list, that is those who have continued to steadily develop their practice for well over a decade, with no great surprises, such as Angela de La Cruz and Dexter Dalwood.
With the obvious proviso that, old or new, the work must be interesting, engaging and intelligent, I see no problem in tending towards the latter camp. In any case, a relentless drive towards the new (whatever that might mean, and it often means very little in contemporary art), has often resulted in a poor Turner Prize shortlist. And though you may not see the best of this year's four in the mini exhibitions that are currently showcasing the shortlist at Tate Britain, the work of at least three of the nominees has, to varying degrees, steadily proved interesting, engaging and intelligent.
Dexter Dalwood paints large, flat canvases that generally have a brooding, wistful air. Since his paintings often focus on an imaginary scenario involving the last moments in the life of a famous person belonging to the recent past, he has been called a latter-day history painter. But his interiors or vistas are devoid of people, and the clue must be looked for in the work's title, though even there you're sometimes none the wiser. Lennie (pictured above right), for instance (Kravitz? Henry? Bruce? – maybe he doesn't know they end with Y, either, and that only one of them is dead), presents an imagined landscape that looks like a cut-away of the Earth's layers painted in different styles: realist, diagrammatic, colour-field. The top strata of Lennie is of a mountain range, so we're thinking Big Country, but you have to read elsewhere to find out that, in fact, the painting refers to Lennie Small, the slow, galumphing character from Of Mice and Men.
Dalwood's paintings don't only make references to people, but to art history. They borrow stylistically from artists as disparate as Delacroix, Matisse and Jasper Johns, and scenes are punctuated by flat blotches of colour, scribbles and drips, or else there are whole passages where the artist has lifted a motif from another's work. When these stylistic references are integrated into the scene as a whole, then the paintings really sing, but we're probably not seeing the best of Dalwood here.
Angela de la Cruz paints canvases too, but she also crushes and tears them and snaps their frames in two. Entering a gallery of her work one confronts an atmosphere of failure, loss, defeat and possibly dread. There is something so melancholic about her spine-broken canvases, something so vulnerable-seeming about those bits of old furniture shoved into spaces too small to accommodate them, that you instinctively anthropomorphise her objects. Cruz's work is deeply evocative while remaining resolutely minimal. An old-fashioned wooden chair forced onto a stool (pictured left), for instance, suggests narratives of loss just as forcefully as Dalwood's paintings.
This melancholic, serious air continues as the overarching theme (maybe it has something to do with a general mood of restraint during a recession) with Susan Philipsz's sound installation. A bare gallery has simply been installed with three speakers (pictured below left) through which you can hear the artist herself singing a sad folk song, the twist being that each speaker transmits a slightly different version. All I can say is that Philipsz's singing voice is quite lovely, but the work is not a strong enough contender here. A restful diversion is the best I can offer in praise.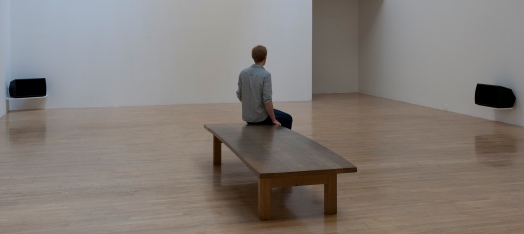 You can hear Philipsz's mournful singing through the walls of the gallery containing the work of the Otolith Group. Here, the gallery is like a large, darkened, media-studies seminar room. In the centre there is a round table where you'll find some pamphlets, while the walls are filled with banks of television screens with the sound turned down. You can, however, read the subtitles if you want to follow whatever's being said by the banks of ancient talking heads. Each screen is showing a different episode of a documentary series on ancient Greece made by avant-garde French film-maker Chris Marker.
At the other end of the room is a bigger screen showing a film made by the artists themselves - the London-based duo Kodwo Eshun and Anjalika Sagar - called Otolith III (main picture and right). If all this is already beginning to pall as a little pretentious, then bear with me. Otolith III is a film made up of a montage of old feature-film and documentary footage. It samples Hollywood and Indian cinema, as well as footage of Sixties London, overlaid with a present-day narrative. In fact, as far as I can tell, all the footage is from the Sixties, perhaps all from 1967, when film-maker and novelist Satyjjit Ray was writing an unrealised screenplay for his film The Alien, in which a young boy from a remote village befriends an extra-terrestrial (it's not remotely like ET, so we don't get to see the little critter).
The influence of Chris Marker is very clear – perhaps it's slightly too derivative - but though the film is beautifully and cleverly constructed, it is also wilfully confusing. Marker's simplicity and purity of purpose have been disregarded and this is edging more towards a clever-clever curatorial exercise in film theory. This may, in fact, prove its fatal weakness, though this is also a work that I am eager to return to. It's intriguing, and there are certainly layers that I want to follow through. Perhaps it simply needs a second viewing, and the more that it provokes me the more I feel that this enduring quality is just what the other works lack. Otolith III troubles me.
Share this article