theartsdesk in Glasgow: Glasgow International Festival of Visual Art |

reviews, news & interviews
theartsdesk in Glasgow: Glasgow International Festival of Visual Art
theartsdesk in Glasgow: Glasgow International Festival of Visual Art
The city's biennial visual arts fest flops with its radical Sixties vibe
But Glasgow is an optimistic city. Since its nomination as the European Capital of Culture 20 years ago, it has placed great faith in the arts to give the city a huge image boost. No reason it can't grab a slice of the festival action, like its more genteel eastern cousin, is there?
But apart from a few bright orange banners confidently emblazoned with the words "Glasgow International Festival of Visual Art", there are few signs on the street that we're in any kind of festival mode - though if I had one of those handy bikes I might take a trip to the George V, Glasgow and Caledonian bridges over the Clyde. There, recorded by Susan Philipsz and with speakers placed on the three bridges, I'd hear three different renditions of "Lowlands", an old Scottish ballad that tells the sad tale of a drowned lover returning as a ghost to mourn his lost love. If things don't perk up soon, its lacromosity might be quite fitting to proceedings thus far.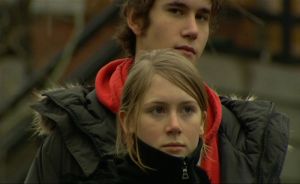 Just about everything else is held indoors, and being on a tight press schedule one is left only to venture through a few highlights - though come to think of it, there was something called Vestiges Park that I'd almost clean forgotten about. Vestiges Park is the name given to a piece of scrubland within a short distance of the
Tramway
arts centre, and across a rather desolate car park. It's a piece of overgrown wasteland that's been taken over by an art collective. I fight my way through some overgrown brambles and eventually spot a giant tatty bear in a makeshift enclosure; a shed containing a few gloves displayed on hand mannequins ("The Glove Museum"); a huge mangle around which there might be sung a few woozy camp songs; and mirrored silhouettes of lithe figures that might be ethereal tree nymphs. The nymphs are quite nice, but the dreary collective ethos of this depressing eco-warrior enclave makes for some terribly amateurish art. Wake up, art collective people! Don't you know that this is supposed to be a festival of international stature?
Never mind. Get back to the cavernous Tramway in the city's South Side and you'll find
Douglas Gordon
's
24 Hour Psycho
(main picture)
, which actually seems to be played at a much faster speed than I think I've ever seen it -
Six Hour Psycho
? There's also some strangely compelling footage by him of crows filmed at some disused French monastery. Crows are scary creatures and their harsh caws can be heard echoing in the dungeon-like environs of this dimly lit space.
Unhappily, however, on the evening of my visit to the Tramway, just before the official opening, installations by other artists were not yet ready, and most people who'd queued for Christoph Büchel's hugely ambitious prison installation next door, at Tramway 2, were facing a never-ending wait. Luckily, the drinks were flowing so nobody seemed to mind too much.
But a return trip the following morning proves that this work really is the highlight of the festival. Büchel took about six months to complete his project, and it features a labyrinthine environment that suggests a sprawling refugee detention centre, minus the detainees. In the middle of the space you'll even find a blown-up jumbo with all its apparent debris sorted in overflowing collection trays. You're reminded of Mike Nelson's smelly, grubby, slightly surreal and claustrophobic environments, but on a much grander scale.
If you share the whimsical, offbeat humour of David Shrigley, you might appreciate what he's done at
Kelvingrove Museum
, the fine municipal gallery in the city's West End. Here you'll find everything from paintings by the Glasgow Boys - there's a special exhibition currently running - to taxidermied elephants and low-flying Spitfires. In fact, the Museum's got an amazing but slightly bonkers collection of stuff - a life-size Elvis is juxtaposed with some stiff wildlife and Scottish figurative sculpture - so that Shrigley's blobby sculptures, weird cartoons, dead rat and a cute dead puppy waving an "I'm Dead" placard in the air can hardly, in my opinion, compete for wonderful absurdity.
But wait, there's more. There are pop-up galleries in the city centre in Miller Street, showing grainy Sixties-inspired video work - there's a theme to the Festival, after all, and that theme is "Past, Present, Future", and it's vague enough to provide some kind of coherence to proceedings. Also in the city centre, in the spectacular Rennie Mackintosh Glasgow School of Art, there's an artist called Alice Channing whose work
Inhale Exhale
"aims to clothe the physical exhibition space of the school". Marble "clasps" are wrapped round the Art Nouveau banisters, long braces hang down from the ceiling and white curtains drape the walls, but I think I prefer the space naked.
Meanwhile, a hop and a skip away, at the
Gallery of Modern Art
(GoMA) is
Tomorrow
(pictured above)
by Fiona Tan, a beautifully shot film of teens in slo-mo. There's one small screen hovering in front of a big screen, presenting a kind of momentary optical illusion, so that you see them from a distance and from close-up at the same time.
There are certainly things to enjoy in this festival, but much of it, like
24 Hour Psycho
and Tan's piece, are hardly new. And there's a lot that just feels amateurish. It certainly didn't feel "international" either in scope or ambition, though it seems churlish to say so. Maybe next time, Glasgow.
Explore topics
Share this article