Pioneering Painters: The Glasgow Boys 1880-1900, Royal Academy |

reviews, news & interviews
Pioneering Painters: The Glasgow Boys 1880-1900, Royal Academy
Pioneering Painters: The Glasgow Boys 1880-1900, Royal Academy
Neglected proto-Modernists? A Scottish art movement re-explored
Thursday, 28 October 2010
If you'd been a painter at the time of Impressionism, what would you have done? Rushed to Paris to become a disciple of Manet or Monet? Taken the Symbolist route with Odilon Redon or headed to Brittany to whoop it up with Gauguin and co? No, the chances are you'd probably have got it wrong and, like the so-called Glasgow Boys, hitched your talents to a now virtually forgotten figure like Jules Bastien-Lepage. Jules who? Exactly.
A loose group of some 20 painters, the Glasgow Boys worked at a time when Scotland's industrial capital, the second city of the Empire, was asserting its cultural independence from the country's traditional intellectual centre, Edinburgh. Yet if the hot colours and flattened perspective of the poster image, Henry and Hornel's The Druids (pictured below), suggest we're in for a dose of wacky Celtic symbolism all of a piece with Charles Rennie Mackintosh's Scottish Art Nouveau – the best-known manifestation of the Glasgow Renaissance – what we get for the greater part of this exhibition is very different from that.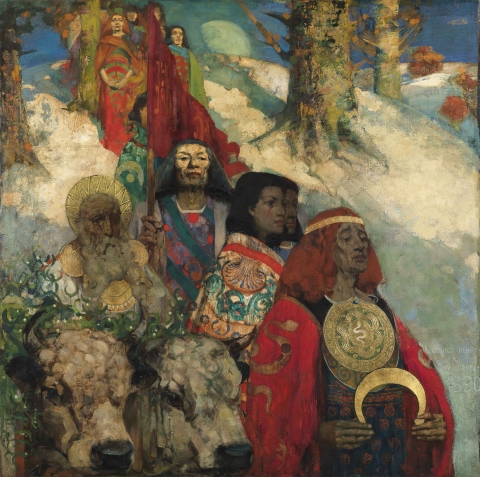 The first few rooms are dominated by silvery greys and washed-out greens: lowering skies, wan-looking country girls and flat, rain-sodden cabbage fields. The impression is of the honest, but undemonstrative plein air painting of the Barbizon School transposed to the dour Scottish Lowlands. But rather than hitching their talents to one of the great figures of the time, Corot or Millet, the Glasgow Boys settled on the mediocre figure of Jules Bastien-Lepage – an academic Realist who, judging by his mawkish Poor Fauvette, has been justly sidelined by history.
No wonder the most brightly coloured painting has been used on the poster. This was never going to be an easy sell.
Yet if the initial impression is of being stuck amid the kind of painfully conventional painting that predated and ran concurrent with Impressionism – the sort of stuff that fills vast rooms in every provincial British art gallery and almost nobody looks at – the exhibition's chief interest is in the way it confounds just that kind of simplistic division of history. Rather than pandering to the Impressionism good, everything else bad view of the late 19th century that has prevailed for much of the last hundred years it gives a sense of the sheer complexity of that pivotal moment and the intricate paths by which ideas passed between movements.
A painting like James Guthrie's A Hind's Daughter (main picture), a Scottish farm girl looking out at us from the middle of a cabbage field, was in its modest way revolutionary. At a time when Scottish art was dominated by heroic Highland images of the Stag at Bay variety, simply showing such a downbeat Lowland scene felt radical. The use of square brushstrokes (admittedly derived from the dreaded Bastien-Lepage) hints, very slightly, at a Cezanne-like deconstruction of form, while the matter of factness of the girl's expression and the way the background moves out of focus appear to owe something to photography.
James Crowhall's A Lincolnshire Pasture, with its monumental white cow and flat, drab fields, is so uncompromisingly deadpan it verges on the abstract. If the dead hand of Victorian sentimentality creeps into E A Walton's A Daydream, and Guthrie's Old Willie is more detailed and tightly focussed than most of the paintings here, there never was a tightly defined Glasgow Boys style. The impression is of a lot of admirable craftsmen working diligently away, apparently oblivious to what we now think of as the most important developments of the time, though elements of a kind of scratchy, northern equivalent to Impressionism are apparent throughout.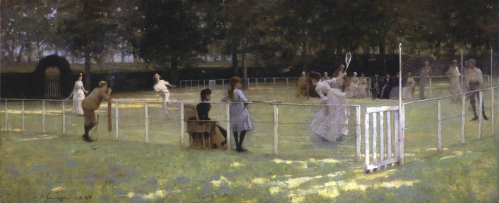 When urban subjects such as cycling and tennis appear, the artist James Lavery looks to the pedestrian naturalism of Tissot, rather than the radical formalism of Manet or Degas. Looking at the athletic postures in Lavery's The Tennis Party (pictured above) in the light of Muybridge's attempts to freeze human movement in photography – currently showing at Tate Britain – you can see what a modern painting it was. Yet aesthetics were developing at such a rate it would have appeared old hat before it had even been seen by an international audience.
Looking at the paintings here, with their flashes back to Pre-Raphaelitism and flashes forward to the painstaking observational painting of the mid-20th-century Euston Road School, you'll learn a great deal about what has been admirable about British art and why it has so often remained peripheral to developments in the world at large.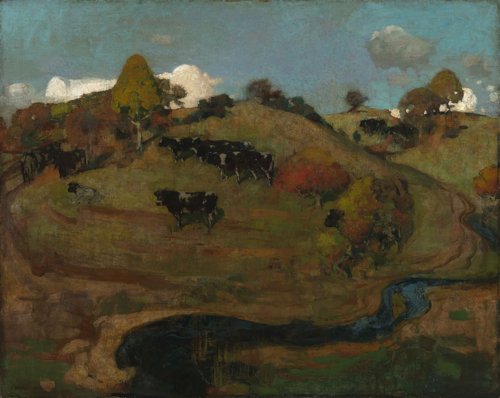 The last room looks at attempts to go beyond naturalism, with heightened colour and a strong oriental influence. The looping forms and powerful colour of George Henry's wonderful A Galloway Landscape (pictured above) hint at the influence of Gauguin's contemporaneous Pont Aven School, though there is no evidence of any link, while The Druids by Henry and Erward Atkinson Hornel employs patterned gold leaf in a formalised Art Nouveau composition decades before Klimt. Yet there simply aren't enough such paintings and they appear too late in the exhibition to create a case for the Glasgow Boys as a significant proto-Modernist movement. In any case, by the 1900s most of them had abandoned such experiments in favour of secure careers as dull-as-ditchwater society portrait painters.
Share this article