Max Bill, Annely Juda Fine Art |

reviews, news & interviews
Max Bill, Annely Juda Fine Art
Max Bill, Annely Juda Fine Art
The missing link, and a vision from the past: a peach of a show
Max Bill might be the missing link in modern art. He died only in 1994, yet he studied at the Bauhaus in Dessau in the 1920s, taught by Josef Albers, László Moholy-Nagy, Paul Klee and Kandinsky. It is hard to imagine that someone who was working at full strength less than 20 years ago could have a past that is so strongly entwined with these legendary names – hard to imagine, that is, until one looks at the work displayed in this fine retrospective, which even so manages to encompass only five decades of a nearly seven-decade-long career.
A Swiss artist (he was one of the few, or perhaps the only, artist able to talk to Klee in their mother tongue of Schweizerdeutsch), he seemed to take in with that multicultural country a multifarious attitude to his work, switching easily between sculpture, painting, graphic art, architecture, industrial design, and even acting as a theoretician, writing prolifically on art.
Of necessity, Annely Juda's exhibition of some 60 works focuses primarily on paintings and drawings, with a few wonderful examples of sculpture as well, beginning with the Albers and Klee-like assemblages and grids from his early days in the 1930s. It is only too clear when looking at the work of these early days how closely Bill worked with Theo van Doesburg.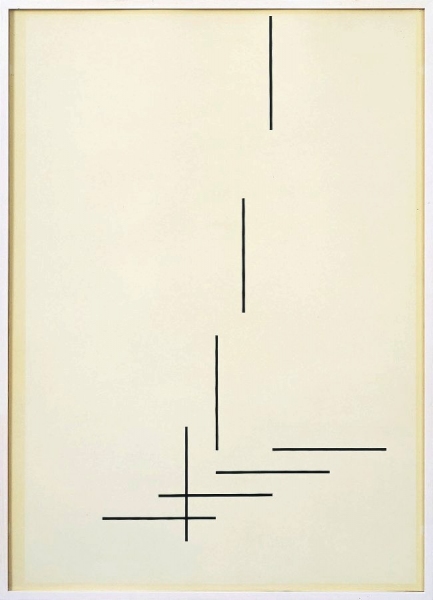 Yet the first, and most important, thing that strikes one, when faced with a collection of Bill's work en masse, is how simple it is. How difficult it is to do so little, and how easy he makes it seem. His draughtsman's skill is always apparent – there are two gouaches, horizontal-vertical rhythm (1941) (pictured right) and six circular arches with arch lengths (1943-44) that are merely – merely! – what they say: horizontal and vertical lines, and circles. But the rightness of proportion, the skill of placement, the certainty that allowed him to place these elements and then leave them alone, is magical.

These two drawings are the kind of things about which people who don't look at art much say, "My three-year-old could do that," and they are also the kind of things that artists hope against hope that one day they might be able to achieve.

One of the realisations that this show brings, one of the realisations that the ability to see so many of Bill's works together creates, is how much Bill enjoyed working with white, with the void, making present to the eye that which isn't there. There are half a dozen oil paintings where the white central element, by its absence, makes the cheeky patchwork of colours cohere and become orderly and gracious, gain gravitas from the sense of balance sustained.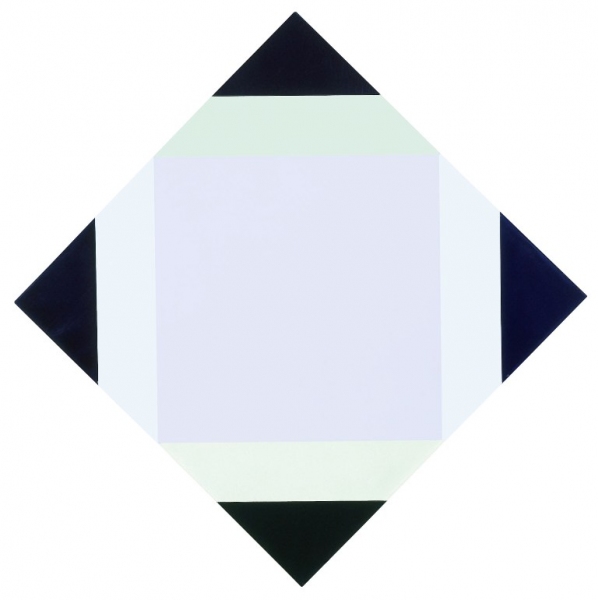 One discovers, too, that from the 1960s Bill appeared to have been a
colour-field painter
après la lettre
– it was as though he looked at the work those painters had begun doing in the 1950s, shrugged his shoulders, smiled wryly, and said, "But I've known that all along."
(Main picture above: green square with migrated pythagorean triangles, 1982.)

His colours can be startling, surprisingly industrial-toned, flat, with a lot of grey mixed in the otherwise vibrant shades, making what should seem garish when you list out the colours – purples, turquoise, tangerine – harmoniously if cheerfully restrained. light centre (1972-3) (pictured above), for example, appears at a distance to be black, white and grey; but in fact a sort of half-eau de nil, half-turquoise is very plainly applied: it's just that Bill's rigorously harmonious eye keeps it in check.

Talking about Bill can make some of his images seem slightly dour, as if Lessons Must Be Learnt. But that's only the talking: the looking is like being in the company of someone so wise, so benevolently clever, that they never let you realise how foolish you yourself are by comparison.
Max Bill at Annely Juda Fine Art until 30 July
Explore topics
Share this article