Laura Knight: Portraits, National Portrait Gallery |

reviews, news & interviews
Laura Knight: Portraits, National Portrait Gallery
Laura Knight: Portraits, National Portrait Gallery
British artist who eschewed the avant-garde but achieved widespread popularity
Laura Knight, Ruby Loftus Screwing a Breech Ring, 1943
Laura Knight's wartime masterpiece Ruby Loftus Screwing a Breech-Ring (1943) is a subtly glamorous picture, strikingly composed. A frieze of blue-clad women at an armament factory workbench are in the background, highlighting the profiled figure of Ruby tending her elaborately complex machine, at an oblique angle to the picture plane. Unashamedly a celebration of a positive triumph over inescapable necessity, the image emphasises achievement, and doesn't indicate the inescapable monotony, noise and general rough hub-bub of the working conditions.
Ruby is beautifully made up with bright red lipstick; her brown curly hair is caught up in a surprisingly fetching green hairnet, her pink-orange shirt sending a glowing light effect onto her face, and the look, wartime industrial chic, is completed by her deep blue overall. She is intently doing what in the 1940s she did best, at least in public: in a munitions factory she is screwing a breech-ring. The breech-ring was part of the Bofors gun, and her job was the most highly skilled in the workforce. She was nominated as a subject to the War Artists Advisory Committee, and the image led to Ruby becoming a minor celebrity.
This much loved painting from the Imperial War Museum is currently on view in the first exhibition of portraits by the artist who is emerging from decades of critical oblivion. The National Portrait Gallery itself owns Knight's Self Portrait with Nude (1913, pictured right), itself a persuasive and lively meditation on one of the eternal triangles of art: model, painting and artist. We see the artist from the back. Knight, modishly clothed, in a very becoming hat, is in profile, turning away from the painting within the painting to look at the model. One of her pertinent observations is of the soft wrinkled folds of her own neck, emphasising the turn of her head. The model, the slimly elegant Ella Naper, a local Cornish artist, is naked, her back towards us; the large painting with the model as its subject next to her. The disparate elements are united by the artist's red jacket and the red screens of the studio setting.
These are but two stars, 30 years apart, in this re-evaluation of an artist famous in her day, the subject of many a magazine and newspaper feature, not to mention Pathé News. The Derbyshire-born Knight was the first woman artist to be given a damehood (in 1929) and the first to be elected a full member of the Royal Academy (1936) since the two female members involved in the RA's foundation in 1768. Her gentle realism made her very popular. The Tate, which only has two of her paintings, points out that she was contemporary without being avant-garde. Her non-appearance in most critical surveys of the period when modernism in all its guises eclipsed the more conventional is noticeable.
In Knight's case her gender, while making her a mini-celebrity, also worked against her. Her beloved artist husband, Harold Knight, was the more financially successful during their joint careers, frequently commissioned for boardroom and town hall portraits. But a steady diet of males, peers, academics and aldermen was hardly women's work, whilst Knight's portraits were of ballerinas, musicians and clowns.
On the evidence of this, the first specialist show of portraits, Dame Laura (1877-1970) is more than competent, but what lifts her well above the ordinary is the range of her subject matter. Here she is at times strikingly innovative, her empathetic treatment of a non-establishment edge of society appealing, as is her expertise within conventional restraints. In 2010, several of her drawings and paintings of the Ballets Russes – she was the only artist allowed backstage during their London seasons – were at the Diaghilev exhibition at the Victoria and Albert in 2010, and in 2011 in a special showing of women war artists at the Imperial War Museum.
There are several sets of subjects which show that Knight had an unusually wide understanding of the extremes of society, perhaps because she herself came from a financially stressed provincial background, her precocious talent and energetic tenacity earning her an assured role on the metropolitan stage.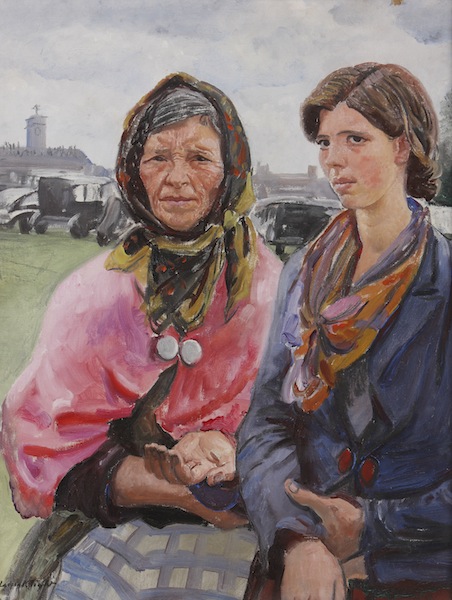 In the 1920s in Baltimore she had special permission to draw and paint in the racially segregated hospital of Johns Hopkins (typically, her husband Harold was there to make portraits of the surgeons). Although she referred to "negroes", "darkies" and "piccaninnies", the white middle-class language of the day which is now so offensive, the actual drawings and paintings of child patients and nurses convey an unpretentious delight in dignified beauty with not a hint of condescension. She does the same for gypsies, depicted with a willingness to downplay the picturesque in a delicate appreciation of individual character (pictured left: Gypsies at Ascot, 1933; Hereford Museum and Art Gallery.)
There are curiously innocent, appealing portraits of fresh-faced women sergeants and corporals, gas masks to hand, and a tightly packed quartet – the two pilots in the cockpit, engineer and navigator in the foreground – in an RAF bomber, their faces a mask of ferocious concentration preparing for take-off. She was also an artist witness for the Imperial War Museum, at her own suggestion, at the Nuremberg trials, and she sets her crowded group portrait of criminals and jurists against a panorama of the ruined city.
In her work as a whole, her landscapes and mother and child studies tend to the ideals of the middlebrow. But here the banality of so much of her painting is overcome by the interest of the subjects, underlined by a surprisingly inventive use of asymmetrical and geometrically robust composition.
Her non-appearance in most critical surveys of the period when modernism eclipsed the conventional is noticeable
Explore topics
Share this article
Subscribe to theartsdesk.com
Thank you for continuing to read our work on theartsdesk.com. For unlimited access to every article in its entirety, including our archive of more than 10,000 pieces, we're asking for £3.95 per month or £30 per year. We feel it's a very good deal, and hope you do too.
To take an annual subscription now simply click here.
And if you're looking for that extra gift for a friend or family member, why not treat them to a theartsdesk.com gift subscription?