'I photographed Nelson Mandela' |

reviews, news & interviews
'I photographed Nelson Mandela'
'I photographed Nelson Mandela'
theartsdesk's Jillian Edelstein recalls being sent to snap the South African president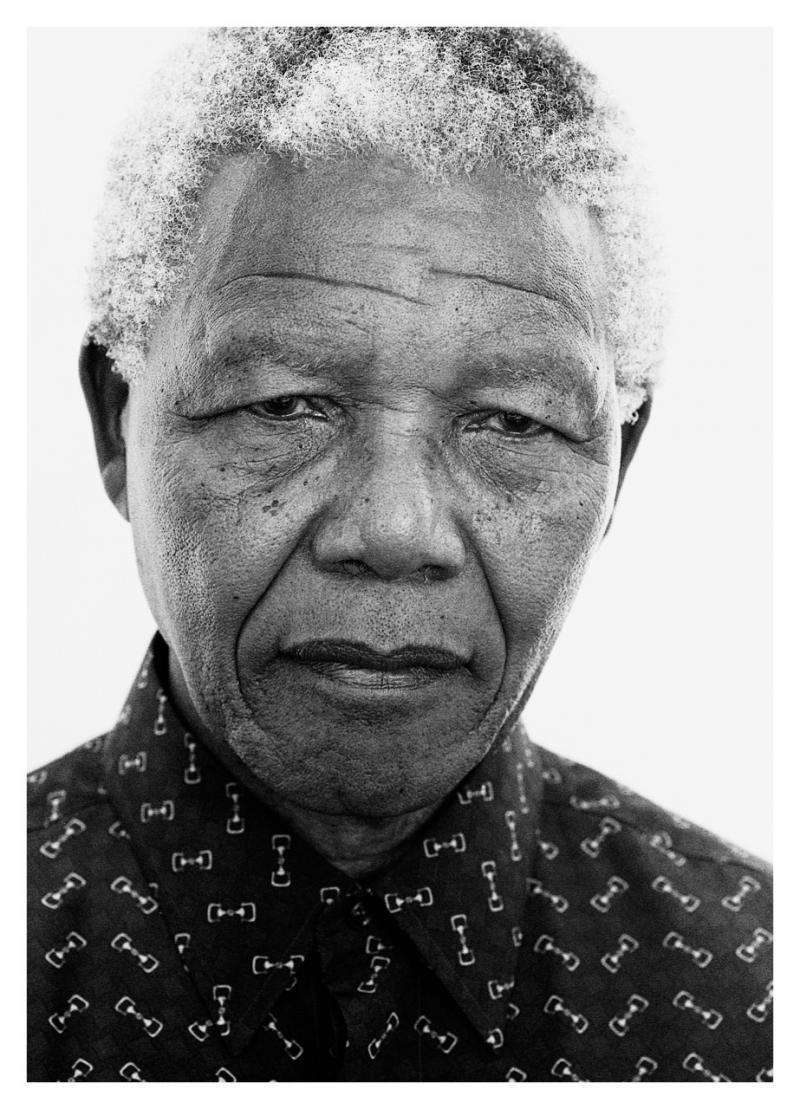 'I'm just a country bumpkin'
In 1997 I was in South Africa working on Truth and Lies, my book about the Truth and Reconciliation Commission, when the New York Times Magazine said that they were doing a major feature on Mandela. He'd been in office for three years. The photographs were taken in the presidential house, the former seat of the oppressors. It felt very surreal for me because even the décor was Cape Dutch furniture. It was not what you might imagine for a black president.
I had already been told that I was not allowed any flash because his retinas had been damaged by his work on the limestone quarry, chiselling away at this rock in the bright African sunshine. I knew that all the gear I brought would be useless anyway. The first scenario was that we had to line up in the corridor in the house and he was to come down. There was this extraordinary moment where I was introduced to him. The only way I can describe it is I had an intensely physical reaction. It was as if you were in the presence of somebody great.
I was aware the known images were all of him smiling and thumbs up and jolly
I was quite nervous because I'd already been told I would have 10 minutes. I felt compelled to take pictures while he was talking. I put my light meter on his chest and he went to grab it. I've had people do that before. I suppose it's a slight invasion of body space. I said, "President Mandela, it's fine, you don't need to do that." He said, "I'm just a country bumpkin." I smiled and he looked at me.
The truth is I enticed him to come out onto the balcony which is called in South Africa a stoep. It was very very bright and sunny day. That didn't serve me very well because the light is very harsh. I don't remember even having the time to put up something to mask that light. He started up standing against a column. I was aware the known images were all of him smiling and thumbs up and jolly and happy. I turned him round and said, "Would you mind sitting there because the light is a bit glary?" In that moment the camera was up and he suddenly looked reflective and almost downcast. There are other powerful images from that session though it's probably a question of two rolls of film, in total 24 images, of the sort of portrait.
It's impossible to decipher it as anything other than an aura that he gave off. That was what I was responding to. It was very powerful. He's physically very very tall and he's got these huge hands, and there's such a presence and a calmness about the man.
Nelson Mandela, born 18 July 1918, died 5 December 2013


He suddenly looked reflective and almost downcast
Explore topics
Share this article