The Holburne Museum, Bath: In With the New |

reviews, news & interviews
The Holburne Museum, Bath: In With the New
The Holburne Museum, Bath: In With the New
An old house with a new look has reopened its cabinet of curiosities
Gleaming, shimmering, full of pizzazz, glitz and unashamed bling, although of the 18th-century sort, as befits its role as the most cheerfully mixed up and glittering show of baubles in Bath, the Holburne Museum reopened in May after three years' closure. At a cost of £11.2 million the museum has been expanded, rebuilt, refurbished and renovated. Much more of the collection, newly installed after extensive conservation, is also on view than hitherto. The whole works a treat. As many visitors have turned up in the first month as normally come in a year.
The architect Eric Parry has created a three-storey extension to house state-of-the-art galleries, café, lift and all the usual additions a 21st-century public art gallery now requires on to the 18th-century Sydney Hotel, once the gateway to the pleasure grounds of Sydney Gardens – and now the gateway once again. It is clad in glass and ceramic, reflecting on the outside sun and shadow: lightness is everything.
The café is all glass surrounded by garden and sky; in the extension a glass lift as well as a side staircase take you up to three floors of small and intimate galleries. Here is a truly distinguished contemporary building in Bath (shock horror - toy with a Grade I listed building in Bath? Never!) You only have to look at the ersatz truly kitsch mock 18th-century shopping mall opposite Bath Spa railway station to realise the culture shock that has ensued.  It is all the more ironic that in 1916 the then major establishment architect Sir Reginald Blomfield had already substantially altered the Sydney  Hotel almost at will  when it became the permanent home for the Holburne collections that had been gifted to the city.
The main original building, now brilliantly restored, houses two huge and magnificent galleries. The first-floor gallery was once the ballroom of the Sydney House Hotel: its great windows have a superb vista down one of Bath's most magnificent examples of 18th-century architecture, Great Pulteney Street; its walls are adorned amongst other treasures with a charming Constable sketch, a delightful Guardi, and various Italian and Dutch mythological and imaginary landsapes. But pride of place is given to a fanciful table setting extending half the central length of the gallery: choice Oriental, Continental and English porcelain and silver are interwoven with fanciful extravagance.  Assortments of porcelain are also imaginatively presented in vertical installations on the walls. The Holburne's fine group of 18th-century British paintings, including Gainsborough, long a Bath resident,  Zoffany, Reynolds, Ramsay and a host of lesser names, is given pride of place in the big second-floor picture gallery above the ballroom.
Click on the images to enlarge:
[bg|ART/Marina_Vaizey/HolburnePaintings]
Guardi: Coast Scene (oil on canvas)
Brueghel the Younger: The Visit of the Godfather (oil on pane)
Zoffany: David Garrick as Jaffier and Susannah Cibber as Belvidera in Venice Preserv'd (oil on canvas). The Somerset Maugham Collection
Ramsay: Rosamund Sargent, neé Chambers (oil on canvas, 1749)
The biggest surprises, though, are in the three smaller galleries of the extension. Sir William Holburne (1793-1874) was a younger son, a boy sailor who at the age of 11 was at the Battle of Trafalgar; he inherited the family's Scottish estates and fortune at the death of his beloved elder brother and settled in Bath for the rest of his life to live in a classic townhouse with his three unmarried sisters. For reasons that are still unclear, he became an obsessive collector. Pictured above: Sir William Holburne of Menstrie by Charles Jagger (watercolour on ivory, 1827) Pictured below, snuffbox (HMS Victory Oak with gilt metal, about 1820)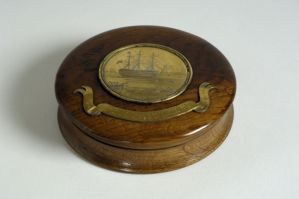 Sir William seems to have loved small things rather than grand statements, gloriously decorative stuff you could hold in your hand. Although 2,000 objects have been added to his original holdings, it is his idiosyncratic and wide-ranging tastes that make the collection so unusual. Miniatures, cameos, medals, silver spoons and tankards, ivories, maiolica (tin-glazed Italian earthenware), small Renaissance bronzes, fans, patchboxes, embroideries, scent bottles, small pictures, porcelains from Worcester to Meissen by way of China, medals, glass, furniture, small marble and bronze scuptures, all sorted, heaped up in intelligent profusion, are presented in two galleries clustered round a two-storey atrium which even hold china vases suspended in the air. These act as marvellous cabinets of curiosities, 18th-century Wunderkammer: shades of the Soane Museum. (Metaphor, the Holburne's exhibition designers, also recently re-installed the Ashmolean in Oxford.) The sheer tantalising array is a browser's delight.
One collector leads to another: in a witty complement to the Holburne's collection, the first special exhibition in the top-floor top-lit gallery is showing major works by Sir Peter Blake, and a sampling of his collection in his Museum for Myself: a case of Elvis souvenirs, processions of hundreds of mini elephants, Tom Thumb's boots, and taxidermic fancies such as a stuffed hare with antlers. Well, why not?
Click on the images to enlarge:
[bg|ART/Marina_Vaizey/HolburneObjects]
Italian, probably Siena: Dish, Diana and Actaeon (maiolica, about 1495)
Charles Frederick Kandler, London: Cup and Cover (silver)
Antonio Susini: Kneeling Woman from the collection of Louis XIV (bronze, about 1600)
John Schuppe, London: Cow creamer (silver, 1755/56)
Bow Porcelain Factory: Kitty Clive (soft-paste porcelain, about 1750)
Wedgwood ceramic factory: Lamp (black basalt ware, about 1780)
Share this article