Hereford Photography Festival |

reviews, news & interviews
Hereford Photography Festival
Hereford Photography Festival
Wednesday, 10 November 2010
Cider, bulls and a beautifully restored cathedral which hosts the annual Three Choirs Festival are probably the key elements used to brand Hereford. But for 20 years, the city has also been home to the UK's first photography festival. This month, its anniversary is being celebrated in several venues with the focus on Twenty, an exhibition at the charmingly old-fashioned Museum and Gallery where 20 significant photographers share wall space with a gigantic stuffed pike.
Hanging over the Market Square, banners printed with portraits of African women in brightly coloured robes represent the UK's best-known punkish maverick, Rankin. Created for an Oxfam project in a Congolese village of displaced people, sadly it is barely noticeable here.
To mark the festival's anniversary, the Twenty photographers were chosen from its back catalogues and include groundbreaking and iconic photographers who mostly represent the recent end of its two-decade history. Among them are the best-known UK representatives, Martin Parr and Simon Norfolk, local film-maker and documentary portraitist John Bulmer, South Africans Guy Tillim and Roger Ballen, and festival co-founders Dave West and Al Vandenberg. Portraits and documentary images dominate the show, and include Parr's new series, White Kenyans, which has the air of self-cliché, and Simon Norfolk's Full Spectrum Dominance (pictured above) which illustrates America's methods for testing weapons with a deceptively sublime shot of a nuclear missile launch. Coincidentally, that links to Paul Shambroom's neat street scenes in suburban America where defunct military hardware is planted as street furniture.
Of the portraits, the most quietly poignant are by John Bulmer, the first photographer to depict the North of England in colour (in the 1960s). His 1968 series, Appalachia, repeats that challenge when photographing poor white American families: an exhausted woman with filthy bare feet wearing a blue dress is a new translation of Dorothea Lange's classic Dust Bowl image. Jackie Nickerson, in contrast, approaches identity through portraits of neighbours in her village outside Dublin. Girl with a Green Dress (pictured below) represents her cliché-breaking approach: in spite of the quintessentially Irish freckles, red hair and pale skin, she avoids the sentimentality often associated with "Irishness".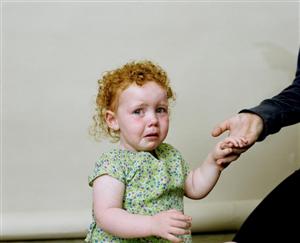 Falling into a category of her own, Liza Dracup's magical woodland scenes, photographed between sunset and sunrise, are so richly colourful as to suggest intense digital post-production. In fact, she explains, they represent the current trend of maintaining old traditions and uses large-format negatives enlarged to create the dreamworld effect.
The surprise of the festival is an exhibition inside Hereford Cathedral where the English photographer Tessa Bunney pays homage to the symbol of the city: the prize Hereford bull (pictured below, Tenbury Show). Archival photographs and Bunney's contemporary portraits of the animals and their breeders accompany bull memorabilia and collages of old prize rosettes. Hanging next to the tomb of a knight and glowing symbolically below stained glass windows, this small show is a curiously pagan intrusion into a sacred space, and one of the most alluring in the festival.
At the Courtyard Arts Centre, 20 "fresh and new" photographers distilled from over 200 applicants to the [Open Here] competition inhabit real time and point to future familiarity. The winner, Jason Larkin, carries a maturity born of years as a documentary travel photographer. Past Perfect – Museum, set in a series of museum rooms, is a sumptuously lit depiction of scale and time. The £2,000 prize funds a commission for next year's festival.
For me, the young Korean oncology surgeon Noh Sang Ik stands out for his original approach to documentary, strong sense of design in some wince-inducing but beautiful still-lifes. The English portraitist Clare Park focuses on skin, flesh tones and vulnerability – sheathing her mother protectively inside a blanket. Looking for links, I see Laura Pannack handling the familiar subject of young people's eating disorders (pictured below, Graham) but she defies the clichés of skeletal bodies.
Becky Matthews straddles both the [Open Here] collection and her collaboration with the Royal National College for the Blind in Focus Here exhibitions and talks. She oversaw visually and touchably readable art works and road signs positioned around the venue - a revelation about the use of photography for blind and visually impaired people. Accomanying it is Sights Unseen, a touring exhibition curated by the London charity PhotoVoice, and including works from China, Mexico and Israel, which all defy expectations - and fit surprisingly well among current trends for blurred, off-centre, unconventionally composed images sold for high prices by many successful and sighted photographers.
What started as an ambitious dream project 20 years ago, in a city way off the main photographic drag (which 20 years ago meant London), has blossomed into one of Britain's landmark photography events.
Explore topics
Share this article