Dirt: The Filthy Reality of Everyday Life, Wellcome Collection |

reviews, news & interviews
Dirt: The Filthy Reality of Everyday Life, Wellcome Collection
Dirt: The Filthy Reality of Everyday Life, Wellcome Collection
Get down and dirty with this filthy exhibition
Weeds, memorably, have been described as merely being plants that grow where we don't want them. Walking through the Wellcome's fine new exhibition, we can conclude that the "dirt", too, is merely material appearing out of its appropriate location. One man's waste is another man's fertiliser; one civilisation's dust-heap another's city foundations. Children first planting a window box learn that "dirt" is alchemy: stick in a seed, out of the dirt comes dinner.
The exhibition sensibly does not try to cover all aspects of the subject, but homes in on specific times and places. Opening in the Netherlands of the 17th century is a gentle entry point. It was the Methodist John Wesley 100 years later who said, "Slovenliness is no part of religion. Cleanliness is indeed next to Godliness," but the Dutch had long practised what Wesley later preached. The bare, spare aesthetic we know from the paintings of Pieter de Hooch and his contemporaries stressed the moral as well as physical benefits of housework: a book on Christian Economy from 1661 shows, on the title page, an image of a maid sweeping. (De Hooch, A Woman and Her Maid in a Courtyard, National Gallery, pictured below.)
From this cult of clean, the scientist Antonie van Leeuwenhoek became the first person in history to see bacteria, and here we can see his "microscope". Discard all ideas of tabletop instruments: Leeuwenhoek's microscope cannot be more than 5cm x 2cm, a tiny lens between two brass plates, with a minute screw to adjust the focus. Yet under this, "little animals" could be seen.
This would have benefited London in 1854, when cholera struck – the fourth major epidemic since the disease first appeared in Britain in 1832. Here the story is one of a struggle between knowledge and vested interests, science and superstition. It had become clear that impoverished districts were more badly affected, and had a higher mortality rate than more prosperous neighbourhoods. Why was the big question, and the general theory, that a "miasma", or bad air, in these slums was the agent of infection, held sway.
There are particularly fascinating objects in this section, including an "epidemic ambulance", a closed, coffin-like vehicle. I am less certain about the "Intestinal excretion from patient with cholera", a genuine 19th-century sample in a Victorian specimen bottle, borrowed from a Danish museum. (What on earth did it say on the customs' declaration form? The mind boggles.)
More disturbing stories come as the exhibition traces the development of ideas of hygiene from science to racial "purity" in Germany in the 20th century, moving from the First International Hygiene Exhibition and Museum (main picture), a heartening example of science at the service of the people, through the promotion and commodification of hygiene to sell new inventions like toothpaste, to the terrible distortions of the 1930s, with the appearance of posters that equate Jews with typhus-bearing lice and worse, while the gassing of millions is euphemised in quasi-scientific language as "disinfection".
The section devoted to the Dalits of New Delhi and Kolkata today, interestingly, seemingly takes us back to Victorian Britain (although the exhibition fails to make this link), as these hereditary scavengers scrape out a living from other people's waste, both literal and figurative. One difference, perhaps, is the festival of Durga Puja, where figures of the goddess Durga are created from dirt, elaborately decorated, carried in procession and then immersed in the Ganges, to be transformed once more into dirt.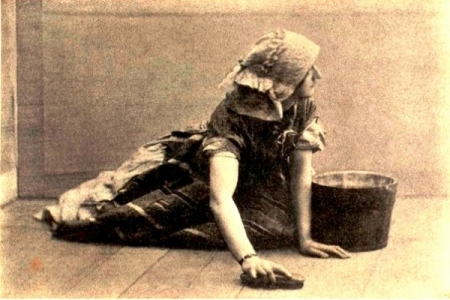 The exhibition has some odd quirks – the section on Arthur Munby, a Victorian civil servant, and his working-class lover/wife (pictured left, in a posed photograph; credit: Master and Fellows of Trinity College, Cambridge), is there, one assumes, by virtue of Munby's passion for working women, the dirtier the better, but no attempt has been made to knit this in to the fabric of the show. These photographs then flow into late-Victorian advertisements for soap, and, as a full stop, two pairs of pattens, the clogs women wore in the street to keep their feet out of the mud. If there is a common theme behind this grouping, it entirely escaped me.
But developing historical ideas to be displayed visually is always difficult, and there is the ever-present danger of oversimplification. "Prompted by the cholera outbreak of 1832, political reform was introduced across England" is an extraordinary, and erroneous, statement – was the 1830 Reform Bill a prescient foreshadowing of the epidemic, then? And while Joseph Lister was, beyond doubt, a hero who saved the lives of, ultimately, millions with his introduction of antisepsis in the Glasgow Royal Infirmary in the 1860s, it would have been nice to have had some mention of his predecessors, including Ignaz Semmelweis, who in 1847 was already promoting hand-washing in disinfectant to stop the spread of puerperal fever.
But these are small details, and the very fact that the viewer becomes so involved as to engage with what has been included and what has been left out indicates the satisfying nature of this exhibition. For dirt is, ultimately, a state of mind. And Dirt at the Wellcome lets us explore it without getting too, well, dirty.
Share this article