Devotion by Design: Italian Altarpieces Before 1500, National Gallery |

reviews, news & interviews
Devotion by Design: Italian Altarpieces Before 1500, National Gallery
Devotion by Design: Italian Altarpieces Before 1500, National Gallery
A narrative of the divine made flesh, from the Annuciation to the crucifixion
Along the way we are told of patrons and contracts, confraternities and hierarchies, local politics and traditions, and vividly shown how these paintings were put together. It turns out that these altarpieces are very strong on collaboration: the artist is dependent on the artisan (with not too much distinction made between the two) and it is the carpenter and framemaker who almost steal the show.
Giovanni dal Ponte's Ascension of St John the Evangelist, is festooned with pinnacles and towers and columns in Gothic style and is called a polyptych. Its three vertical central panels are surrounded by others, the whole mounted on the horizontal base, the predella, which contains smaller painted panels. Francesco Botticini's San Gerolamo altarpiece, is called a pala (no, I didn't know either) which usually means a single panel supporting a main image, but also resting on a predella containing more scenes.
A number of  Renaissance stars are on view – from Fra Angelico's Blessing Redeemer (Royal Collection, one of the handful on view that does not belong to the National Gallery) to Andrea Mantegna's Virgin and Child with the Magdalen and Saint John the Baptist (main picture), and Piero della Francesca's Saint Michael. But the whole is a succinct survey from the famous to the lesser known, and moves stylistically from an almost Byzantine primitive simplicity to increasing sophistication and elaboration, with far greater attention to realistic depictions of facial expressions, body language, still life and landscape and increasingly elaborate costumes of intricately folded draperies, gorgeously ornamented.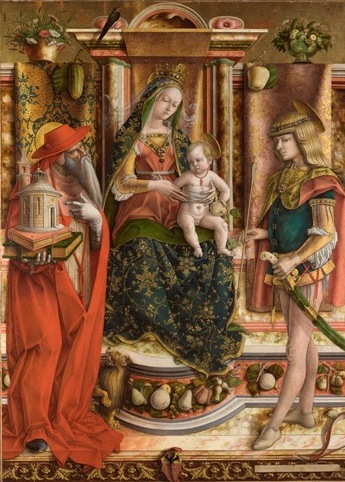 Carlo Crivelli's late 15th century altarpiece The Madonna and the Swallow (pictured left), still amazingly in its original frame, shows the Virgin enthroned, robed in her characteristic red and blue (blue being the most expensive pigment), sumptuously decorated with cascades of stylised floral ornament, in gold, naturally.  She is flanked by St Jerome in vibrant red, and the sword-bearing St Sebastian as a chivalric knight, imaginatively dressed in pinks and greens. The predella below shows the emaciated St Jerome in the wilderness, his cardinal's hat handily slung on a convenient nearby tree, the semi-naked Sebastian in the process of being shot with arrows, on his way to martyrdom, the calmly observant rather supercilious St Catherine with her wheel, not to mention St George taking on the dragon. There is a lot going on, including a representation of the coat of arms of one of the families who paid for the altarpiece.
The colour combinations can be startlingly vivid. Mantegna's Magdalen is not only in her traditional green dress but is also sporting yellow sleeves, a lilac cloak and an underskirt of a deepish red.  And what of Zanobi Strozzi's Annunciation?  The angelic messenger is gowned in various rosy and orangey pinks, patterned and trimmed in blue and gold, the golden wings are marked like peacock's feathers, the decorated halo crowns artfully arranged blond curls. The understandably apprehensive Virgin is garbed in pinks, blues and golds, enlivened by green; her throne is draped with gold. The garden behind has a bright red wall, and lilies roses and daisies also appear. Above the scene a demure dove floats on rays of gold.
In Luca Signorelli's The Circumsion (pictured right) St Joseph is an old man, leaning on his staff: his robes are brilliant orange and blue, with touches of green and red; St Simeon behind is raising his eyes heavenward in thanks for being in the presence of the baby Jesus. Next to him a remarkably world-weary saint looks almost flirtatious. The superbly imaginative use of colour, along with the surprising realism with which all too human emotions are depicted, remains extraordinarily telling.
The whole could perhaps also be read as preparation for the National Gallery's forthcoming winter blockbuster Leonardo. It's also a fascinating complement to Treasures of Heaven, currently on view at that other secular cathedral, the British Museum.
Share this article
Subscribe to theartsdesk.com
Thank you for continuing to read our work on theartsdesk.com. For unlimited access to every article in its entirety, including our archive of more than 10,000 pieces, we're asking for £3.95 per month or £30 per year. We feel it's a very good deal, and hope you do too.
To take an annual subscription now simply click here.
And if you're looking for that extra gift for a friend or family member, why not treat them to a theartsdesk.com gift subscription?