Art for the Nation: Sir Charles Eastlake, National Gallery |

reviews, news & interviews
Art for the Nation: Sir Charles Eastlake, National Gallery
Art for the Nation: Sir Charles Eastlake, National Gallery
An unsung hero of art history is commemorated
We are still acknowledging our 21st-century debts to the energy, curiosity, determination and passion for discovery of a host of Victorian polymaths, and here is another. Sir Charles Eastlake (1793-1865) was a painter, scholar, author, collector and translator – fluent in German, French, Italian – and the first director of the National Gallery, rising above disputes with trustees and the government to set the scene for the role it plays today.
A small exhibition in Room 1 shows us Sir Charles's travel diaries and notes, his annotated guidebook to the art collections of Venice and a half-dozen Renaissance masterpieces that he bought for the Gallery. Early on, Eastlake himself was a painter - 14 years in Rome, and an expert copyist of Italian masterpieces (see his copy of a lost Titian in the gallery below) - and a modernising president of the Royal Academy.
When at the National Gallery he and his wife Lady Elizabeth, who was an art historian and a journalist, plus their manservant, travelled together all on the same passport (pictured below) each year for weeks and months, trawling Italy in search of masterpieces for the National collection. The finds and the negotiations, often cleverly discreet, sometimes all too public, compensated for the extreme discomfort by the standards of today: who would trade security checks at the airport for flea-ridden beds, hideously uncomfortable, sometimes dangerous stage coaches and even encounters with the plague?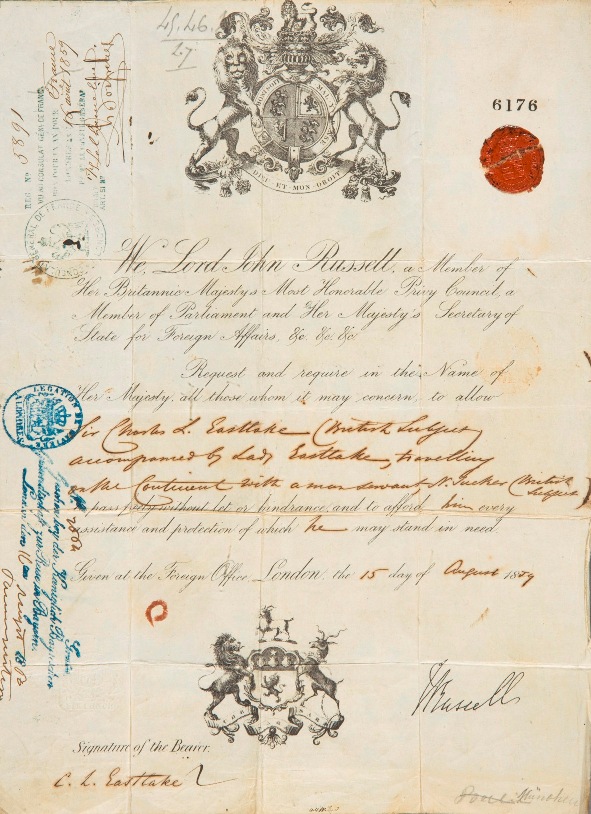 The fruits of wily diplomacy (which roused Italian fury at times) produced no fewer than 139 Italian, Flemish and Dutch paintings for the National Gallery, from the hands (to list just some of the best-known names) of Duccio, Fra Angelico, Piero della Francesca, Bellini, Botticelli, Mantegna, Veronese, Titian, Bronzino, Moroni, Memling, Rogier van der Weyden, Rembrandt, Velazquez and Rubens. Along the way Eastlake created the foundation for modern museology. The paintings on view were actually labelled with useful information, they were sorted geographically and hung chronologically, the décor of the galleries was taken into account, scholarly catalogues were published, and attributions considered in terms of evidence. Scientifically, the actual material from support to paint was analysed with the techniques of the day, and consideration given to documentation and provenance.
Eastlake is an unsung hero of art history. As a contemporary commentator observed in the 1860s, he served the art he loved better by his life than by his brush. Art for the Nation: The Eastlakes and the Victorian Art World, by Susanna Avery-Quash and Julie Sheldon, tells the tale in vivid detail.
Click on the images below to enlarge:
Giovanni Bellini, Madonna of the Meadow (about 1500) © National Gallery, London
Bronzino: An Allegory with Venus and Cupid (about 1545) © National Gallery, London
Titian: The Aldobrandini Madonna (about 1532) © National Gallery, London
Eastlake: Martyrdom of Saint Peter Martyr, copy after Titian (1830) © National Gallery, London
[bg|ART/Marina_Vaizey/Eastlake]
Explore topics
Share this article