Watermen: A Dirty Business, BBC Two |

reviews, news & interviews
Watermen: A Dirty Business, BBC Two
Watermen: A Dirty Business, BBC Two
Documentary mainly about clearing drains comes up smelling of roses
Waterman and woman: Caroline and Ian
It's a misnomer, of course. Water. It's not even a prissy misnomer as in "when did you last pass water?" It's more categorical than that: solids rather than liquids are our subject here. This is essentially a show about shit. Shit and all who sail in her.
There's a general principle that the worst jobs attract the nicest people, and clearing blocked drains teeming with raw sewage probably counts as a career path with one of the shorter queues at the job centre. But what delightful people do it, at least in the North-West where Waterman: A Dirty Business has set up stall for one of those quietly appealing workplace documentaries.
"The easiest way to describe it," explained one waterman summoned to unblock a drain in Blackpool, "is it just smells like poo." The camera peered into a hole in the ground full of sludge and slurry. "It doesn't taste great either," he added. For the really recalcitrant drains they send down what is essentially a poo-cam to check it's cleared. In a domestic environment it seems blockages are mostly caused by babywipes. "Best bet is just stick with toilet paper," one woman was politely advised re. flushing protocols, "and anything else that comes out of you."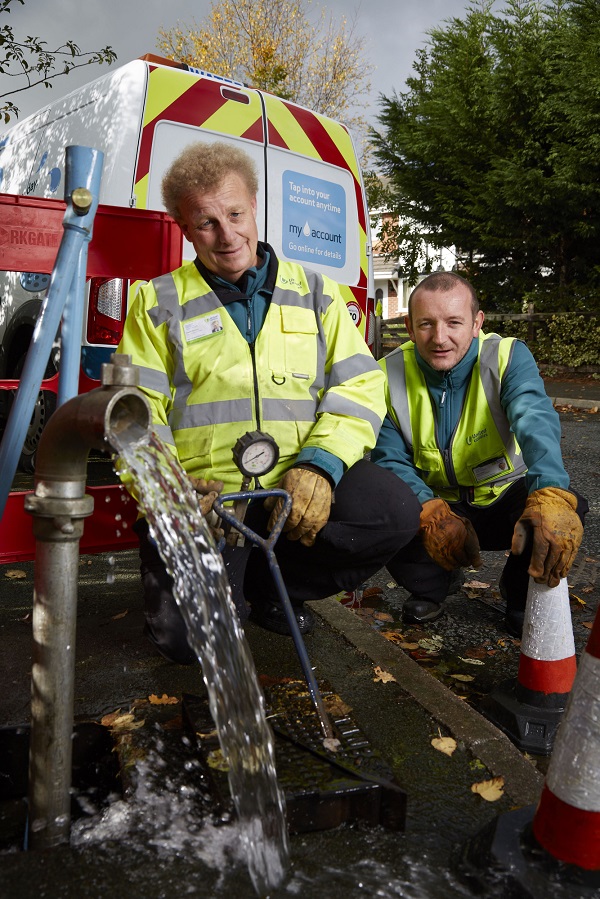 Meanwhile at the waste water treatment works in Wilmslow, process controller Dave demonstrated how water which arrives brown leaves looking clean as a whistle. Unless it doesn't. He went in to clear a blockage. The camera carefully kept its distance as Dave forked a solid wodge of condoms, tampons and rags out of the system. "It gets into your pores, explained Dave. "Take about a week to get rid of that. No women for a week." What a waste.
It wasn't all about waste. We watched the wise but bashful Sean (pictured above, on the right, with another Dave), who entered the water industry after leaving school, inspect a vandalised fire hydrant. In last summer's heatwave, these were being opened in Salford faster than the water board could close them. Kids leapt in and out of a 40-foot jet fountain. "We're paying for it, we're going to have a good go in it," philosophised one resident. Sean stoically and avuncularly waited till the kids were all shivering before closing it off again. And then there's the reservoirs, where swimming is not allowed but people go anyway. A man from the waterboard patrolled the shore of a Cumbrian reservoir issuing leaflets about drowning. It doesn't always work: later on the camera crew went to the scene of two actual deaths.
There's not that much variety in waterwork, which is why in this first episode we saw two identical drains being cleared by jet pump. There were shaggy-dog stories about a Croxteth publican not paying his £7,000 bill and bypassing the meter, and a drain causing a road to collapse. And the programme seems to be going easy on the evident abundance of call centre characters, perhaps because of the current proximity of The Call Centre on BBC Three. But like all the best workplace documentaries, Watermen is really about the people rather than the processes, ordinary people being quietly remarkable in the service of the great British public (not forgetting the shareholders, who will be very happy).
The camera carefully kept its distance as Dave cleared a solid wodge of condoms, tampons and rags out of the system
rating
Explore topics
Share this article