Television: 10 Top Performances from 2013 |

reviews, news & interviews
Television: 10 Top Performances from 2013
Television: 10 Top Performances from 2013
Cherry-picking from the past 12 months on the telly
No definitive answers to what was "the best" of 2013 of course, and I daresay opinions will differ wildly. For instance, despite the plaudits showered on it elsewhere, I felt that Broadchurch stretched itself too thin after showing initial promise. An increasingly acute allergy to serial killer dramas meant I couldn't get too involved with Tony Grisoni's Southcliffe, let alone The Fall, with its extended, voyeuristic murder scenes.
Being Netflix-free (he confesses sheepishly), I haven't caught up with
House of Cards
yet, or the conclusion of
Breaking Bad
, but obviously a profound shift in our viewing habits is underway. Who knows what the landscape will look like next Christmas, eh?
Kelsey Grammer in Boss, More4
While we're inclined to heap praise on American TV series, the downside of US TV is its habit of milking a successful show until it becomes a parody of its original self. Boss has been spared that fate, having been axed after two seasons. This leaves us mourning the huge untapped potential of Kelsey Grammer's thunderous portrayal of corrupt Chicago mayor Thomas Kane (main picture), trying to keep his ungodly empire together as he battles against a degenerative neurological illness. Grim but gripping.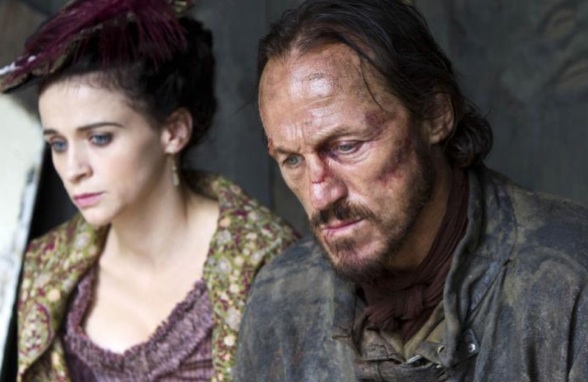 Jerome Flynn in Ripper Street, BBC One
Not the least of Ripper Street's attributes was Jerome Flynn's self-flagellating performance as Sergeant Bennet Drake, a mentally scarred military veteran who was unlucky in love and was used as a brutal enforcer by DI Reid (Matthew Macfadyen). However, as we saw in the final episodes, behind Drake's cruelly-ravaged exterior lay a soul in torment, where it must remain now that the BBC has foolishly canned the show. Still, at least Flynn (pictured above with Charlene McKenna) may have finally heard the last of those Robson & Jerome jokes.
Sidse Babett Knudsen in Borgen, BBC Four
They tell me it's heresy, but I thought the final series of Borgen was a let-down compared to the previous two, not least because Kasper the conflicted spin-doctor had been reduced to a mere cypher. This wasn't the fault of its heroine Birgitte Nyborg (played by Knudsen) though, who continued to radiate such unfeasible quantities of charisma that most of the rest of the cast were often rendered almost invisible (this was just as well, in the case of her drippy boyfriend Jeremy.) A politician you could empathise with and even admire? Before Borgen, and indeed after it, the idea was utterly risible.
Jeremy Piven in Mr Selfridge, ITV
Who could have predicted that retailing in the belle époque would become its own TV mini-genre? Well anyway, Mr Selfridge (series two is due imminently) was much more fun than The Paradise, with its menu of upstairs-downstairs shenanigans, power-games and class warfare as the upstart American Harry Selfridge brought a sprinkling of Barnum & Bailey pizzazz to snooty London Town. Jeremy Piven, doubtless fortified by his experiences as Ari the agent in Entourage, shouldered the central role with rogueish panache.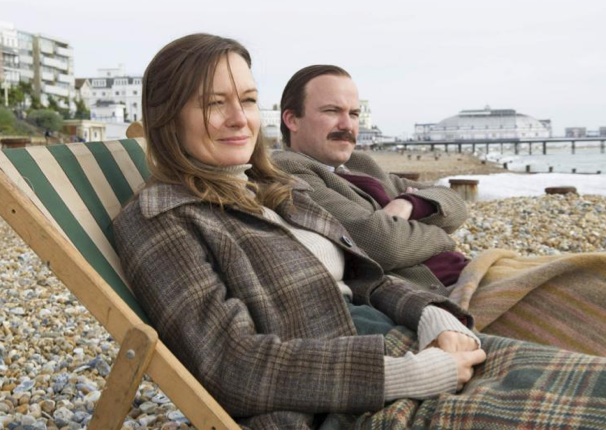 Catherine McCormack in Lucan, ITV
The story of the dissolute life and disappearance of Lord "Lucky" Lucan was an awkward subject for a telly drama, because so many of the characters involved were so dislikeable and because nobody knows - or at least nobody's telling - what really happened. A resounding hand, then, for Catherine McCormack's portayal of Lucan's wife Lady Veronica, almost murdered by her desperate husband and then ganged up against by his coterie of ghastly aristocratic cronies. In part two, particularly, her mix of desperation and stoicism twanged the heartstrings (McCormack with Rory Kinnear, pictured above).
Hayden Panettiere and Connie Britton in Nashville, More4
Nashville's country music industry has always been a giant soap opera, so it was high time somebody converted it into an addictive TV show. This proved to be a girl-power event too, since it was created by screenwriter Callie Khouri and is dominated by two superb female leads. Hayden Panettiere plays the petulant and combustible new-girl-at-the-Opry Juliette Barnes, who aims to unseat senior country queen Rayna James (Connie Britton). Throw in tangled love-lives, murky Nashville politics, drugs'n'booze "issues" and dark secrets from the past - plus a bunch of authentically cheesy country songs - and you have a smash on your hands.
Vera Farmiga in Bates Motel, Universal (pictured right)
It was a bizarre notion to create a "prequel" to Alfred Hitchcock's Psycho, but Bates Motel defied the sceptics and proved to be an addictive exercise in macabre psycho-noir. Actually it wasn't clear whether it was a prequel or a story occurring in a parallel universe, but whatever it was, Vera Farmiga was staggeringly good as Norma Bates, a neurotic woman beset by rapists, corrupt law officers, sordid criminals and a teenage son prone to suffering blackouts during which he murders people.
Swann Nambotin in The Returned, Channel 4
Nambotin played the creepy kid Victor in this French-made tale of the dead coming back to life in a depressingly drab Alpine village, but I've just picked him to represent a collection of powerful performances from a strong cast. Eschewing the slithering guts, rotting limbs and severed heads of the conventional zombie genre (The Walking Dead, this means you), The Returned (Les Revenants in French) opted instead for a philosophical examination of what it would mean if the dead really did walk again. You were left to ponder the question, and the answers were deeply unnerving.
Elisabeth Moss in Top of the Lake, BBC Two
Jane Campion's elliptical missing-girl mystery, set in hauntingly remote and epic New Zealand scenery, was as much about the inner search of Elisabeth Moss's investigating detective Robin Griffin as it was about the quest to find 12-year-old Tui Mitcham. Griffin's tortuous journey unearthed all manner of depraved behaviour and badly-damaged characters, and Moss's impeccably-nuanced performance was the thread that kept drawing you through some arduous dramatic terrain.
Cillian Murphy in Peaky Blinders, BBC One
Steven Knight's "Brummie Boardwalk Empire" wasn't really anything like HBO's Prohibition epic, but its dark and knotty story of a gang of criminally-inclined bookies in post-World War One Birmingham was at least original, and featured some especially creative regional accents. Cillian Murphy, playing gang leader Tommy Shelby, scrapped it out for acting honours with Sam Neill's brutal Ulster cop Chester Campbell. Murphy (pictured left above, with Neill) took the honours for his piercing stare and ability to suggest that death and mindless brutality came as easily to him as quaffing a glass of stout.