The Joy of Easy Listening/ The Prince and the Composer, BBC Four |

reviews, news & interviews
The Joy of Easy Listening/ The Prince and the Composer, BBC Four
The Joy of Easy Listening/ The Prince and the Composer, BBC Four
From rock to schlock, and a musical turn from HRH
Once upon a time, "easy listening" was a term of abuse and contempt, intended to evoke everything uncool, unhip and musically middle-aged. It meant pipe, cardigan, golf and Bing Crosby, and it was the last thing you'd hear before you were felled by your thickened arteries and under-exercised heart.
Things have changed, as Bob Dylan sang, some years before he reached 70. As The Joy of Easy Listening pointed out, now that the passing decades have narrowed the great divide that used to exist between the cutting edge of rock'n'roll and the puréed strings of James Last or Bert Kaempfert, it may even be the easy listening versions of pop classics by The Beatles or The Beach Boys that tell us more about pop history than the originals. As Paul Morley suggested: "They get to the truth of what a pop song is."
In fact, the supposed gulf between genres has never been as clear-cut as it was painted. Beach-Boy-in-chief Brian Wilson was himself a master of easy listening textures. Few records in any category have been easier to listen to than The Eagles' "Take it Easy" or Fleetwood Mac's "Songbird". The programme-makers had tracked down the great Jimmy Webb, who had been mysteriously able to belong to the new wave of singer-songwriters while also writing mellow masterpieces for Frank Sinatra and strangely haunting ballads like "Wichita Lineman".
Webb was unimpeachably wry. His teeth-clenchingly catchy pop hit "Up, Up and Away" was, he said, "a whistle-while-you-work song", whose utter vacuousness even he still finds hard to comprehend. "That song's not about drugs," he cautioned. "It's about balloons." But, he added, he had never understood the way battle lines had been drawn between different musical camps, which stipulated that if you played the Fillmore in New York you were cool, but if you played in Las Vegas you were "working for the Man" (emperor of smooth Bert Kaempfert, pictured above).
Richard Carpenter, brother of the late Karen and architect of an entire wing of the mansion of easy listening, agreed. "All this cool and uncool business... I'm just sick to death of hearing it, it's poppycock," he raged. These days, Richard looks like a haggard Special Forces veteran who spent too long behind enemy lines, which goes to show that there's nothing easy about easy listening. Just ask pianist Richard Clayderman, who has sold 70 million records, but only at the cost of spending the last 35 years on the road. The credits rolled to the chirpy, trilling tones of Bert Kaempfert's "A Swingin' Safari", but who knows what heartache lay beneath it?
You can see why director John Bridcut couldn't resist calling his film The Prince and the Composer, because it's not every day the heir to the throne (pictured below) steps up and fronts a TV documentary about Sir Hubert Parry. No doubt the rarity of the royal presence also accounted for its not entirely warranted 90-minute length.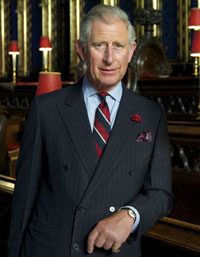 However, at the risk of being beheaded, it must be said that the film's successes were almost despite HRH, though his role as catalyst in lighting the fuse on a quest to restore Parry's faded lustre was worthwhile enough. Otherwise, the Prince bumbled about amid cloisters, church choirs and trunks of Parry memorabilia hidden away in bucolic ivy-bedecked houses in the English countryside, muttering things like, "He was a master at finding melodies," or, "He was a complex man with a mind of his own," in that distinctive cuff-tugging tone.
Happily, thanks to some vivid interventions by musicians and musicologists including Jeremy Dibble, James Burton and David Owen Norris, a rich and grand vision of Parry steadily emerged, elbowing aside the worse-than-one-dimensional notion of him as a moustachioed High Tory who wrote jingoistic tub-thumpers like "Jerusalem". Indeed, even the latter emerged looking shiny and new thanks to a nimble exegesis by Owen Norris, which picked open the piece's subtleties and expert craftsmanship (Sir Hubert "The Hube" Parry, pictured below).
In fact it transpired that Parry was liberal, humane, and on one occasion fined a poacher in his role as magistrate, then nipped round the back and paid the offender's fine himself. Though typecast as musically staid, he was in thrall to the innovations of Wagner, and his music proved influential on Elgar and Vaughan Williams. Among several rarely heard pieces of Parry-ana, his Magnificat, with its violin obbligato and mellifluous choral writing, seemed particularly worth hunting down for one's own collection.
Explore topics
Share this article