Imagine - U2: From the Sky Down, BBC One |

reviews, news & interviews
Imagine - U2: From the Sky Down, BBC One
Imagine - U2: From the Sky Down, BBC One
How the band went to Hansa studios in Berlin to record a career-changing album
U2 while making 'Achtung Baby' in Berlin, with clapped-out Trabant
Never knowingly under-mythologised, U2 have chosen to mark the 20th anniversary of their album Achtung Baby with this sizeable documentary about the making of the record and the traumatic soul-searching that went into it. It dovetails neatly with the forthcoming reissue of the album itself, which will be available as a mere single CD, as well as in a vinyl box set and an "Über Deluxe" edition crammed with CDs, DVDs, luxurious art prints etc.
To direct their movie, U2 went to Davis Guggenheim, a film and TV veteran who has (among other things) won an Oscar for directing Al Gore's climate change flick An Inconvenient Truth, shot a biographical film about Barack Obama, and in 2008 made It Might Get Loud, about guitarists Jack White, Jimmy Page and U2's The Edge. Apparently U2 flung open their archives to Guggenheim and, as he put it, told him, "'We want you to make the movie that you want to make,' and they let me make the movie I wanted to make."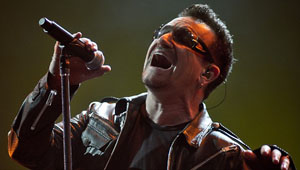 The results are interesting, entertaining and revealing, but never quite enough of each. Achtung Baby was - is - indeed a great album and probably U2's finest, but waiting 20 years to tell how it was made has taken the edge off the project, even if there's an attempt to create contemporary relevance with footage of U2 playing the Achtung material at this year's Glastonbury (Bono at Glasto, pictured above). The intervening decades have been filled with blockbusting multi-platinum U2 albums and colossal stadium tours, so fans aren't exactly sitting around fretting about how the band nearly went off the rails two decades ago.
The group have been critical of their late-Eighties selves before, a period when many onlookers felt they'd become insufferably bombastic and self-righteous, and they've put a dose of belated self-flagellation on the record here. The tumultuous success of 1987's The Joshua Tree prompted a loss of perspective, and led to the ill-judged road movie Rattle and Hum, which began with modest ambitions but ballooned into a money-guzzling juggernaut. It also (as Bono admits) made it look as if the group were trying to lecture audiences about the joys of American blues, country and rock'n'roll music despite knowing very little about them. "We started to be these earnest po-faced men," recalls bassist Adam Clayton, while Bono puzzles over the way they were grim and stony-faced on camera, but usually relaxed and jokey in private (The Edge with director Davis Guggenheim, pictured below).
The decision to go to Berlin's Hansa studios to make the next disc, where David Bowie had made Low and Heroes and right next to the newly dismantled Berlin Wall, was an attempt to "go away and dream it all up again", as Bono put it. They would dump their ludicrous accumulated baggage of cowboy-Americana and tune into a Europe undergoing momentous political change, and would embrace electronica and dance music in the process. Instead of Hank Williams, Bono was now listening to the industrial racket of The Young Gods and Einstürzende Neubauten. Oddly, nobody mentions that they'd done something similar in 1984 when they made the experimental Unforgettable Fire, which looks now like a rehearsal for Achtung Baby.
Guggenheim's excavations from the vaults have turned up a wealth of material, including informal rehearsal and recording footage from the Achtung sessions and extracts from the rough DAT tapes that Bono and Edge used to work up songwriting ideas. The best moment is the segment where the band suddenly find themselves creating "One", Bono singing out the chord changes and arrangement ideas to the others as they hurried to get something on tape before the moment vanished. It became one of the album's most powerful tracks but, comically, producer Brian Eno initially found the song insufferably boring.
The album took ages, partly because Bono and Edge had an idea of what they wanted but hadn't told the others (still not smiling - U2, pictured right). Drummer Larry Mullen struggled to accommodate electronic drum loops, and Edge's marriage collapsed as the sessions ground on. Still, this hardly makes them unique. Albums made in blood-letting circumstances have been legion, from Fleetwood Mac's Rumours to Pink Floyd's The Final Cut, but the closest we get to hearing about any U2 infighting is a story about Mullen swearing at Edge for tuning up his guitar too loudly.
From the Sky Down never quite decides what it wants to be. It isn't a full-scale U2 biography, but it doesn't drill down into the creation of Achtung Baby with the nerdy fanaticism of a Classic Albums film either. What it lacks above all is any viewpoint from outside the U2 bubble, which might have given some perspective on what Achtung Baby said about the group and what it meant to the wider music world. But the U2 steering committee evidently decided that what happens inside the band stays inside the band.
Watch a clip of U2 at Glastonbury 2011
They dumped their cowboy-Americana baggage and tuned into a Europe undergoing momentous political change
Explore topics
Share this article