Young Chekhov, National Theatre |

reviews, news & interviews
Young Chekhov, National Theatre
Young Chekhov, National Theatre
Chekhovathon builds to a shattering climax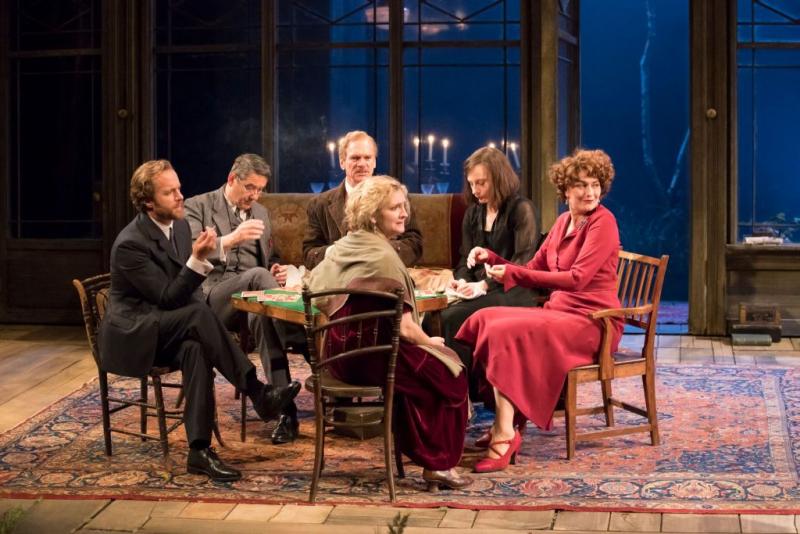 Chek-mate: the cast of Jonathan Kent's production of 'The Seagull'
"Yes, from life," Nikolai Ivanov (Geoffrey Streatfeild) says in passing of a painting midway through the early Chekhov play that bears his name. But the phrase could serve as the abiding achievement of the largely thrilling triptych of plays that has transferred from Chichester to the National under the banner title Young Chekhov.
Here, as Ivanov's fleeting remark implies, is life in all its often despairing amplitude, and if the net result of Chekhov's worldview across eight hours is paradoxically exhilarating, that's because few writers see life so completely in the round. You emerge from the eight-hour marathon (excluding meal breaks etc.) drained but invigorated and ready to face another day – which is more than can be said for a Russian landscape in which all too few of his title characters make it to the end of their plays alive.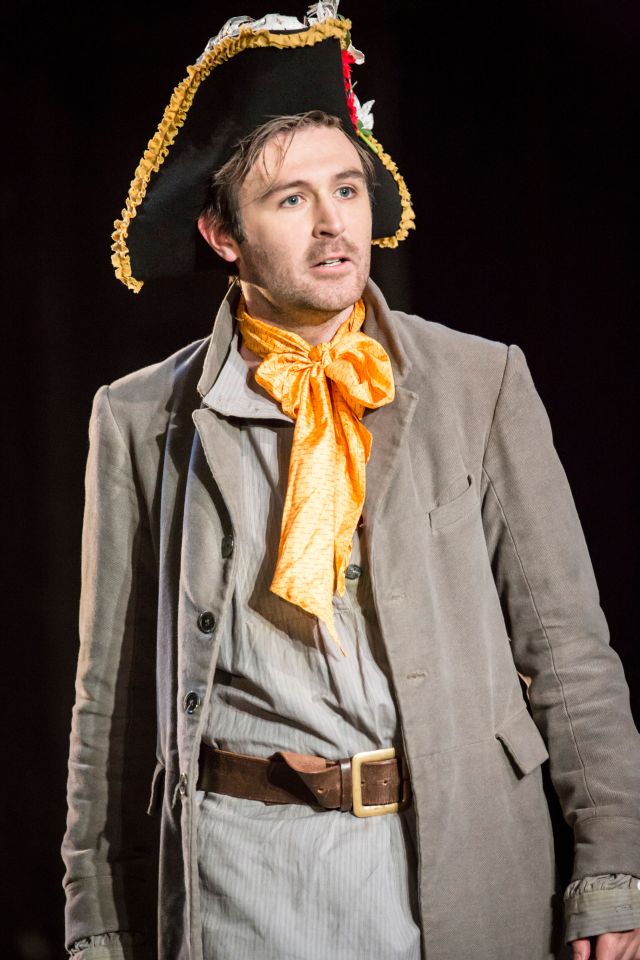 The director, Jonathan Kent, has directed both Platonov and Ivanov before, both in the David Hare versions used here, albeit with tweaks and changes of emphasis that Hare has addressed in a helpful prefatory essay in the published text. And of those two, Platonov (★★★★★) in this rendering proves the greater revelation: a portrait of consumptive self-loathing that, against the odds, exists a hair's – Hare's? – breadth away from farce, and that allows the wonderful James McArdle (pictured right) to command centre-stage in the same space where he previously dominated a separate triptych two years ago with Rona Munro's The James Plays.
An unruly play written when Chekhov was 20, Platonov fuelled one of the best Chekhovian overhauls in the canon in Michael Frayn's Wild Honey, a onetime National success that receives its own revival at the Hampstead Theatre later this year. This current rendering of the original sets the competitive bar very high indeed, as the eponymous schoolmaster fields the affections and demands of at least four women, ricocheting amongst them like a libidinous boomerang who admits to feeling indifferent to everything in his limited life – except sex.
Inhabiting a provincial estate where, or so we're informed, the mud is so thick that you can barely get to the next village, Platonov exists in a marriage to the meekly predatory Sasha (Jade Williams) that is described along the way as worthless married to stupid. The "local Don Juan", McArdle cuts a charismatically mock-courtly gadfly, whose dubious attitude towards ablutions – Platonov apparently doesn't wash much – nonetheless finds women falling at his feet. Or, in one instance, wanting to bring him down and regretting her actions, but very possibly too late.
With a hitman on his case who could have stepped out of a Tarantino film (Des McAleer has a field day in that part), he's an anti-hero whom you can't help but adore, and McArdle is entirely more satisfying in the role than was Aidan Gillen in 2001, in an Almeida production that opened on 9/11. Hare, too, locates a bitter comedy that persists through all three plays and that is at no point more trenchant than when Platonov announces to his wife, "I don't want to be happy; I want to be with you."
Cursed by the self-awareness that allows numerous Chekhov characters to take a highly theatrical view of their misfortune, Platonov at least allows himself a giddiness unavailable to Ivanov, the penniless landowner whom Streatfeild in the follow-up play (★★★★) presents unapologetically as a 35-year-old clinical depressive on a collision course with death. Unresponsive to a wife – a Jew who has adoped the same name, Anna Petrovna, as the most elegant of the women in Platonov (Nina Sosanya plays both parts) – who happens herself to be fatally ill, Ivanov exists amidst a community given over to casual and outspoken cruelty at every turn: Donald Trump would feel right at home. (There's a random jibe in the direction of Australia to seal the deal.)
It's not just an anti-semitic aspersion late in the second act that elicits an audible gasp. Well before that, we get all manner of class hatred, bigotry, and misogyny, not to mention a formidable trio of sofa-bound women who could have stepped out of Ostrovsky: Emma Amos is particularly delicious as the "young bitch" (the text's phrase, not mine) who responds to being compared to a pony by breaking into the briefest of gallops. The invaluable Debra Gillett, playing a penny-pinching wife of means, snaps at the help, who in turn seem actively to wither under her gaze.
Probably the one of the trio most readily dropped if you can't manage all three, Ivanov suffers to some extent from a relentlessness to its title character that even the gifted Streatfeild can't entirely circumvent. (Sam West played the part at Chichester.) All the more credit, then, to the vibrancy of Hare's version – "de-sausage" as a verb! – and to an ensemble that finds an entirely unrecognisable (ie. clean-shaven) McArdle this time cast as Ivanov's foil, a doctor called Lvov who makes a dubious fetish of honesty. And there are treasurable turns both from Jonathan Coy (pictured above) as a local councillor who privileges survival over health and Peter Egan as a widower who pauses before speaking the very word – "emptiness" – that seems to have crept into every corner of Ivanov's psychically crippled being.
The Seagull (★★★★) is entirely new to both Hare and Kent, though it is also the title playgoers will undoubtedly know best. Coming after the tasters of the two more embryonic works, this first of Chekhov's four defining masterpieces finds earlier themes and situations revisited and transformed: few will miss the ongoing interest in schoolmasters and doctors, estate managers and people who either bring loved ones to ruin or exist in a state of near-ruin themselves. The name attraction here is the arrival into the company of Anna Chancellor to play possibly the most glamorous Arkadina ever, though I wonder whether this character would quite so vulgarly debase herself before Trigorin (Streatfeild again, inhabiting a marginally more chipper role): the performance feels a tinge overwrought, in somewhat the same way as a certain shoutiness besets Ivanov at times.
But no praise is too high for the final scene between the agonised Konstantin (Joshua James, who seems to diminish with the passage of time between the acts), Arkadina's writer-son, and his beloved Nina, the young actress who returns to his midst in a state of terrifying despond. Olivia Vinall – among the few performers to appear across the trilogy – is the first Nina I've come across to make evident the ravages she has undergone that we briefly hear about but don't see, and she handles the lines identifying herself with the doomed bird of the title without putting them in inverted commas; it's a superlative occupancy of a difficult role (James and Vinall pictured above).

And as she sloshes through Tom Pye's planked set – a pop-up scenic wonder all its own – to speak against the odds of endurance and faith, one glimpses beneath Nina's wraithlike, haunted visage a glance in the direction of the language employed by Sonya at the end of Uncle Vanya – a play that, by this time, a rapt audience would gladly have sat through if all concerned ever feel like continuing with Chekhov through the night.
MORE CHEKHOV ON THEARTSDESK
The Cherry Orchard, National Theatre (2011). Zoë Wanamaker (pictured below) shines in Howard Davies's murky production of Chekhov
The Cherry Orchard, Sovremennik, Noël Coward Theatre (2011). Russians soar in third, and final, offering of their first-ever London season
Uncle Vanya, The Print Room (2012). Iain Glen stars in a version of Chekhov at his most tenderly intimate
A Provincial Life, National Theatre Wales (2012). Moments of visual beauty punctuate a Chekhov adaptation that struggles to find its focus
Three Sisters, Young Vic (2012) Benedict Andrews' energetic update is stronger on ensemble work than individual performances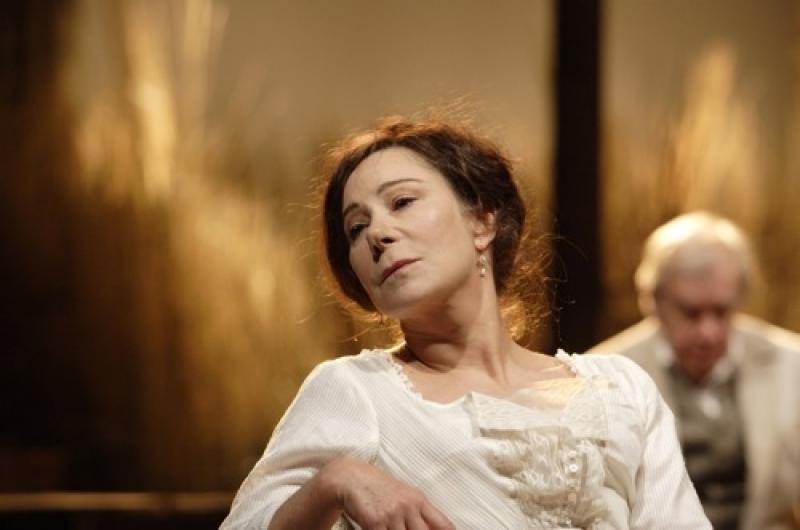 Uncle Vanya, Vakhtangov Theatre Company (2012). Anti-naturalistic Russian Chekhov buries humanity under burlesque and mannerism
Uncle Vanya, Vaudeville Theatre. Anna Friel, Laura Carmichael and Ken Stott shine bright in Lindsay Posner's production of Chekhov's drama
Longing, Hampstead Theatre (2013). William Boyd's dramatisation of two Chekhov stories with Iain Glen and Tamsin Greig is more pleasant than towering
The Cherry Orchard, Young Vic (2014). Katie Mitchell delivers Chekhov's masterpiece with devastating power

Uncle Vanya/Three Sisters, Wyndham's Theatre (2014). Quiet truth in finely observed ensemble Chekhov from the Mossovet State Academic Theatre
Winter Sleep. Turkish master Nuri Bilge Ceylan's Cannes Palme d'Or winner, based on Chekhov short stories, is huge in every sense
The Seagull, Regent's Park Open Air Theatre (2015). Strikingly staged Chekhov continues a strong season in the park
Uncle Vanya, Almeida Theatre (2016). Robert Icke's lengthy revival/reappraisal is largely a knockout
Wild Honey, Hampstead Theatre (2016). Early Chekhov begins strongly then falls away
Few will miss the ongoing interest in people who either bring loved ones to ruin or exist in a state of near-ruin themselves
Explore topics
Share this article