Saint Joan, Donmar Warehouse |

reviews, news & interviews
Saint Joan, Donmar Warehouse
Saint Joan, Donmar Warehouse
Revival of Shaw classic is a tour de force for Gemma Arterton
Tuesday, 20 December 2016
How's this for a Christmas-week story? Joan, a young peasant girl – played in this version by the charismatically attractive Gemma Arterton – grows up in the bleak French countryside. She hears voices. It's 1429, and they tell her to lift the siege of Orleans and defeat the English invaders. She inspires troops, she inspires the Dauphin. She helps crown him King of France. She is betrayed, captured by the English, tried as a heretic and burnt at the stake. Some 25 years later, the authorities realise that they have made a terrible mistake.
You can easily see why George Bernard Shaw's play, which was first put on in 1923, soon after Joan's canonisation as a saint, is regarded as a tragedy, albeit a tragedy without villains, since all of the main protagonists behave more or less in good faith. Its full title is Saint Joan: A Chronicle Play in Six Scenes and an Epilogue, and Shaw's own wordy preface includes his vision of the moral of the story: "It is what men do at their best, with good intentions, and what normal men and women find that they must and will do in spite of their intentions." Yes, there are no winners in this tale.
Joan is a member of the awkward squad, a danger to complacency
This modern-dress version of the play (pictured below), is directed by Josie Rourke and designed by Robert Jones, and starts with Duncan McLean's video screens proclaiming the Shawism: "Must Christ perish in every age to save those that have no imagination?" and, in tribute to the anniversary of another war, showing the steady fall of red poppy petals. Then we are in the world of Bloomberg and commodities futures, as the screen reports that egg prices are soaring because of an inexplicable shortage (an in-joke about the play, which indeed starts with Joan's miraculous ability to make hens lay eggs). The story then unfolds through a series of set-piece scenes – Joan meets the Dauphin, Joan relieves Orleans, the English plot Joan's downfall, Joan is tried and condemned as a heretic.
Although the play has its Shavian windbag longueurs, this production radiates with contemporary resonance. First, it is a story about an outsider who galvanises a nation, making it proud and patriotic again (echoes of Brexit), and, second, it is also a story about social justice, and individual responsibility. Joan upsets the hierarchical feudal system by insisting that she doesn't need the church as an intermediary: God speaks to her directly. In her fanaticism, we can hear echoes of any religious fundamentalist. And her trial for heresy, during which she is also accused of witchcraft, shows how men hate women who succeed. For Joan is a member of the awkward squad, a danger to complacency and routine: one of the charges against her was her transvestitism.
Inevitably Arterton has to carry the weight of all of this on her well-toned shoulders. Luckily, despite her warrior gear, this is a modern-day production so it doesn't matter that she never looks or acts like a peasant girl. Instead, her performance has the sweet naivety of the well-brought-up young woman whose beliefs inspire her to be goodness incarnate. It's also a very tactile reading: Joan touches the hands, the arms and the faces of her accusers in a genuinely saintly manner, glowing with forgiveness. A mixture of eloquent simplicity and ardent fanaticism, she attracts and repels in equal measure. It's probably blasphemous to call her acting miraculous, but at some moments it really feels like that.
The rest of the cast (the men) can't really compete with this radiance, although I liked Fisayo Akinade's campy Dauphin, Niall Buggy's aggressive archbishop, Hadley Fraser's loyal Dunois and Jo Stone-Fewings's scheming Warwick. Richard Cant, Syrus Lowe, Rory Keenan and Matt Bardock take on a couple of roles each. Amid constant video reminders of Joan's place in the iconography of the Catholic church, and on a revolving stage, this is a very long, but intellectually fascinating and emotionally moving evening. Despite its contemporary relevance, there may not be a lot of Christmas cheer to be derived from this story, but some crumbs of cold comfort will almost certainly fall into your lap.
MORE GEORGE BERNARD SHAW ON THEARTSDESK
Mrs Warren's Profession, Comedy Theatre (2010). Felicity Kendal in plodding revival of Shaw's take on prostitution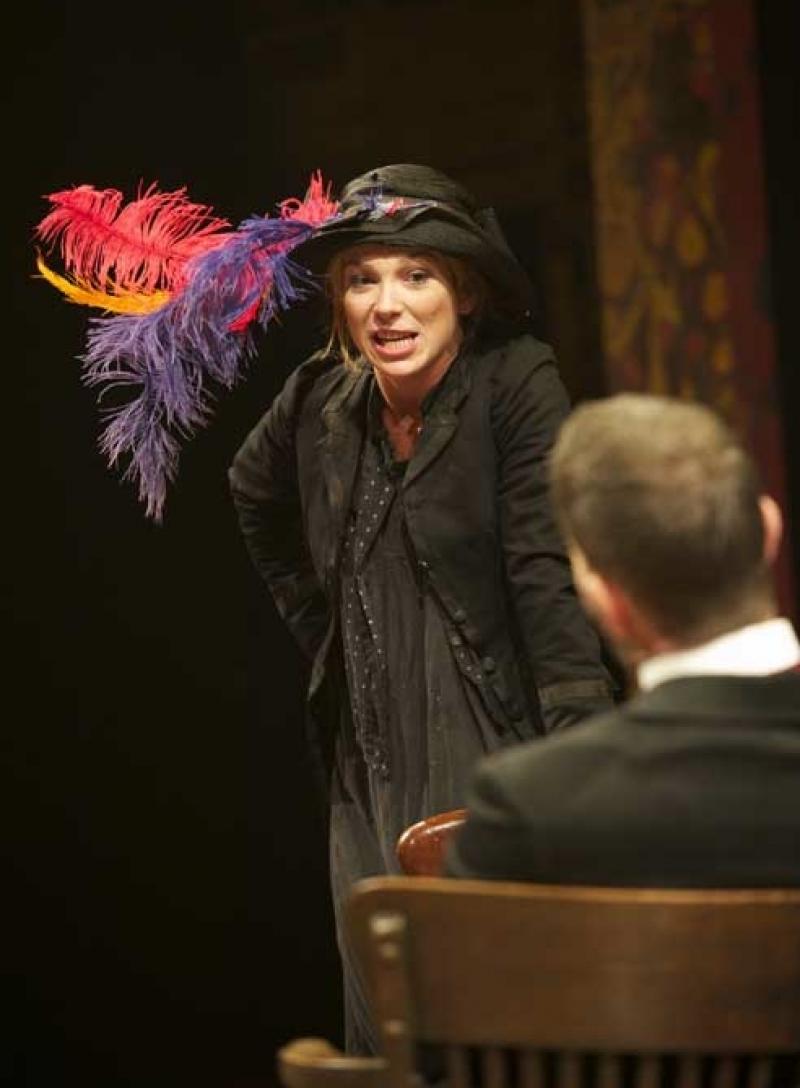 Pygmalion, Chichester Festival Theatre (2010). Rupert Everett's sulky Higgins is outsmarted by Honeysuckle Weeks's Eliza (pictured)
The Doctor's Dilemma, National Theatre (2012). Tragedy is the spoonful of sugar that helps this medical satire go down
Widowers' Houses, Orange Tree Theatre (2014). A timely revival of a timeless satire
Man and Superman, National Theatre (2015). A theatrical trip to Hell with Ralph Fiennes has some heavenly moments
The Philanderer, Orange Tree Theatre (2016). Modern-dress Shaw is resonant but long-winded

@AleksSierz
OVERLEAF: MORE GEMMA ARTERTON ON THEARTSDESK
GEMMA ARTERTON ON STAGE AND SCREEN
Tamara Drewe (2010). Arterton plays Posy Simmonds's modern Hardy heroine (pictured right) in barbed rural romp shot by Stephen Frears
The Master Builder, Almeida Theatre (2010). Arterton stars opposite Stephen Dillane as passions blow hot and cold in uneven take on Ibsen
Clash of the Titans (2010). Arterton comes up Persil white as the Olympians of Tinseltown plan a classical killing in 3D
Prince of Persia: The Sands of Time (2010). Fantastical desert epic beguiles the eye while deep-freezing the brain
The Little Dog Laughed, Garrick Theatre (2010). Arterton plays straight woman to Tamsin Greig's mega-star comic turn in Broadway satire
Byzantium (2013). Arterton is va-va-voom vampy in Neil Jordan's return to bloodsucking
Song for Marion (2013). Under Arterton's tutelage, Terence Stamp and Vanessa Redgrave work the tear ducts in paean to old age
The Duchess of Malfi, Sam Wanamaker Playhouse (2014). In a bright opening for London's shadowy and atmospheric new theatre, Arterton is radiant as Marlowe's tragic heroine
Made in Dagenham, Adelphi Theatre (2014). Arterton reveals great pipes as she takes on the bosses in musical version of the 1968 struggle for equal pay (pictured above by Manuel Harlan)
The Voices (2015). Arterton is Ryan Reynolds' victim in Marjane Satrapi's surreal portrait of an American psycho
Nell Gwynn, Apollo Theatre (2016). Arterton charms king and audience in West End outing for the Globe's jolly Restoration romp (pictured by Tristram Kenton)
The Girl With All the Gifts (2016). Bestselling dystopian book reborn as underpowered movie
Their Finest (2017). Resoundingly British and sheerly enjoyable story of filmmakers joining the fight against Hitler
rating
Explore topics
Share this article