Passion Play, Duke of York's Theatre |

reviews, news & interviews
Passion Play, Duke of York's Theatre
Passion Play, Duke of York's Theatre
David Leveaux directs Peter Nichols's devastating dissection of sexual betrayal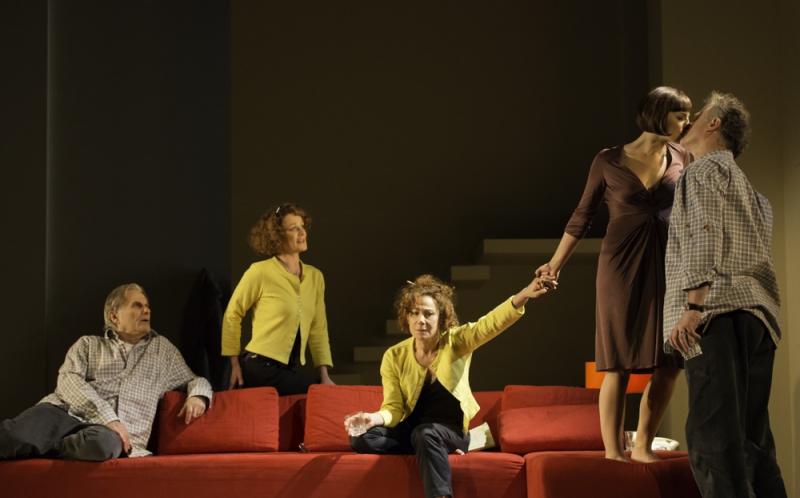 Five in a bed: Oliver Cotton, Samantha Bond, Zoë Wanamaker, Annabel Scholey and Owen Teale
What's the price of betrayal? In Peter Nichols's 1981 play it's a painful splintering of the psyche. The betrayer mentally compartmentalises in order to be both affectionate husband and ardent lover; the betrayed loses her confidence, her purpose, even her identity until she is – in ways that Nichols makes theatrically explicit – beside herself.
There are moments when this ghastly anti-romantic gavotte creaks faintly, carrying with it the sour whiff of the hangover from the sexual-liberation party games of the Sixties. But the drama, often compared to Stoppard's The Real Thing and Pinter's Betrayal, still steps with cruel wit and cool elegance through the carnage of infidelity, in a production by David Leveaux designed to break your heart, and with central performances to die for.
Hildegard Bechtler's set is clinical white, aside from a scarlet sofa that punctuates the pallor. This is the smart home of Eleanor (Zoë Wanamaker), a music teacher and amateur chorister, and James (Owen Teale), a picture restorer. Neither has any religious faith, yet while he labours meticulously over paintings of biblical scenes, she finds in the sound of voices singing sacred music the closest thing to "heaven on earth". And, it seems, they love one another. Wanamaker, all tousled curls and kittenish sensuality, is, James remarks, like a "cat with cream". He, though he denies he's a passionate man, is still aroused and absorbed by his wife. But the intervention of Kate (Annabel Scholey), young, attractive and a fashionable photographer with a taste for married men, slices, cold and steely, into the comfortable, accustomed routine of their lives.
Everyone attempts to remain grown-up, civilised. Eleanor is forced to hear of James's infidelity from a close confidante, Agnes (Sian Thomas), who nurses her own bitter grudge: her ex-husband, now dead, left her for Kate. Eleanor trembles as the killer blow is dealt, in pseudo-sympathetic tones, in a cafe over the teapot. The ensuing confrontation leads to uneasy agreement and a resumption of relations, both within Eleanor and James's marriage and between Kate and Eleanor, who attempt to pick up the frayed threads of their friendship. But the action slides queasily out of focus as Nell and Jim, the alter egos of Eleanor and James, materialise onstage, and it forcefully emerges that they have both become fractured; one will irrevocably fall apart.
As is highlighted by Fergus O'Hare's sound design, the play references the Requiem Mass; even Agnes's name seems a sly allusion to the Agnus Dei, and as her torment draws on, Eleanor senses an impending Dies Irae – a Day of Wrath. Samantha Bond as Nell and Oliver Cotton as Jim provide caustic commentary. During James's early entanglements with Kate, Cotton's Jim interjects with a disapproval that swings between loyalty to Eleanor and a distaste for Kate, with her well-worn and unsubtle seduction techniques – "all the knocking-shop accoutrements" – that verges on the misogynistic. And Bond is both a voice of defiance and a goad for the increasingly desperate Eleanor. Bond and Cotton may each be required to play only fragments of a character, but they have more to work with than Scholey (pictured above with Teale and Wanamaker), glossily glamorous as Kate, who is painted only as a shallow and dislikable manipulator.
And yet for all the deliberation of the play's structure, Leveaux's production zings, stings and draws blood, and Wanamaker is devastating, visibly crumbling as every certainty is stripped away from her. Deft and deadly.
Pasison Play at the Duke of York's Theatre until 3 August
The action slides queasily out of focus. Both partners in the marriage have become fractured, and one will irrevocably fall apart
rating
Share this article