The Master Builder, Almeida Theatre |

reviews, news & interviews
The Master Builder, Almeida Theatre
The Master Builder, Almeida Theatre
Passions blow hot and cold in this uneven new take on Ibsen
Saturday, 20 November 2010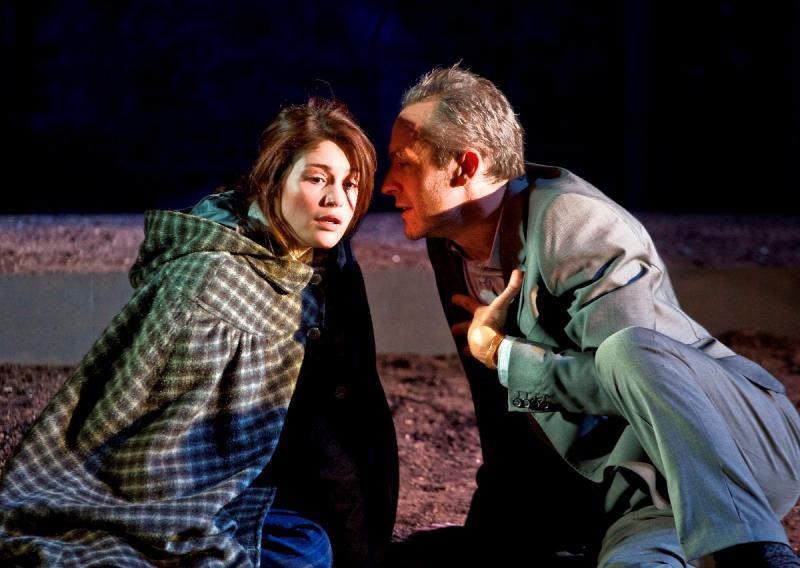 Despair and desolation: Gemma Arterton and Stephen Dillane in 'The Master Builder'
Halvard Solness and Hilde Wangel have stalked each other among the shadow goblins of Henrik Ibsen's extraordinary symbol-laden drama in two major productions this year. In Chichester, Philip Franks's staging and David Edgar's new version of the text gave us a shivery, haunted-house interpretation. Now comes American director Travis Preston's modern-dress offering, starkly designed by Vicki Mortimer, but performed with such over-deliberate mannerism and stylised Expressionist movement by Stephen Dillane in the title role that it sometimes manages to be both po-faced and faintly ludicrous.
The stripped-back bare brick of the theatre's back wall encloses a steel staircase and a stage covered in dark grit. It's a murky, inhospitable setting, as arid and chilly as the sterile marriage of Solness and his wife Aline, and as desolate and comfortless, perhaps, as the interior of the master builder's troubled mind. Paul Pyant illuminates the darkness with shafts of late-autumnal light. This is the world of a man fearful that he is entering the twilight of his career and his usefulness, and tormented by guilt: Solness superstitiously believes that his success came at the cost of the conflagration of Aline's ancestral home, and the subsequent death of their three infant children. Aline herself (a pale and fragile, yet fiercely riveting Anastasia Hille) first appears gliding in slow motion down the stairs like a watchful and tormented wraith.
Dillane is, initially, a louche and rangy Solness, coolly confident of the sexual magnetism that reduces his besotted book-keeper Kaja (Emma Hamilton) to tremulous, hungry helplessness. But if he seems in no doubt of his power to dominate with his virility, his dread of the young, and of their potential to usurp his professional position, is both sharp and pertinent; it feels startlingly modern in the context of Preston's production. It's channelled into a mean-minded refusal to allow scope to his talented assistant draftsman; and it is in part responsible for the voracity with which he greets the arrival of Gemma Arterton's Hilde Wangel (pictured below right), whose fatal knocking at the door of the unhappy Solness home heralds irrevocable and inevitable change that will be both the master builder's final glory and his destruction.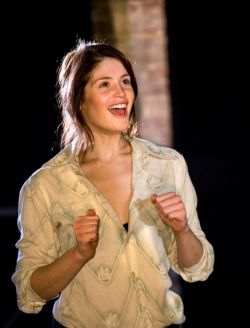 Where Dillane has an odd frigidity, Arterton is all flushed, febrile intensity. She's an overt tease, her shirt carelessly unbuttoned, her hair tousled, her whole appearance and demeanour suggestive of post-coital disarray. She is arrogant, spoilt, given to fits of temper and sulks; it's easy to imagine her as the 13-year-old she was 10 years earlier, when she first watched Solness hang a wreath on the spire of his latest creation. She claims he kissed her passionately and promised her a fairytale kingdom; now she has sought him out to hold him to his promise.
Their connection is wreathed in fantasy, folk lore and myth; they talk of trolls, demons and familiars, of building castles in the air. Here, it feels increasingly as if Solness might, indeed, be losing his sanity: is this creature with the flashing eyes and dangerous demands real, or a tormenting devil from his own imagination? Either way, Dillane's performance grows steadily more exaggerated. His delivery of the dialogue (serviceably translated by Kenneth McLeish) is drawn out to occasionally melodramatic excess; he crawls, contorts, and crouches like the incubus in Henry Fuseli's famous painting The Nightmare. Arterton, meanwhile, approaches a nigh-orgasmic frenzy of excitement, arching her back and undulating in pleasure. When Solness tells her of the fire, of the pneumonia that affected Aline's breast-milk and led to their babies' death, Arterton sensually caresses her own breasts and smiles with malicious glee. But if some such moments disturb, others – in particular, one in which Hilde and Solness imagine that she is a bird of prey and Dillane and Arterton accordingly flap their arms about – merely look overblown.
And that, essentially, is the sticking point of Preston's production. Its passions feel too deliberate, too contrived to convince; and for all his howling, growling and curious physicality, Dillane's Solness is a cold creation. There's strong supporting work, not just from the compelling Hille, but from Jack Shepherd in the somewhat thankless role of the concerned doctor Herdal, and from John Light as the unfairly thwarted apprentice Ragnar Brovik. But as a whole, despite its careful construction, this is a shaky edifice.
MORE IBSEN ON THEARTSDESK
Ghosts, Duchess Theatre (2010). Iain Glen makes directorial debut with a straightforward take starring Lesley Sharp
Emperor and Galilean, National Theatre (2011). Power and pace help to exhume Ibsen's Romano-Christian epic starring Andrew Scott
Judgement Day, The Print Room (2011). Ibsen's last play has its issues but emerges strongly in new adaptation with Michael Pennington
The Lady From the Sea, Rose Theatre, Kingston (2012). Joely Richardson takes on the Ibsen heroine her mother and sister made their own
A Doll's House, Young Vic (2012). Period setting yields a contemporary tragedy adapted by Simon Stephens and starring Hattie Morahan
Hedda Gabler, Old Vic (2012). Ibsen's heroine draws new depths from the West End's sweetheart Sheridan Smith (pictured)
Love's Comedy, Orange Tree Theatre (2012). Early Ibsen finds the playwright in his awkward adolescence
A Doll's House, Royal Exchange (2013). Ibsen in the round loses none of its power to cast a spell
Public Enemy, Young Vic (2013). The horrors of local politics still chime in Richard Jones's queasy production of an Ibsen masterpiece
Ghosts, Almeida Theatre (2013). Richard Eyre and Lesley Manville shine light into Ibsen's dark thriller of family misfortunes
Peer Gynt, Théâtre National de Nice (2014). Irina Brook's song-and-dance Ibsen entertains, but misses the darker shades
The Wild Duck, Belvoir Sydney (2014). Heartbreaking adaptation mixes naturalism and forensic examination
Little Eyolf, Almeida Theatre (2015). Strong women and one weak man in Ibsen's swift study of isolation and guilt
The Master Builder, Old Vic (2016). Ralph Fiennes stars in Ibsen's unsettling mix of the real and the supernatural
Hedda Gabler, National Theatre (2016). Ivo van Hove makes an uneven Southbank debut
OVERLEAF: GEMMA ARTERTON ON STAGE AND SCREEN
Arterton, meanwhile, approaches a nigh-orgasmic frenzy of excitement, arching her back and undulating in pleasure
Share this article