Little Eyolf, Almeida Theatre |

reviews, news & interviews
Little Eyolf, Almeida Theatre
Little Eyolf, Almeida Theatre
Strong women and one weak man in Ibsen's swift study of isolation and guilt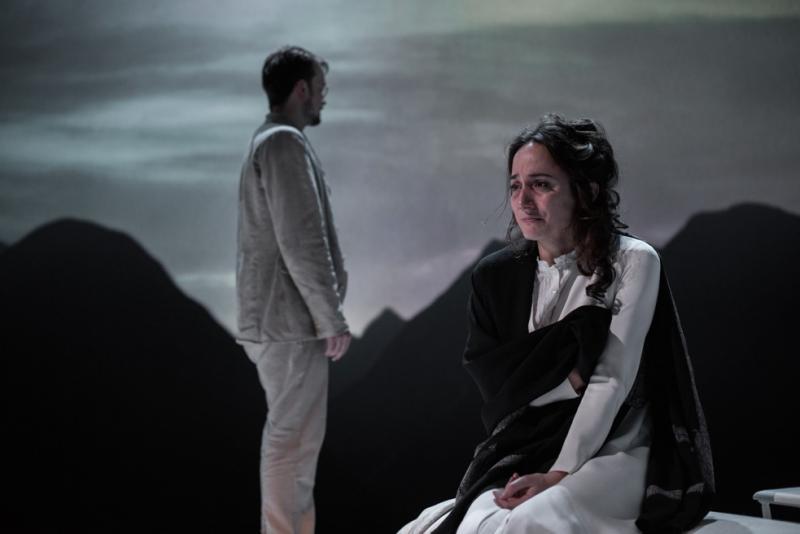 Jolyon Coy and Lydia Leonard as the guilt-drenched Allmers
Greek family smashups at the Almeida now yield to northern agony sagas, less bloody but potentially just as harrowing. In Little Eyolf the 66-year-old Ibsen dissected a failed marriage as ruthlessly as Euripides, Strindberg or Bergman, who was in turn influenced by both of the great Scandinavian playwrights.
Something of that pitilessness does emerge in Richard Eyre's return to the Almeida, chiefly through an unsparing performance by Lydia Leonard and a blend of cold intimacy with powerful nature in Tim Hatley's designs. The lower depths of pity and terror, though, remain unsounded.
Given the programme cover, it's no spoiler to say that, as in Robert Icke's over-drastically rewritten journey around Aeschylus's Oresteia, a child dies at the end of the first act. More significant are the way Ibsen handles the themes of a claustrophobic isolation before the catastrophe and how he moves swiftly through a bog of guilt, rather than grief, after it. Eyre gets the three main actors to set up their relationships and feelings with lightning deftness. Leonard's Rita Allmers is imperious and ironic about the return of her idealistic husband (Jolyon Coy) from the mountains and sees behind the enthusiasm of his supposed half-sister Asta (Eve Ponsonby). This is a half-domesticated Hedda Gabler, a role Leonard clearly has to play soon. The chamber-drama interplay is rounded out by Sam Hazeldine's healthily over-confident engineer Borgheim, Asta's suitor, and the nine-year-old Eyolf Almers, piercingly depicted as a very bright but frightened invalid by Tom Hibberd, one of the three boys alternating in this difficult role.
A whiff of the supernatural, if only in the minds of the confined bourgeois couple, enters with Eileen Walsh's plausible Irish Rat Woman (pictured right with another of the three Eyolfs, Billy Marlow), a pied piper of rural Norway who lures unwanted rodents to their watery death with the aid of her pan pipes and a little dog. What she stands for is ambivalence in Ibsen's main characters, never fixed in archetypal fashion. They believe in progress but are steeped in superstition; they are fire and ice in turn; their seeming faith in ideals crumbles at every challenge. Much like human nature in general, in fact, and presumably like Ibsen himself.
The women are strong even when weakest. Leonard, one of the top stand-outs in the Almeida's all-day reading of Homer's Odyssey, plausibly charts Rita's rages, fierce sex drive and vulnerability. Ponsonby (pictured below with Hazeldine and Coy) has the more difficult task of portraying a gentler soul, moving from gush to a hard-won determination after the crisis when we see Leonard's Rita turn vulpine, or vampire, in her invitation to Asta to join the ménage as a substitute Eyolf (the name Alfred Allmers gave Asta when they grew up together).
This is a finely-shaded moment in Eyre's production, with the power of the Allmers threatening to triumph, only for the supposedly softer of the characters to turn away in quiet victory. These shafts of insight help to lend some truth to a rapid trawl through what, given more time – the play here runs for 80 minutes without an interval, and no major cuts – would be a more plausible evolution of feelings in the wake of an awful death.
That great Ibsen scholar Michael Meyer has suggested that no-one can succeed as Alfred Allmers. Coy starts out with sensitive feet of clay, but stays shallow in the alternations of grief or guilt and passion after the catastrophe. The platitudes that Ibsen sometimes puts into his characters' mouths have to be seen through, or they sound, as here, stilted in the wrong way. And, evocatively as Peter Mumford lights Hatley's convincingly Norwegian sunrise, low cloudscapes on the mountains, sunset and night, the starlit sky as the Allmers resolve on another cause at the drama's end is complicit with a sentimental burst of music in John Leonard's "sound" (for which read "score") to suggest a false happy ever after. Eyre writes a very fine introduction to the play in the programme, but the softness of a conclusion which could be chilling is a disappointment after all we've so rapidly gone through.
MORE IBSEN ON THEARTSDESK
Ghosts, Duchess Theatre (2010). Iain Glen makes directorial debut with a straightforward take starring Lesley Sharp
The Master Builder, Almeida Theatre (2010). Passions blow hot and cold in this uneven production starring Gemma Arterton and Stephen Dillane
Emperor and Galilean, National Theatre (2011). Power and pace help to exhume Ibsen's Romano-Christian epic starring Andrew Scott
Judgement Day, The Print Room (2011). Ibsen's last play has its issues but emerges strongly in new adaptation with Michael Pennington
The Lady From the Sea, Rose Theatre, Kingston (2012). Joely Richardson takes on the Ibsen heroine her mother and sister made their own
A Doll's House, Young Vic (2012). Period setting yields a contemporary tragedy adapted by Simon Stephens and starring Hattie Morahan
Hedda Gabler, Old Vic (2012). Ibsen's heroine draws new depths from the West End's sweetheart Sheridan Smith (pictured)
Love's Comedy, Orange Tree Theatre (2012). Early Ibsen finds the playwright in his awkward adolescence
A Doll's House, Royal Exchange (2013). Ibsen in the round loses none of its power to cast a spell
Public Enemy, Young Vic (2013). The horrors of local politics still chime in Richard Jones's queasy production of an Ibsen masterpiece
Ghosts, Almeida Theatre (2013). Richard Eyre and Lesley Manville shine light into Ibsen's dark thriller of family misfortunes
Peer Gynt, Théâtre National de Nice (2014). Irina Brook's song-and-dance Ibsen entertains, but misses the darker shades
The Wild Duck, Belvoir Sydney (2014). Heartbreaking adaptation mixes naturalism and forensic examination
Little Eyolf, Almeida Theatre (2015). Strong women and one weak man in Ibsen's swift study of isolation and guilt
The Master Builder, Old Vic (2016). Ralph Fiennes stars in Ibsen's unsettling mix of the real and the supernatural
Hedda Gabler, National Theatre (2016). Ivo van Hove makes an uneven Southbank debut