The Life and Times of Fanny Hill, Bristol Old Vic |

reviews, news & interviews
The Life and Times of Fanny Hill, Bristol Old Vic
The Life and Times of Fanny Hill, Bristol Old Vic
Lewd 18th-century classic re-imagined for postmodern times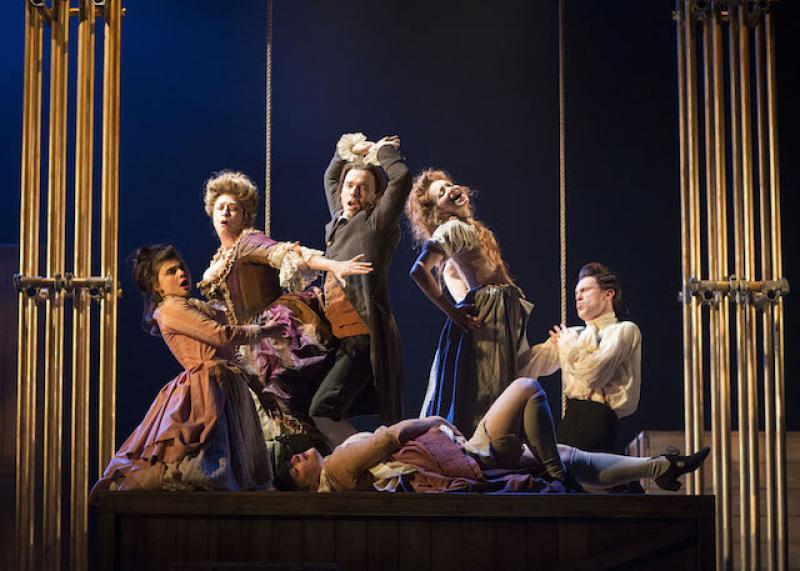 Fanny Hill: the whole company
Turning John Cleland's 18th-century erotic classic Memoirs of a Woman of Pleasure into a convincing stage play is a tall order. The book, a product of male fantasy, is a catalogue of sexual feats of every order, rich in euphemism and with a dash of poetry.
April de Angelis's adaptation – originally written for Red Shift in the early 1990s – is more of an appropriation, with a post-feminist reversal of roles, in which the stories we are told on stage are the product of women's rather than men's imaginations.
A fictional Fanny Hill, middle-aged madam and whore, is commissioned by a publisher with an eye for a bestseller and persuades her fellow sex workers to create the material for a book of lewd reminiscences, allowing their imaginations to run riot in the telling of erotic tales which mix fact and fiction. In a series of plays-within-the-play, and assisted by the creative abilities of her cohorts and the odd client, Fanny Hill invents a life, with a good deal of bawdy humour, some audience-grabbing song and dance and, occasionally, an ear for the postmodern quip.
This is one hell of a knowing show – toying with our expectations, and forever changing frames and sliding from one narrative layer to another. Caroline Quentin (Fanny) as the mistress of make-believe, holds the stage with great force. Were it not for her assured presence, we might completely lose our way through a labyrinth of competing narratives. The cast, a well-balanced and energetic team, ride the rollicking roller-coaster of remembered sex with more enthusiasm than psychological or emotional depth. But this is through no fault of their own - there is something about the evocation of priapic lust and the sheer repetition of sex that barely touches the heart, although, like all good whores, these women dream of true love in the form of the man who will come to their rescue and save them from a life of hard sex work.
Gwynneth Keyworth (Swallow, pictured left) manages to conjure the imagined world of Fanny's youth with the requisite mix of innocence and guile. She is well contrasted with Louisa, whose sexuality is more upfront, and expressed with great physicality by Phoebe Thomas (pictured left). The men come off badly in this woman's re-visioning of Cleland's literary fantasy – and Mawgan Gyles as Spark navigates a number of roles assumed in the invented scenes that run through the show with a straight man's aplomb in the face of a regiment of much-aroused women.
Or are they? For just as Cleland's classic failed to function as truly erotic literature (in comparison, say, with the shadow-play displayed in the best novels of Jun'ichirō Tanizaki), there is something mechanical in the sexual romping that fails to deliver the subtle thrills of the best eroticism. It's difficult to tell how much this is the intention of April de Angelis and director Michael Oakley. But the inventively choreographed bonking isn't much of a turn-on: it's closer to the naughtiness of a Carry On movie or the ribald exaggeration of Robert Crumb's cartoons. Sex is played for laughs, and that's probably OK, as the company acquit themselves very well on that score.
Somewhere along the line, the intricacies of the central device whereby old Fanny Hill creates a fictional version of herself - finding her freedom from the supremacy of male fantasy - produce a jumble that never quite resolves. There are hints at coherence: as when Fanny sinks into a melancholy mood, remembering a dream in which she was just a giant hole, forever being penetrated; and with the show's closing image of Fiddle - well played as the true innocent of the show by Rosalind Steele - who discovers she can pleasure herself without the help of a man.
For all the players' exuberant physical showmanship, the strikingly simple set and exquisite lighting, this is a show in which the few moments of post-coital tristesse don't quite ring true, as if the acrobatics of intellect and the distance afforded by laughter were there to protect the audience from the burning desire and touch of perversity that drive the best of sex and leaves us, after reaching the heights of pleasure, truly satisfied.
There is something about the evocation of priapic lust and the sheer repetition of sex that barely touches the heart
rating
Explore topics
Share this article