The Lady From the Sea, Rose Theatre, Kingston |

reviews, news & interviews
The Lady From the Sea, Rose Theatre, Kingston
The Lady From the Sea, Rose Theatre, Kingston
Joely Richardson takes on the Ibsen heroine her mother and sister made their own
Beached mermaid: Joely Richardson (Ellida Wangel) dreams of strangers and the sea
"The lady from the sea" is what a remote Norwegian fjord town calls the young second wife of its good doctor, an elusive woman who seems to walk in the footsteps of the ghost of her well-loved predecessor.
Joely Richardson is doing much the same by taking on an Ibsen role previously frequented by her mother and sister, Vanessa Redgrave and Natasha Richardson, and directed by her dad, Tony Richardson - and it's hard to say whether it's her comparative slightness of gifts or Stephen Unwin's domesticated direction that make so little of an enticingly strange play.
There are pre-echoes of Maurice Maeterlinck's unknowable water-nymph Melisande (who would make her debut five years later) in Ellida Wangel, captured like a mermaid on land in marriage to nice old Dr Wangel, and of Hedda Gabler too, Ibsen's next heroine, a much more self-aware and fatally hobbled wife.
We've lived on crumbling emotional cliffs for two hours and then, snap, all's well again
Feminism, addictive fantasy, the forgiveness of murder - huge themes jostle about in the play, so why does Unwin make so herbaceous and pretty a little cottage garden (Simon Higlett designs gorgeously), such sweetness in the demeanour of the characters played by his actors? Ibsen may be renowned for his sombreness but it's only at the very end that this play tries to turn its threatening tragedy into a comedy. We've lived on crumbling emotional cliffs for two hours, with Ellida revealing her undying infatuation with a homicidal sailor she barely knows, and then, snap, like a giddy Mozart/da Ponte opera, all's well again.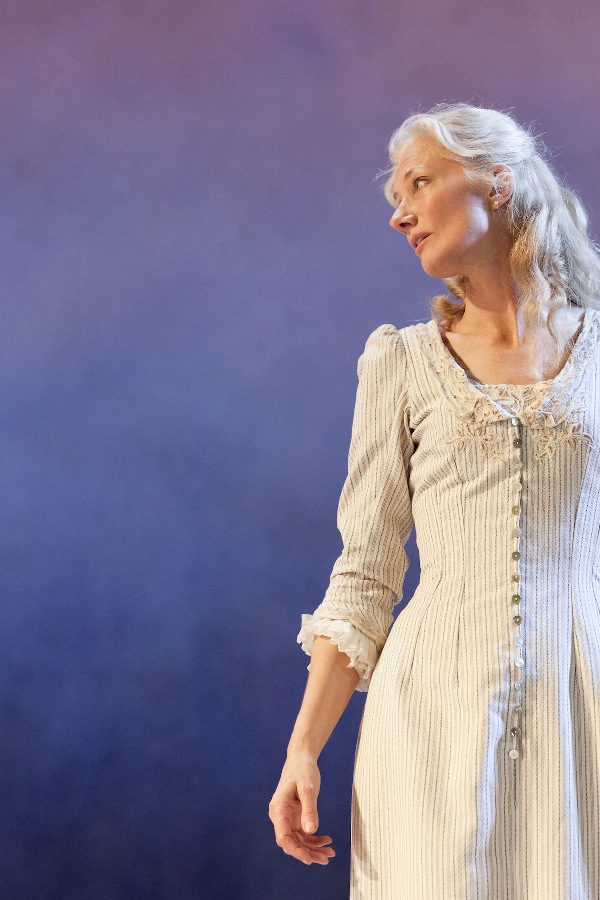 Unwin seems to have resolved to take the light path to this challengingly counter-intuitive ending, jettisoning the 19th-century shadows - incomprehensible today, did he think? His new English version is naturalistic and clear, and the audience laughs heartily quite a lot. But he also throws out the potential magic thereby.
Joely Richardson has echoes in her voice of the throaty Redgrave allure, but unlike the great, shape-shifting Vanessa, her younger daughter comes across as a woman whose essence is not fundamentally dislocated. She shows no particular allergy to her stepdaughters, no sea-nymph's wildness of heart or anomie under her pretty blonde hair and pale blue dress.
And the stranger whose life is apparently as cursed as the Flying Dutchman's is played by handsome Gudmundur Thorvaldsson as the man from the office, smart-suited, with hat and watch-chain. What's that about? In the playtext he is described as an unkempt vagrant. Well, perhaps you can do without the bonnet and big red beard that Ibsen allocated him, but the Rose's Stranger is no vagrant, no figment of imagination, no mythical ghost - he's positively clerical.
More fundamentally disappointing is the two-dimensional affability given to Ellida's husband, Dr Wangel, by Malcolm Storry, whose kind, beaky-nosed face and rumpled air of distraction never alter from a state of stoic tolerance. He never halts, starts, never betrays shock or surprise, but takes every single bolt of fate thrown at him with the same steady, nice vocal beat, even as the sea, and its creature, this elusive wife, gnaws away at the footings of his world. (Storry and Richardson pictured above) I've noticed before in a previous Unwin production the deadness of hands that his actors exhibit - Storry holds them relaxed unless he has a specific gesture, and never does what men really do in extremis, stuff them in their pockets, flex them in spasms of emotion. Credibility is not just about the voice, it's about the whole body playing the inner dynamics of the emotional changes. And the hands are bad liars.
Much more believable characters are made of both the doctor's daughters by their performers, kind, tolerant Bolette (Madeleine Worrall) and flip young Hilde (Alexandra Moen), one concealing, the other revealing their desperate yearning to get away, to discover something for themselves, rather than become tethered heifers, like local women.
Sam Crane makes Lyngstrand more of an amusing young hypochondriac than a young man dying of lung disease, an engagingly nuanced performance. I also enjoyed the stuttering painter-cum-hairdresser-cum-dancing teacher-cum brass band society president, Ballested, emitting both comic charm and also a whiff of village fatalism in Robert Goodale's performance. (The two pictured left)
Yet one would like to feel - especially, let's say, when Lyngstrand expounds his theory of good wifedom to a disbelieving Bolette - that the audience was getting that this was an argument about injustice and misogyny that deeply wracked Ibsen and his time. It's all dealt with here with just too knowing a wink at how times have changed. Try that in Pakistan today? Or Utah? There's a dimension missing to Unwin's production, for me. It misses some lustrous ambiguity, some fishy mystery - a folktale doesn't have to be plausible to be made unforgettable (as Richardson's mama and papa knew).
MORE IBSEN ON THEARTSDESK
Ghosts, Duchess Theatre (2010). Iain Glen makes directorial debut with a straightforward take starring Lesley Sharp
The Master Builder, Almeida Theatre (2010). Passions blow hot and cold in this uneven production starring Gemma Arterton and Stephen Dillane
Emperor and Galilean, National Theatre (2011). Power and pace help to exhume Ibsen's Romano-Christian epic starring Andrew Scott
Judgement Day, The Print Room (2011). Ibsen's last play has its issues but emerges strongly in new adaptation with Michael Pennington
A Doll's House, Young Vic (2012). Period setting yields a contemporary tragedy adapted by Simon Stephens and starring Hattie Morahan
Hedda Gabler, Old Vic (2012). Ibsen's heroine draws new depths from the West End's sweetheart Sheridan Smith (pictured)
Love's Comedy, Orange Tree Theatre (2012). Early Ibsen finds the playwright in his awkward adolescence
A Doll's House, Royal Exchange (2013). Ibsen in the round loses none of its power to cast a spell
Public Enemy, Young Vic (2013). The horrors of local politics still chime in Richard Jones's queasy production of an Ibsen masterpiece
Ghosts, Almeida Theatre (2013). Richard Eyre and Lesley Manville shine light into Ibsen's dark thriller of family misfortunes
Peer Gynt, Théâtre National de Nice (2014). Irina Brook's song-and-dance Ibsen entertains, but misses the darker shades
The Wild Duck, Belvoir Sydney (2014). Heartbreaking adaptation mixes naturalism and forensic examination
Little Eyolf, Almeida Theatre (2015). Strong women and one weak man in Ibsen's swift study of isolation and guilt
The Master Builder, Old Vic (2016). Ralph Fiennes stars in Ibsen's unsettling mix of the real and the supernatural
Hedda Gabler, National Theatre (2016). Ivo van Hove makes an uneven Southbank debut
Unlike the great, shape-shifting Vanessa, her younger daughter comes across as a woman whose essence is not fundamentally dislocated
rating
Share this article