The Killing of Sister George, Arts Theatre |

reviews, news & interviews
The Killing of Sister George, Arts Theatre
The Killing of Sister George, Arts Theatre
Flat 1960s lesbian drama sinks under the weight of catastrophic miscasting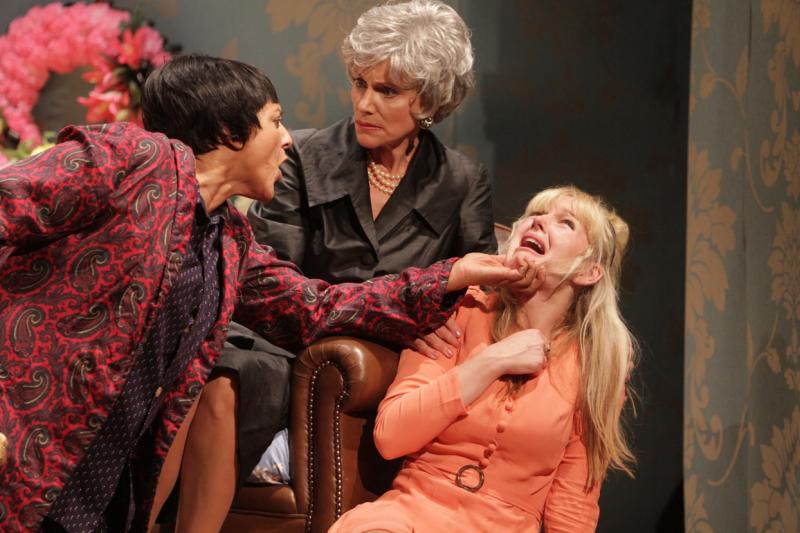 June/George (Meera Syal) goes for her 'Childie' (Elizabeth Cadwallader) as BBC executive Mrs Croft (Belinda Lang) looks on
The 1968 film at least has Beryl Reid, who could even have lit up the kind of third-tier Carry On affair Frank Marcus's flat script often resembles, as well as documentary-value scenes of the famous lesbian Gateways club in Chelsea. Without anything of its Sixties weirdness and with every sign of catastrophic casting, director Iqbal Khan's attempt to drag the drama out of its swamp is doomed. Worst of all, the biggest charisma bypass of all is Meera Syal's in the leading role.
How odd that a comedienne should lack an inch of Reid's consummate timing. Neither sacred nor monstrous, stumbling over her lines and conveying a stereotypical butch dyke in gait alone, Syal gives us no sense of why her character's radio alter ego, the homely nurse who's due to be bumped off to up BBC ratings, might be the nation's charismatic sweetheart, or why indeed one might feel sorry for, in her own words, the silly old bitch who plays her. Reid raised the nonsense about June/George's bopping of two nuns to the level of Shakespearean comedy; here it comes across revealed as the ungainly piece of writing it really is.
Syal is also too young, as – more seriously – is the (I presume) early-twenties Elizabeth Cadwallader as her girlfriend of seven years: the reason "Childie" Alice is so infantile and so attached to her dolls turns out to be that she's a 34-year-old who was forced to give away an illegitimate baby 16 years earlier. Quite apart from the fact that Cadwallader swallows the ends of her lines, and the script seems to call for a Scot rather than a northerner, you don't believe in her for a moment. Can it be right that she's a squealing opportunist rather than an Infant Phenomenon desperate to be loved?
Yet in any case we don't stop to ask whether Marcus was exploiting a stereotype of an unhappy butch-femme relationship; this is just a bad play, with a quite awful role in the shape of a fortune-telling French neighbour, Madam Xenia. The only option available to Helen Lederer (pictured right) is to play her loud and daft; there's nothing else to be done. Belinda Lang comes off best as the clipped BBC executive all too ready to be Alice's only hope. but even she conveys not an ounce of Coral Browne's subterranean nastiness in the film. Maybe she never intended to, opting instead for a surface straighforwardness in Mrs. Mercy Croft's received pronunciation which she sustains brilliantly, but it does make the character less compelling.
The set by Ciaran Bagnall dwarfs the flat with a giant homage to Broadcasting House, which is fine, but the sound design is not, bringing up ridiculously baleful music as "George" and "Childie" first go into their sado-masochistic role play. Khan's direction doesn't seem to help with the fluidity of the scene changes. Add to that the worst proofed programme I've read in a long time and a stiflingly overheated auditorium, and it can't get much worse – though it did, for me, since I slipped and fell in a pool of vomit on my way home. Yes, it really happened. Which, to several onlookers, seemed to be funnier than anything Saturday night's audience had discovered in The Killing of Sister George.
Neither sacred nor monstrous, stumbling over her lines and conveying a stereotypical butch dyke in gait alone, Meera Syal gives us no sense of the central character
rating
Share this article