Hamlet, Barbican |

reviews, news & interviews
Hamlet, Barbican
Hamlet, Barbican
Visuals threaten to swamp Shakespeare - and, yes, Sherlock
Wednesday, 26 August 2015
A great Dane (or is he?): Benedict Cumberbatch as Hamlet
The set turns out to be the thing now that Benedict Cumberbatch's star turn in Hamlet has finally arrived, trailing in its wake a level of expectation, hysteria and scrutiny that might well have made many a lesser actor head for the hills.
None of that here: Cumberbatch is on view from the opening moment – indeed, the play's first line, "Who's there?", has been reassigned to the title character so as to meet the audience's febrile anticipation head on.
And yet, for much of a notably short evening (just over three hours due to some heavy cuts), you can scarcely locate the actors amid the overarching grandeur of a design from the protean Es Devlin that constitutes the last word in epic. In visual terms Lyndsey Turner's production stands apart, but as a commentary on arguably the most famous play in the canon, it's surprisingly ho-hum.
The vague sense of deflation owes little to Turner's immensely capable leading man, whose articulation is as expert as a level of engagement with the text that at times put me in mind of Daniel Day-Lewis's approach to this same role a quarter-century ago, but without the level of danger – psychic cost incurred, shall we say, to the performer – that led Day-Lewis famously to depart that production, since which time he's not stepped back on any stage. Cumberbatch is quick-witted, sympathetic, and intensely physically nimble: you didn't see Rory Kinnear or Jude Law vaulting on and off tables in a single leap with an ease that should impress any casting directors in the house who may be looking for a new action movie he-man.
What the production doesn't have is much of a point of view on a play that ought at least at some point to tear at your heart – and briefly looks as if it might do precisely that as the haunting strains of Nat King Cole singing "Nature Boy" fill the auditorium at the start. But once the front-of-stage tableau opens up to reveal the vast reaches of Devlin's nearly photo-realist set, an Elsinore marked out by copious portraiture, multiple doorways. and enough staff to make one wonder where Hamlet goes when he wants to be alone, the evening gives itself over to a sequence of effects – the pre-interval wind storm is especially dramatic – that come at the expense of the play itself. Its more-than-capable Hamlet notwithstanding, there's a hole where the anguished, questing heart of Hamlet ought to be.
For sizable swathes of the first half, the actors are so dwarfed by their surroundings that we seem to be watching a manse full of scurrying Lilliputians, which may explain why so many of the supporting performances (Sian Brooke's outstandingly disturbed and disturbing Ophelia, pictured above, the notable exception) fail to land. Sporting glasses and a backpack, Leo Bill's geeky Horatio survives the textual cuts better than most, but when so wonderful an actor as Jim Norton, playing Polonius, scarcely registers, you know there's something if not rotten then at least awry with Turner's Denmark.
This shortfall is particularly damaging as regards Claudius and Gertrude, who are separately and together so pallidly served up by Ciarán Hinds and Anastasia Hille (pictured below) – terrific performers both, which adds to the disappointment – that the play's stakes cease to make sense. I'm not sure I've ever seen the climactic bedroom face-off between Hamlet and the mother he at once adores and reviles count for so little, even if played out against the mounting, presumably post-apocalyptic landfill that by that point has taken over the set. For that, credit a post-interval visual coup that seems to have taken a leaf from Ian MacNeil's career-defining design for An Inspector Calls several decades ago: the psychic debris of this blighted landscape come home pictorially to roost.
And what of the raison d'être of a venture that famously sold out within minutes of going on sale a year ago, since when every utterance from within the modern-day Elsinore that is the Barbican has been reported, or at least put under the social media microscope, with a detailed intensity that must be fairly unnerving to those involved? (I mean, as if Cumberbatch has to defend himself against nay-sayers for asking audiences to behave! In what way is his quite sensible request for commonly observed theatrical etiquette at all controversial?) It's the singular gift of the role of Hamlet that actors can remake it in their own image, which may be one reason why there are those who have a go at it without ever setting foot near Shakespeare again – after all, how many other stabs at the Bard has Keanu Reeves taken since essaying Hamlet in Canada in 1995?
For the record, Cumberbatch appears fully at home in the part, never sawing the air indiscriminately in the Jude Law manner and making sure to pitch the performance vocally to all levels of the house – a strategy that Hille, among others, might be advised to try. I'm not sure some of the play-acting actually works, our hero at one point strutting about like a toy soldier because, well, why not? And those who know this actor chiefly from his emotionally recessive Alan Turing in The Imitation Game, not to mention the sleuthing Sherlock that lifted him into the stratosphere, will welcome his open, expansive stage presence – here amplified by Turner's decision to present his soliloquies faintly cheesily as spotlit turns, the rest of the cast frozen in place while Cumberbatch struts his rhetorical stuff.
Was I moved by his performance or by the production as a whole? No, alas, and certainly not by comparison with, say, Simon Russell Beale, Michael Sheen, or Day-Lewis. But I dare say those travellers who have traversed oceans to see Cumberbatch in three dimensions will feel as if their assiduousness has been rewarded. And if they want to engage with the ceaselessly mysterious and malleable text that is Hamlet, not to worry: the play – like, let us hope, Cumberbatch revisiting his original habitat that is the theatre – will be back.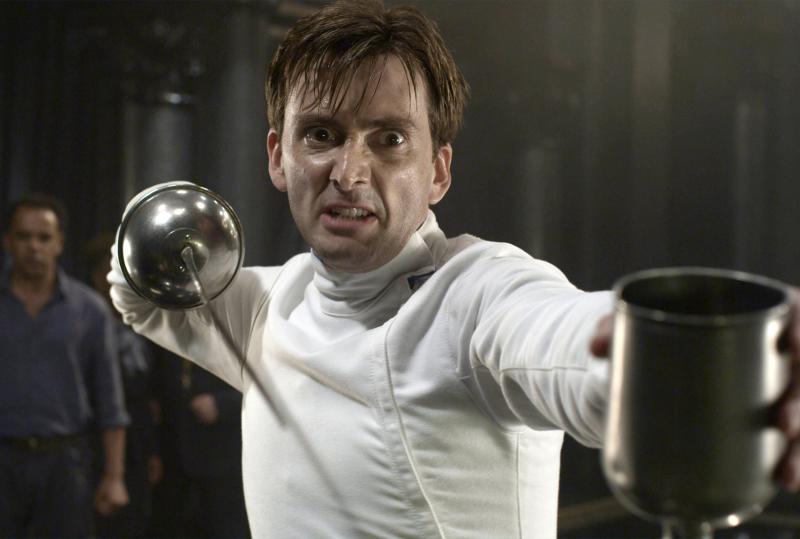 GREAT DANES
Alan Mahon, Tobacco Factory, Bristol. Hamlet as wayward teen spirit
Andrius Mamontovas, Globe to Globe. Lithuanian take on the Danish play puts on a frantic disposition
David Tennant, RSC/BBC. Star looks for life in an infinite space beyond the Tardis
Lars Eidinger, Schaubühne Berlin. Acrobatic Hamlet, outshone by the earth and the rain
Maxine Peake, Royal Exchange, Manchester. An underwhelming production, but Peake is gripping as the young Prince
Michael Sheen, Young Vic. Sheen is riveting as the crazed Danish Prince in Ian Rickson's terrifying psychiatric-hospital staging
Rory Kinnear, National Theatre. Kinnear isn't a romantic Prince, but an unsettled, battling one in Nicholas Hytner's staging which is modern, militaristic and unfussy
Andrew Scott, Almeida Theatre Predictably unpredictable performance subject to Robert Icke's slow-burn clarity
At one point, our hero struts about like a toy soldier because, well, why not?
rating
Share this article