Good People, Hampstead Theatre |

reviews, news & interviews
Good People, Hampstead Theatre
Good People, Hampstead Theatre
Imelda Staunton stars in American import about class which is both funny and moving
Stuff your job: Imelda Staunton and Matthew Barker in 'Good People'
This venue continues its promotion of American drama with another prize-winning play from across the pond. Hot on the heels of Gina Gionfriddo's Rapture, Blister, Burn, with its casting of Emila Fox, comes this play by David Lindsay-Abaire, who won the 2007 Pulitzer Prize for his critically acclaimed Rabbit Hole, which also earned several Tony Award nominations and a film adaptation with Nicole Kidman.
For
Good People
, Hampstead has tempted national treasure and Olivier Award-winning actress Imelda Staunton to play the lead.
This is that rare thing — an American play about classHer character is the vinegar-tongued Margie Walsh, who lives in Southie, a working-class neighbourhood in south Boston. She is a single mother with a disabled daughter. When she is fired from her job as a supermarket cashier, she decides to seek out an old flame, Mike (who is now a successful doctor and may or may not be the father of her daughter) in the hope of getting another job. Egged on by her friends Dottie and Jean, she decides to gatecrash a party he is holding at his posh house — but things turn out unexpectedly
Following a well-trodden theme, this is a play about the American Dream, the myth that says that anyone and everyone can be successful. Both Margie and Mike were both born in Southie, but while he got out, she is still stuck in poverty. She's not a bad person, or to blame for her circumstances, but she does have precious few skills in a constricted jobs market. But when she meets Mike again in his plush office, and hears about his charitable work, she becomes convinced that he is Good People, a paragon.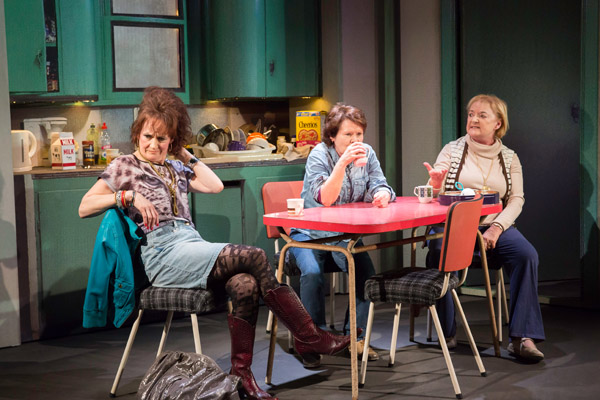 This is also that rare thing: an American play about class. When Margie goes to Mike's house — and meets his beautiful young wife Kate — the gulf between middle-class respectability and working-class desperation is clear to see. Lindsay-Abaire writes in a crisp vernacular mildly peppered with expletives, and the story is neatly constructed, full of Act Two twists and turns. Characters which seemed unsympathetic in the first half transform themselves into aching human beings.
You might find yourself taking sides, as this is a moral play which stages a strong debate about the right way to behave, about social responsibility and about parental duty. If Margie is a bitter, charmless individual, she is also an unlucky one. Or is she? Has Mike's success been due to good luck, or to his own hard work? Do some human beings deserve to fail?
But despite the serious issues, Good People is a comedy and the social awkwardness on stage provokes some moments of explosive laughter. With its strongly autobiographical element, Lindsay-Abaire's story is both a love letter to the hard-working folk of Southie and a good draught of south Boston humour, dark, desperate and honest. If not everything about the inhabitants of Southie is appealing (they can be racist, sexist and every other ist), this play gives them a very good (perhaps too good?) image.
Jonathan Kent's emotionally taut production is very entertaining, especially in Act Two, and Staunton (pictured above, with Lorraine Ashbourne as Jean and June Watson as Dottie) is feisty, with touches of iron and moments of softness. With Lloyd Owen as the smarmy Mike, Angel Coulby as the big-hearted Kate and Matthew Barker as Margie's boss, this turns out to be a quietly moving show. If at first I doubted I could like this play, I ended up by loving it.
If at first I doubted I could like this play, I ended up by loving it
rating
Explore topics
Share this article