Crawling in the Dark: youth theatre at the Almeida |

reviews, news & interviews
Crawling in the Dark: youth theatre at the Almeida
Crawling in the Dark: youth theatre at the Almeida
The kids are all right: the north-London theatre's Young Friends take centre stage
In a play about drugs for a secondary-school audience there is always the potential for cringing. My own experience of theatre for a young audience involved PSHE lessons, overtly moral drama from hammy actors and dated street names for drugs. It was The Magic Roundabout, only more awkward and less entertaining. The Almeida Theatre and its solid Young Friends scheme is working hard to give youth theatre a better image through Crawling in the Dark, a new play which deals with young people and, yes, drugs, but without an embarrassing reference in sight.
Natalie Mitchell has managed the Almeida's Young Friends scheme for the past two years. While her background is in theatre education, Mitchell's award-winning writing has been providing her with worthy side projects since her debut, Can't Stand Me Now, was presented as part of the Royal Court Young Writer's Festival in 2007. Crawling in the Dark, one of the two plays commissioned for the Young Friends, provided the opportunity to combine Mitchell's writing and education work.
This "spin-off" production is just one in the varied calendar of events which comprises Almeida Projects, the theatre's community and learning programme. Founded in 2008, it runs workshops and performances throughout the year to engage local youth with the stage. Young Friends is key to its success. The scheme really is remarkable: anybody aged between 15 and 25 in full-time education can register for free. "There's no limit", Mitchell explains. "You pay your £5 membership when you do your first project, and you can do every one we run or just one." The projects range from the year-long Lab Project - the other commissioned play which is inspired by the entirety of the Almeida's annual programme and uses a core Young Friends cast of 20 - to day-long masterclasses and term-long productions. The Projects scheme is funded through a range of sponsors, Lottery money and the Arts Council.
Mitchell (pictured right) works particularly closely with a core group of Young Friends known as the Creative Board. "Essentially a youth advisory board" of 11 volunteers, it advises on programming, works with the development team to put in funding applications and organises events. "They're amazing, really," she says.
The broad age range, close links with the theatre's programme and professional participation all ensure that it's definitely not stage school. Instead, "It's a bridge between being in a youth theatre and being a professional. We work really hard to support the Young Friends' professional skills." In return, Mitchell explains, "We have really high expectations in regards to a level of commitment." It appears Young Friends are happy to commit. "This is something that they're really passionate about and they put their heart and soul into it."
Hard work and love of theatre reflects Mitchell's own early immersion. Growing up in Kent, her interest in the stage was firm, if inexplicable. "There was never anyone in my family who was really keen on getting into the theatre," she says. "It's not like I had knowledge of what the theatre was, I just always really liked it." Studying theatre education made Mitchell realise her "incredible ignorance of what was out there". It was Simon Stephens's play Country Music, with its references to Gravesend, which sparked an interest in writing her own plays.
"Reading something that referenced a place that I knew I just found really exciting. And I thought, OK, I'm going to write something set where I grew up." The result was Can't Stand Me Now, about Chatham - "because I'd never seen a play that was set in Chatham".
Something that really came out of the workshop with the Young Friends were the issues around young people caring for their parents
Crawling in the Dark emerged from an organic, if careful, process. Chosen as a "spin-off" from David Eldridge's The Knot of the Heart and its narrative about a middle-class young woman addicted to heroin, Crawling in the Dark takes the theme of substance abuse and presents it more appropriately to a young audience. Eldridge's play is the starting point and yet Crawling in the Dark "is a completely new, authored play", says Mitchell. "I think unless you knew the starting point was The Knot of the Heart you might not put them together."
Mitchell built on the idea through workshops with Young Friends and the nearby City Road Drugs Crisis Centre, with which she has also worked during her time at the theatre. These sessions proved as essential to the plot as the initial thematic pointer, if not more. "The key thing for me was about making younger characters the centre of the piece. Something that really came out of the workshop with the Young Friends were the issues around young people caring for their parents and taking that responsibility. I just thought, dramatically, that had more potential than a play about a teenager who does x, y and z." (Pictured above, director Michael Buffong in rehearsal.)
After an intensive two weeks of writing, extracts from the first script were thrown to the judgment of year nine pupils from a local secondary "who didn't have the sensitivities that a director may have". From this, Mitchell gained reassurance that she really was reflecting her audience in the play and that the language was accurate (although she notably didn't use Islington slang, something which "ages" a script).
Like The Knot of the Heart, Crawling in the Dark is set on the Almeida's north-London doorstep in Islington, although the geographical references are subtle. In reflecting the local knowledge of her audience, however, Mitchell is nodding to the impact Country Music had on her: "I wanted to put the world that I know on stage and hope that someone else is inspired the way that I was inspired."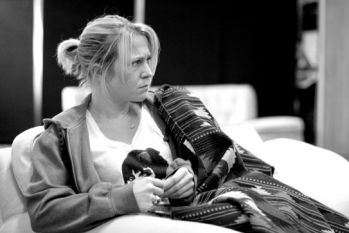 Crawling in the Dark's plot revolves around teenage siblings who care for their addict mother. A cast of four professional actors play Nathan, 13, and Amber, 16, their friend Freddie and their mother, over the course of a year. Taken out of a school environment and the social hierarchy that accompanies it, Nathan and Amber are "very loyal, independent but struggling", says Mitchell. "You never see them reacting with other people because they've had to become very self-reliant, reliant on each other and very insular." Rather than fitting into any teen social group, the siblings are "very alone, because of their situation". The mother, meanwhile, has been sympathetically written - "She wants so much to be a good mother but just can't do it right" - for an audience of any age. (Pictured above, Kellie Bright in rehearsal.)
Although created with a young audience in mind, it is easy to see how the play would work for a broader audience. Mitchell, inspired by a play for adults, may have made her play more relevant to teenagers, but she certainly doesn't underestimate them. "I didn't sit down and think, I'm writing a play for young people. I suspect they're much more sophisticated consumers than we give them credit for." 
It's a mentality she has had to instil in the Young Friends Touring Company, a group of Young Friends who devise and perform a 20-minute curtain-raiser to Crawling in the Dark which will also be taken to local secondary schools. So far, 12 performances have been booked in. The company started devising the piece, also inspired by Eldridge, before Mitchell wrote her script under the guidance of a director, movement director and professional actor. The awkward proximity in age between the cast and audience, Mitchell says, is all part of the project. "They're about to perform to a group of 11-year-olds: that's intimidating. Some of them may have come from another school in the area, some may be returning to a school environment." (Pictured above, Tahirah Sharif in rehearsal.)
But this co-mingling is as much of a part of Almeida Projects as learning the skills of production, scriptwriting or acting. Young Friends' "fully inclusive" attitude sees an "incredibly, really wide mix" of students from Islington, Camden, Hackney, Haringey and Tower Hamlets. "You don't have to have come from a particular background, you don't have to have had particular experiences. It's an opportunity for anyone. If you make that commitment and you put that work in, then you can do it."
Explore topics
Share this article