Blithe Spirit, Apollo Theatre |

reviews, news & interviews
Blithe Spirit, Apollo Theatre
Blithe Spirit, Apollo Theatre
Spiritless revival of Noël Coward's ghostly comedy
Blithe Spirit was born in the shadow of the Blitz: Noël Coward, whose London home had just been bombed, wrote it in Portmeirion, Wales, in 1941 over a brisk six days. But the evil Hun never once puts in an appearance (over breakfast, the characters briefly wonder whether there's anything of note in the morning's Times; of course, there is not). Another, more complicated war is being waged here: the battle of the sexes.
Charles Condomine is a Home Counties writer who invites the flamboyant local psychic Madame Arcati to dinner, hoping her antics will amuse his smug guests and supply a few jokes for his forthcoming novel. However, Madame A turns out to be no fraud. She succeeds in summoning the spectre of his first wife, Elvira, to the great consternation and jealousy of her successor. Thus Charles finds himself in the eye of an oestrogen maelstrom as the two women duel for his affections.
Coward's effervescent comedy plumbs deep unease. Not only is Charles surrounded on all sides by threatening women, the main couple's upper-middle-class complacency also comes under siege from the lower orders, in the shape of the deliciously vulgar medium as well as a bungling maid. Moreover, as in Michael Powell and Emeric Pressburger's film A Matter of Life and Death, the supernatural romantic fantasy is a way of navigating and sublimating the clear and present danger of the war.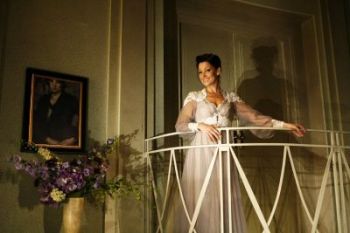 Disappointingly, all these resonances fall flat in the Apollo production. As Elvira, Charles's quicksilver first love, Ruthie Henshall (pictured right) wafts around in an oyster-coloured negligee and a constant, cheesy, rather scary toothpaste-ad rictus. She's upstaged by Hermione Norris who, pencil-slim in a series of vividly coloured, to-die-for outfits, is a few shades too elegant in the role of Charles's uptight second wife.
Low-key projection marred both performances, especially in the early scenes, blurring what ought by rights to be a world-class catfight, and Robert Bathurst plays Charles as a shallow serial philanderer whom it's difficult to care about.
Watch a clip from David Lean's Blithe Spirit

As Madame Arcati, Alison Steadman is tweedily reminiscent of Margaret Rutherford, who originated this fruity plum role on stage and in David Lean's 1945 screen version (see the clip above). Steadman erupts onto the premises in a leather flying helmet and goggles, having travelled there by pushbike, before limbering up with peculiar calisthenics and vocal exercises and a volley of histrionic double entendres about upset vibrations, elemental emanations, ectoplasmic manifestations and moaning in the passages. It's a broad performance, not a character to believe in.

Thea Sharrock previously directed a production of Blithe Spirit in 2004, but her current revival feels lacklustre, static and altogether too well mannered for its own good. The final scene, though, still contains a genuine frisson.
Explore topics
Share this article