Albion, Bush Theatre |

reviews, news & interviews
Albion, Bush Theatre
Albion, Bush Theatre
New play about English nationalism is timely, but undermined by its musical form
Saturday, 20 September 2014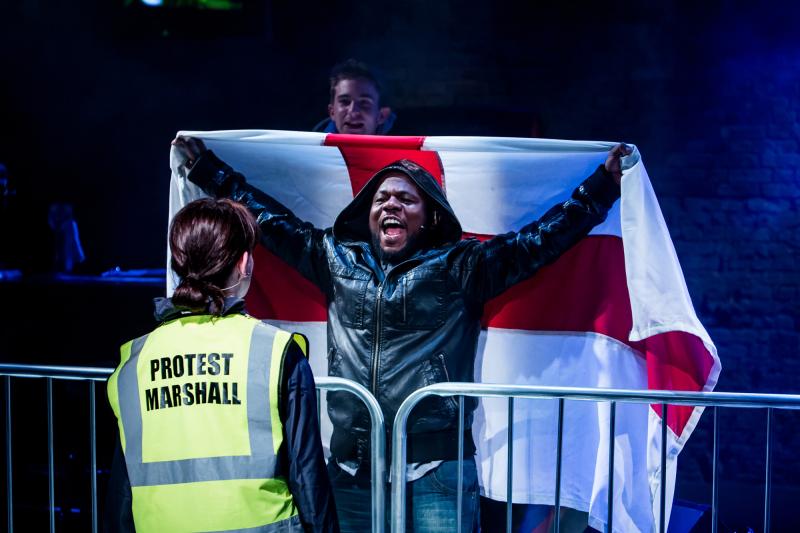 Flagging show: Delroy Atkinson in 'Albion'
Opening on the day after the Scottish Referendum, Chris Thompson's new play has a timely, even incendiary, title. It also recalls the sad little song 'Albion' by Pete Doherty and Babyshambles. This time, however, The Albion is the name of an East End pub which is the home of the English Protection Army, a far-right outfit that is both stupid and more than a touch sinister.
If these groups weren't currently on the rise, cashing in on public disquiet about militant Islamism, it would be much easier to dismiss their Neanderthal posturing.
But this lot are in trouble. The EPA's leader, Paul, wants to shed the image of a hooligan outfit, and reinvent himself as a reasonable representative of the white working class, the social group most resentful about recent social changes. His younger brother Jayson is also a party member, but more comfortable pursuing his gay love life and holding karaoke nights in his brother's pub. Contrary to expectations, his lover is an Asian man, Ash.
Watching karaoke all night is life-sapping
Meanwhile, Christine — a social worker who is sacked after a scandal involving the grooming of young white girls by older Asian men — offers to help Paul to re-make his image. At the same time Poppy — Paul and Jayson's sister — is killed while serving as a soldier in the British army. But while Jayson and Kyle, a black member of this far-right party, plot to take over the group, can Paul keep control?
Within a few minutes of the start of the show, it is clear not that the EPA has been hijacked by the smart-suited middle classes, but that the story has been turned into a karaoke musical. Almost every scene is structured around a classic song, starting with 'Hey Ya' and ending with 'Laserlight". On the way, we can sit back and enjoy 'If I Could Turn Back Time', 'I Will Survive' and 'Girls Just Wanna Have Fun'. Sadly, the net effect is that the story takes ages to tell. There's too much singing and not enough action.
So despite its timeliness, Albion has a clumsy plot, is full of clichés and the writing feels mechanical, derivative and repetitive. Anders Lustgarten's A Day at the Racists and Roy Williams's Sing Yer Heart Out for the Lads both cover the same ground. So although some scenes have an undeniable power – and at its best the singing is thrilling – the storytelling is awkward and the material unoriginal. Very soon, boredom sets in. I love karaoke, but watching it all night is life-sapping.
Alright, there are some fun moments: I liked the YouTube Slam scene. But the show can't make up its mind whether it's is going to be a musical, a state-of-the-nation drama or a comedy. So the serious issues are drowned out in the raucous fun and the politics of the play are turned into light entertainment. A play that deals with urgent problems quickly morphs into a crowd-pleasing singalong. It's incoherent, and disappointing. And a bore.
Ria Parry directs this as an entertaining evening with the help of a solid mic'd-up cast. Newcomer Tony Clay (pictured above right) gives Jayson a fierce energy and Steve John Shepherd — Michael Moon in EastEnders — plays Paul with commitment; Natalie Casey's Christine, Delroy Atkinson's Kyle and Dharmesh Patel's Ash are all attractive performances. Albion might make you hum along, but I doubt if it can make you think.
A play that deals with urgent problems quickly morphs into a crowd-pleasing singalong
rating
Explore topics
Share this article