Creation |

reviews, news & interviews
Creation
Creation
This bicentennial Darwin biopic looks set for swift extinction
Tuesday, 22 September 2009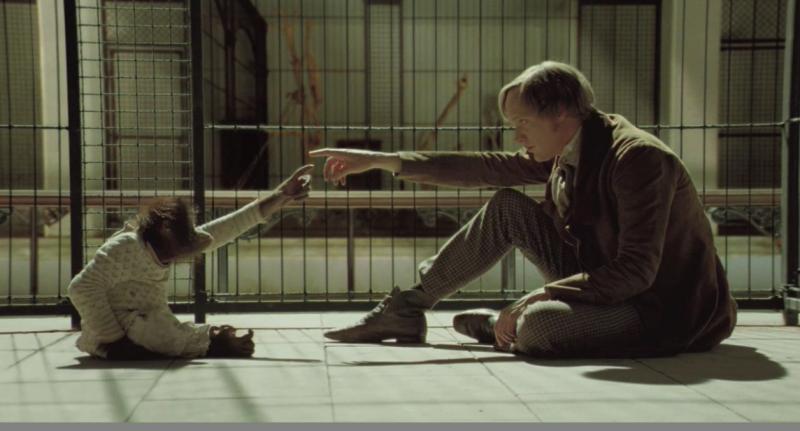 Paul Bettany and friend: Charles Darwin searches for the origin of the species in 'Creation'
The exhilaration of scientific enquiry turns out to be dead on arrival when it comes to Creation, the Jon Amiel film about Charles Darwin that is simultaneously brilliantly timed and also a snore. Survival of the fittest in this context takes on a new meaning that will be immediately clear to those who make it all the way through.
The movie would be welcome even if 2009 were not both the bicentenary of Darwin's birth and the 150th anniversary of the publication of On the Origin of Species, his pioneering tome. A staggering 42 per cent of Americans, apparently, don't believe in evolution, while the scientific community in that same country is still reeling from the setbacks placed in its way by eight years of George W. Bush, whose own rabid adherence to faith here finds a foreshadowing of sorts in Emma Darwin, Charles's devout wife.
But it takes a particular kind of wit – think Tom Stoppard in his glorious play, Arcadia – to animate a life of the mind that, in Creation, merely amounts to lots of furrowed brows and serious sideburns, beginning with Paul Bettany in the leading role. As if aware that science is anathema to a mainstream audience, John Collee's script instead focuses on the domestic grief surrounding the death, age 10, of the Darwins' daughter, Annie (Martha West, daughter of The Wire actor, Dominic, here announcing herself as an English version of Abigail Breslin). While she lives on in ghostly form to haunt a father seen to be gradually receding from society, Annie's passing pushes her mother ever nearer to God. That Emma nonetheless remains supportive of her husband is evident when he finally produces On the Origin of Species, a manuscript that so excites her that she refuses to come to bed.
Faith, we soon discover, represents the Darwins' abiding divide in a story that devolves into a trite psychodrama populated around the fringes by Toby Jones, Benedict Cumberbatch, and Jeremy Northam (runner-up in the sideburns sweepstakes), all of whom look as if rather more effort had gone into their costuming than enriching their parts.
Luckily, a curious and sympathetic public can access much the same questing intelligence via Darwin-related exhibits on view at both the Fitzwilliam in Cambridge and London's Natural History Museum, while the Old Vic's revival of the theatrical chestnut Inherit the Wind frames a comparable debate in enduringly juicy terms.
The film's self-evident appeal is the star attraction of real-life partners Bettany and Connelly, who met while filming A Beautiful Mind, the 2002 Oscar winner in which they shared not a single scene. A surpassingly natural actress, Connelly here seems oddly burdened by having to maintain an English accent, while Bettany's innate charm – and he has lots of it – can't sustain our interest across numerous shots of him staring moodily at a world which he finds both extraordinary and painful, in turn.
One extended, rather more intimate sequence may satisfy those still yearning for the glory days (or not) of the then-married Tom Cruise and Nicole Kidman in Eyes Wide Shut. Whatever Creation may or may not accomplish when it comes to enlightening a filmgoer about the mysteries of existence, on this evidence the Bettany-Connelly marriage is looking very good, indeed.

Creation opens nationwide on Friday.
Explore topics
Share this article