The Turn of the Screw, Glyndebourne Festival Opera |

reviews, news & interviews
The Turn of the Screw, Glyndebourne Festival Opera
The Turn of the Screw, Glyndebourne Festival Opera
A thrilling, chilling production of Britten's ambiguous ghost story about haunted children
Glyndebourne's production of Benjamin Britten's terrifying The Turn of the Screw is one that really does turn the screw tightly in the mind. It pierces time with its updating from its original Victorian setting to a bleak Fifties Britain, it tightens the tension with its wintry, claustrophic setting, and it delivers its questions into our suspicious, information-saturated modern heads with added twists. Given a magnificent musical and dramatic ensemble to interpret it in this revival, it's an evocative way for Glyndebourne to end this tense, unpredictable summer, art gnawing away at the stable certainties of British classical culture.
The story, as it was in Henry James's original multilayered chiller, addressed the spoken fears of that era: of ghosts in remote houses who haunt lonely, parentless children for malign purposes that could not be delved into. Updated a full century, the sexual undertow has to be the more disturbing for postwar audiences, but the value of Jonathan Kent's 2006 production is that it retains focus so strongly on the pivotal space between knowledge and imagination, what's real and what's suspected.
It took me a while to get used to the very technical presence of the set by Paul Brown, its obvious theatricality. It imposes pictures upon you very firmly, rather than offering a miasmic dark indefinition for your own imaginings to work upon. Yet that fact that it's more about head than soul is the crux of this fine production. The white, clinical closed box is both a doll's-house room waiting for a child to furnish it and (when lit with ghastly blue eeriness by Mark Henderson) a morgue. A fallen, blasted tree at the back, a wall of windows, and a silently revolving track in the floor which sneaks in occasional props - a chair, a bath, a line of pond weeds - are enough to force your perception inwards while leaving a hook for the narrative.
If a sense of the numinous darkness of nature is missing, the window wall acts like a scalpel in its mesmerising peregrinations. It becomes a protagonist, a finger of Fate, slicing the space vertically in two, to be groped through by children seeking the ghosts, a metaphor for a separation between worlds that is absolute in the perception of the Governess, but very ambiguous indeed between the possessed and the possessors.
At other times the glass becomes a solid feature locating us to a new scene: a slanting greenhouse wall (pictured right, Miah Persson's Governess), or lying flat to suggest the pergola and leaf cover on the pond where Miss Jessel presumably drowned. At all times you keep watching and anticipating that wall, until it flies away in the end and all there is is the dead boy and the Governess, hysterically cradling him, not yet asking herself, as we may be asking, whether it was she who caused his death.
With so much going on in the scenery, it would be easy for the small musical forces to be overwhelmed - just 13 players and six singers. It might have caused something of a worry too when Kate Royal, the very attractive British soprano intended to reprise the role of the Governess, took maternity leave recently, and the Swedish soprano Miah Persson stepped in. No worries whatever: Persson's English last night was superb, and her bright, brittle soprano perfectly apt for her gullible character. She wears her Fifties swinging skirt and tight blouse with the innocent bravado of a girl barely out of school, and her anxious openness and suggestibility makes her very much a victim of the story's fearful ambiguities, and a piteous creature finally, not one you want to blame.
Giselle Allen was magnetic as a permanently bedraggled, sexy-looking Miss Jessel (what a haunting, covered tone she produced in her fearsome encounter with the Governess in her bedroom [pictured left]) but I found Toby Spence lacked, surprisingly, an equal dramatic presence as Peter Quint, cutting a rather bland figure, clean and suited, clarifying his tenor voice to more that of the cantor than the font of evil suppositions.
Mrs Grose, the housekeeper, was warmly dramatised and sung by the excellent Susan Bickley, and the two children effectively played very young: Joanna Songi's watchful, charismatic Flora and the gentle, almost resistless Miles of a 12-year-old Dulwich chorister Thomas Parfitt (pictured below, with Miah Persson), who offers not the smallest sign of being a bad boy.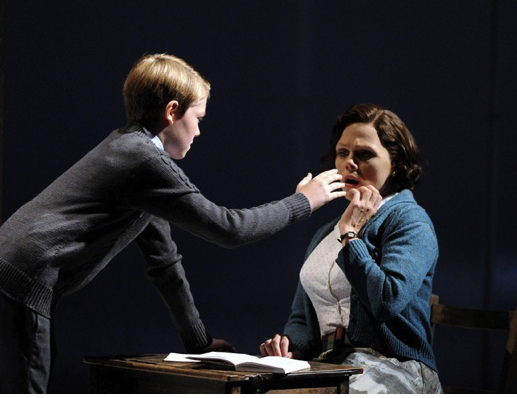 And above all the taut, dense and suspenseful conducting of Glyndebourne on Tour's young Czech music director Jakub Hrŭša, drawing from his little band of London Philharmonic Orchestra players the gamut of Britten's masterly musical narrative with barely noticeable effort. The delicacy of the upper registers for the excited domesticity of the Christmas arrival of the Governess, which recalls Tchaikovsky's chattering Nutcracker orchestration, slides and meanders via those perverted nursery rhyme tangles into the darker bass areas rustling with drums and half-oriental clanks (a bravura showing by the percussionist) - a spiralling down that Hrûsa made enthrallingly picturesque without being melodramatic.
Perhaps the greatest compliment is to point out that if after a taut 45-minute first act you've chomped and imbibed your way through an hour and a half's picnic interval, and the very first chord of the second act rivets you, neck prickling, to the story exactly where it left off, you are enjoying a very complete interpretation of a very powerful theatrical work.