Madama Butterfly, Royal Opera |

reviews, news & interviews
Madama Butterfly, Royal Opera
Madama Butterfly, Royal Opera
Kristine Opolais rescues unforgivably uneventful and noisy production
Directors of Madama Butterfly are spoilt for choice when it comes to visual imagery. At their disposal are the vast aesthetic resources of at least one, or, if they're clever, two great cultural superpowers. Thus, Moshe Leiser and Patrice Caurier's Ikea-raid from 2003 (quite unbelievably returning to the Royal Opera House last night for a fourth time) isn't so much disappointing as criminally negligent. As the dozen or so identikit Japanese blinds (I'll give them £2.50 for the lot) lower their white screens to the sound of their own electronic humming chorus on Pinkerton's arrival in Nagasaki, all eyes were on debuting Latvian soprano Kristine Opolais. Could she add some colour to this pasty-faced production?
The thunderous standing ovation said it all: oh yes, she could. What a start to her Covent Garden career. It was her "Un bel di" that got them going, of course. Her voice was at its most effortlessly supple as it hungrily meandered the daydreaming. But it wasn't her vocal tone in itself that provided the knockout blow. It was rather what she did with her voice, how she manipulated it and explored its rangy depth, from her spoken bottom to her fiery top, that won me over. She partnered this with some classy dramatic phrasing and characterisation (her ventriloquising of American divorce court proceedings was quite brilliant), all of which fed the fragility and feyness of her Butterfly, whose hubristic fall has its source mainly in her fantasising and not in Pinkerton's fickleness.
Opolais attracted attention away from the faults of the production and the weaknesses in the cast. But neither her talent nor Andris Nelsons's characteristically enthusiastic conducting could obscure the fuzzy hum that accompanied the what I suppose was meant to be a scene-stealing raising and lowering of the blinds. That a production this breathtakingly boring should be so intrusively noisy was almost laugh-out-loud bad set design from Christian Fenouillat. Spring arrived not with the noise of birds or the soft murmurings of the orchestra but with a garage-door-like trundley hiss. And what did this mechanical fanfare herald? A piss-poor backcloth. Nothing this uneventful should make this amount of noise.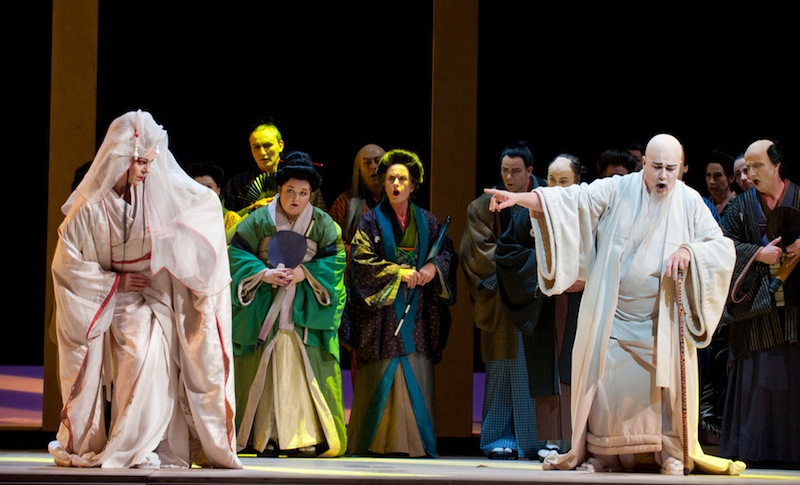 Elsewhere there was anaemia, literalism and cliché: a diffuse grey photograph of Nagasaki bay, two poxy little gardens, a cack-handed night's sky (the stars weren't a patch on the ones Werther looks up to). Normally one is hard pressed to mention everything that a director chooses to touch on, but Leiser and Caurier's ideas run to a very short and scrappy little list. No one was well served by their directorial decisions. There was way too much oriental hamming, especially from Robin Leggate's fussy Goro. The Mikado-like gesturing even slightly coarsened the interpretation Opolais was giving, though she managed to transcend it.
The cast weren't especially strong. James Valenti's Pinkerton wasn't much of a presence at all in Act I. Thankfully he returns from America with a new wife and a new voice. A powerfully intense sound that had been sorely lacking earlier emerged just in the nick of time in the Act III trio. Helen Schneiderman's Suzuki was a bit fuzzy in character but increasingly splendid vocally. Anthony Michaels-Moore's Sharpless (pictured right, with Robin Leggate's Goro) was the only stand-out performance beyond Opolais's Butterfly, the hard-bitten diplomat assuming a fascinatingly troubled presence.
But the suffocation of the production frequently sapped any energy that was being generated by the singers, Nelsons or the resplendent Royal Opera House orchestra. And the vapidity turned laughably vulgar in the final scene as symbols were wheeled out. A cherry blossom seems to get stuck in a wind tunnel and a dying Butterfly listlessly flutters the wings of her kimono like a... Dear Lord. I do hope the Opera House's new boy chucks this one on the scrap heap.
The Royal Opera's

Madama Butterfly

is at the Royal Opera House, London until 16 July
Share this article