Macbeth, Royal Opera |

reviews, news & interviews
Macbeth, Royal Opera
Macbeth, Royal Opera
Stunning soprano and firm conducting salvage this unworthy Verdi staging
The staging smacks of Covent Garden's familiar Verdi-by-numbers - surprising since it's the often inventive Phyllida Lloyd's concept, revived by Harry Fehr, but it might as well be the inert pageantry of Elijah Moshinsky - while the necessary singing-acting, no doubt as a result, is mostly one-dimensional and overcooked. Verdi's first confident shot at music-theatre, revised for Paris in 1864 but already vivid in outline four years before Rigoletto broke the mould, deserves better. At least it enjoys firm-of-purpose conducting by Antonio Pappano and one vocal performance of unflagging brilliance.
That comes from the dazzlingly gifted Ukrainian soprano Liudmyla Monastyrska, who stepped in at the last minute to make her premature Royal Opera debut as an all-encompassing Aida earlier this year and who was always cut out to be Verdi's Lady Macbeth. Neither production has brought out the dramatic best of which I suspect she's capable, but any voice that's secure in every facet of both roles - so long as she can keep the mighty instrument fine-tuned, as she mostly does despite occasionally singing (excitingly) sharp - is going to enjoy a very distinguished career. At least she seems to have had the benefit of Pappano's excellent guidance in articulating the coloratura aspects of what is, in other respects, a dramatic-soprano killer of a role from her very first number.
And how Verdi captures the essence of his Lady's vaunting ambition in the two-part aria embracing "Hie thee hither" and "Come, you Spirits" with a volley of top B flats and, later, Bs. We're used to hearing them sung with the stridency of a pushed-up mezzo or a Callas - whose meaningful projection of the text Monastyrska can't yet emulate, though her laser-beam fullness of tone holds good throughout the daunting range. Later, in the Sleepwalking Scene, she matches Pappano's painstaking sensitivity with the creepy orchestral colours and extends the artistic range still further.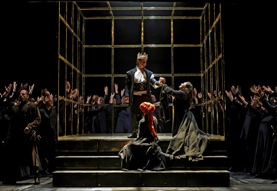 If only she had more, dramatically, on which to focus her energies. The production at least matches Verdi's and his librettist Piave's concision, and has the virtue of symmetrical consistency in Anthony Ward's not entirely successful designs: red-turbaned witches are there at the start and the finish, manipulating destinies, while other constants are the golden cage that symbolically surrounds the hollow crown (pictured above right), oppressive chocolate-bar walls opening to reveal stylised dumbshows, the matrimonial bed which splits into two sterile, disconsolate singles, the washing of hands, the constant presence of children (to the famous question of how many Lady Macbeth had, the answer is plenty here - but only in her dreams).
Yet there's a curious lack of atmosphere, horror or suspense - dry ice is the usual early sign of a cop-out - and Pappano has to work extra hard with his forward propulsion when it's not being reflected on stage. Musically, I wish the witches' 1864 ballet in Act III had been included, so dashing is the musical direction; but since Lloyd makes little distinction between Verdi's three sets of witches, and goes against the grain of his gossipy image of them, that second heath scene is a bit of a stage zero. For the second time in less than a week, the ghost of director Richard Jones's greater imaginative genius appears at the feast; who can forget the three generations of Glaswegian hens in their respective caravans, or werewolves popping out of cookers, at Glyndebourne? Beat that, somebody.
What this revival needs more than anything, though, is a disciplined marshalling of the singers' potentials. Simon Keenlyside has always been a bit overstretched as the Verdi baritone: he's loud, masculine and - in the final short death scene from the original 1847 Macbeth reinstated here in what's for the most part the 1864 version - authoritative. But to paper over the lack of blossoming, arching Verdian line, we need more dramatic focus. I know he's been suffering from the pain of an arm injury for weeks, but less would be more, and would surely help conserve his energies. There's no fear or terror in Verdi's great, lightning-flash operatic condensation of "Is this a dagger?"; by the time of the more conventional solo at the other end of the drama, "Pietà, rispetto, amore", our stalwart baritone was flagging last night and singing as flat as Monastyrska and the adequate Macduff, Dimitri Pittas, inclined towards sharpness.
You'd warm more to Pittas and the American bass singing Banquo, Raymond Aceto, if they didn't try to milk their numbers in so stock stand-and-deliver a way. And though the chorus pulls into shape for a magnificent canvas of oppressed Scots, the ladies should have been told to do away with those silly witchy voices, rather at odds with the strange red-and-black-clad figures Lloyd envisages. Though I suspect he saw a lot worse in his lifetime, Verdi, who tried so hard to get to the dramatic essence of Shakespeare, would not have been impressed with the more routine aspects of an all-too-conventional evening at the opera.
Macbeth at the Royal Opera until 18 June
Explore topics
Share this article