Król Roger, Royal Opera |

reviews, news & interviews
Król Roger, Royal Opera
Król Roger, Royal Opera
A triumphant return to the stage for Szymanowski's neglected score
Heart and head do battle in Kasper Holten's stylish, Freudian production of Symanowski's opera
Let's get one thing straight at the outset: Szymanowski's 1926 opera Król Roger isn't a lovely occasional oddity, a rarity whose appeal is largely novelty, or a dust-it-off-once-a-decade sort of piece. It's that rarest of things, a real and original masterpiece whose worth has been unaccountably undervalued. This new production by Kasper Holten does nothing to obscure its beauty, making a strong case not only for the work's sensual appeal, but also the larger philosophical architecture underpinning this maverick score.
That Król Roger has recently begun to enjoy more attention internationally has a lot to do with charismatic Polish baritone Mariusz Kwiecien, whose affinity for the work has led to fine performances in Paris (2008) and Santa Fe (2012). In the Royal Opera's current cast however he has some serious rivalry from perhaps the finest ensemble the company has assembled yet this season.
From Alan Ewing's opening cameo as the Archbishop, setting the auditorium vibrating with the depth and force of his Russian Orthodox-style chant, to the muscular purity of Georgia Jarman's Roxana and the unearthly purity and athleticism of Saimir Pirgu's tenor, they collectively revel in the extremity and the vivid musical characterisation of Szymanowski's score. Which is all the more impressive, given that the work's vocal writing is almost secondary to the extraordinary things happening in the orchestra.
A score whose tugging, conflicting urges sees it lurching between musical sensuality and intellectual rigour
Antonio Pappano constantly reassesses and adjusts the balance between Szymanowski's Mediterranean languor and expansive sensuality and his more Austro-Germanic instincts, steering a score that veers between Wagner, Strauss and Debussy through its course with instinctual urgency. What a shame the Royal Opera didn't decide to run the piece (a mere 90 minutes) straight through without an interval. Falling with barely half an hour of music left, it's an intrusion that shakes the audience out of the hazy intoxication of Act II's orgiastic conclusion, fracturing the continuity of thought and emotion that is so key to the opera's argument.
The plot is simple enough; a shepherd visits the kingdom of the Christian King Roger and spreads a pagan doctrine of pleasure and beauty. Despite the people's calls for his death, both the king and his wife Roxana succumb to his philosophy, eventually followed by the entire court. In a final scene, the shepherd reveals himself to be Dionysius – pleasure incarnate – but despite his power, Roger chooses to seek hope and redemption on his own terms.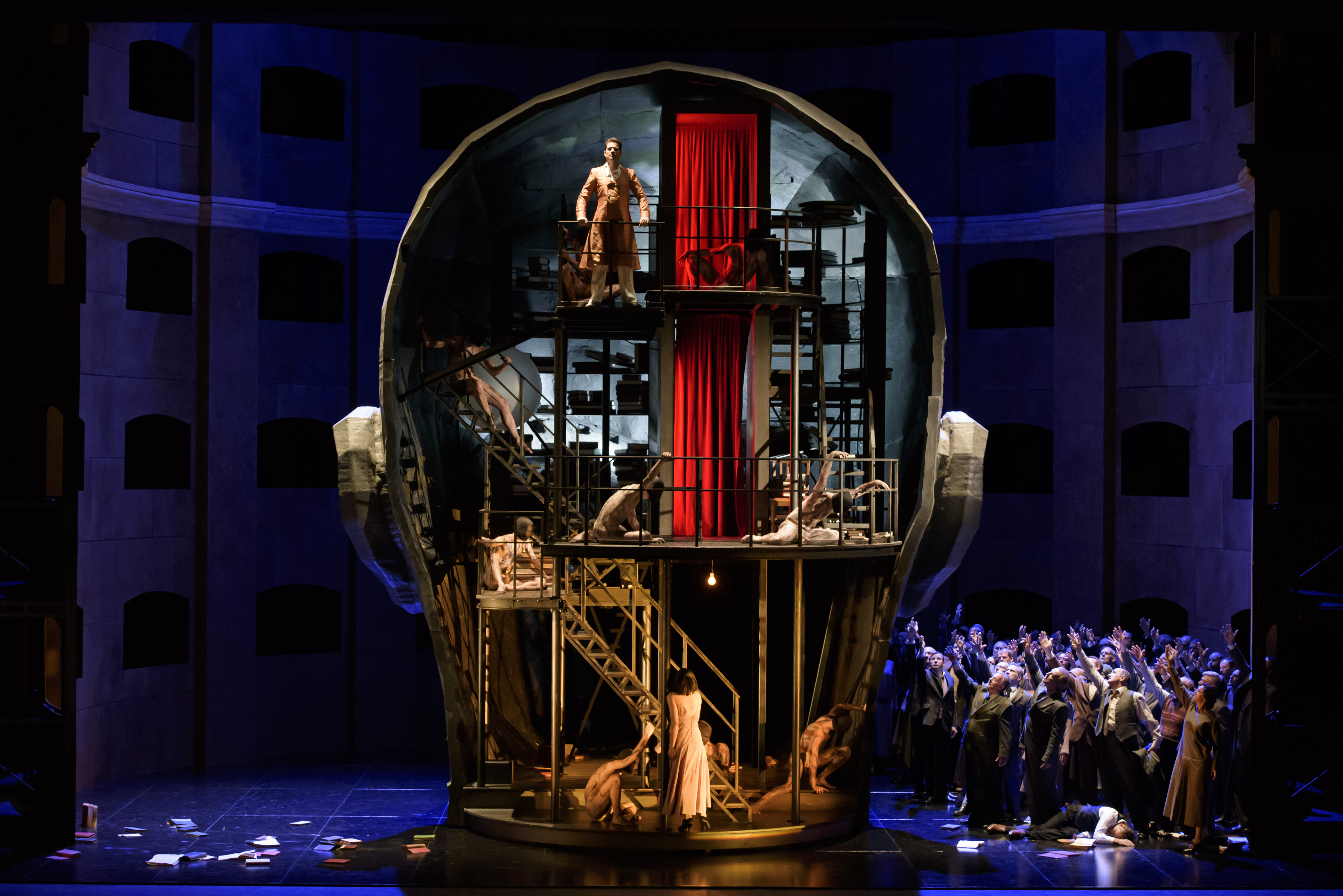 Holten retains elements of the opera's original 12th-century Sicilian setting in Steffen Aarfing's amphitheatre-like design, framing the entire stage, while relocating the action to the 1920s – the date of the opera's composition. This world of Freudian psychoanalysis becomes a prism to refract Szymanowski's meditation on the duality of human nature – the battle between head and body that troubles the king. Visually this creates a beautiful synthesis with a score whose tugging, conflicting urges sees it lurching between musical sensuality and intellectual rigour.
Both opening and closing moments see Holten's best work, capturing the opera's dualities in two striking visual symbols: the darkness of the stage at the start, gradually filled and animated by the chorus's Byzantine-inspired chanting. Boy trebles (from the Cardinal Vaughan Memorial School) keep the tone cool and Classical, preventing the throbbing emotion of these melodies from spilling too far into sensuality. The end, by contrast, sees the stage suddenly flooded with light – blinding the audience with radiance, even as the light of clarity and certainty breaks within Roger himself.
Between these dramatic poles the action plays out within a giant head (pictured above). If that sounds too literal a treatment of a psychodrama, it allows for a clarity of symbolism that creates a successful friction with the score's more uncertain, more fluctuating, ideas. Divided into Freudian levels, the skull's upper regions (super-ego) are occupied by the king and library, while below choreographer Cathy Marston's dancers writhe and beckon – a seductive Id indeed.
Caught between the two, both Roger and Roxana struggle in some exquisite music – Roxana's Act II plea for clemency chief among them. Jarman's (pictured left with Kim Begley as Edrisi) vocal poise, never tipping over into Salome territory but retaining a purity even through her fullest moments, is remarkable, but matched for impact by Kwiecien (indisposed on opening night, but showing little vocal sign of it) and his expansive vocal ecstasy in the opera's final moments, no less brilliant than Jon Clark's lighting.
It would be easy to succumb to the opera's sensuality and sacrifice Król Roger entirely to visual sensation. Holten pulls back from this, gesturing to the erotic with the delicate play of light and image, but never fully surrendering to it. The result is thought as well as felt, an operatic experience that leaves you breathless in the moment, but with plenty still to ponder the next day.
Jarman's vocal poise, retaining a purity even through her fullest moments, is remarkable
rating
Explore topics
Share this article
Subscribe to theartsdesk.com
Thank you for continuing to read our work on theartsdesk.com. For unlimited access to every article in its entirety, including our archive of more than 10,000 pieces, we're asking for £3.95 per month or £30 per year. We feel it's a very good deal, and hope you do too.
To take an annual subscription now simply click here.
And if you're looking for that extra gift for a friend or family member, why not treat them to a theartsdesk.com gift subscription?